Joined

Mar 11, 2013
Messages

3,494
Reaction score

41
Points

48
Location
Caution

: the following mods are NOT for the style conscious.

Recently, I got a pair of Bikemaster Removable grip warmers. ($30 on Amazon)
It seems better made than the $8 removable warmers I had been using. The 8$ variety don't last more than a couple months.
The BikeMaster Removable (BMR for short) are easy to install. They lace up to fit, and the feel is quite good to my hands. Their only problem is that they are
HOT
. I found myself lifting my hands, quite frequently, to dissipate excess heat.
There had to be some way to control the heat, so I went looking.
I found an article (wish I could find it again for reference here) where a rider used a PWM Dimming controller to fine tune heat.

PWM Dimming Controller For LED Lights or Ribbon, 12 Volt 8 Amp,Adjustable Brightness Light Switch Dimmer Controller DC12V 8A 96W for Led Strip Light By Zitrades


This device may be disassembled so that the dial may be mounted on an available surface and it's circuit board may be tucked in some out of the way place. Be careful, it's wiring is delicate. Don't stress it when handling it, and mount it so there is very little stress on the wires connecting the dial to the circuit board.
I chose the compartment under the "fake air vent" on the left side of the NC700x. I already have the wiring in there for heated grips / heated seat.
The chain of wiring goes like this:
battery
sae connector / battery tender cable (fused)
relay (turns the circuit off when the ignition is off)
PWM controller
on off switch
heated grips
I like using the SAE connectors. They're easy to work with.
The ON/OFF switch existed before the PWM controller, so I just left it in place. The PWM turns the circuit OFF on its own if you dial down to it's lowest setting.
I am out of space on my home made switch panel (picture below), so I mounted the PWM dialer just under my left hand for easy access during riding.
It's delightful to tame the heated grips. They now run at whatever heat setting feels best.
(Pictures below)
improvised switch panel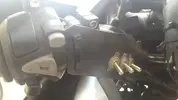 Dial heat controller for BikeMaster Removable Grip Heaters.
(I could have used the unobtrusive dial on the PWM, but I opted for a Tone Control from a Stratocaster Guitar.)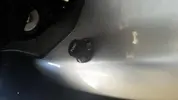 Last edited: