Joined

Nov 11, 2011
Messages

7,044
Reaction score

207
Points

63
Location
Not long ago, I published a review of the 2023 Surface 604 Boar Hunter's sister bike, the Boar Explorer. These bikes have nearly identical configurations, with the exception of the paint scheme, wheels and tires, and storage.
Since I've been working my way through the
Surface 604 ebike lineup
, and considering that the weather is turning toward the cooler side, I thought I'd take the Boar Hunter for a bit of exploration along the riverbed and see how it handles its natural habitat.
If you'd like to see the other Surface 604 ebikes I've reviewed, check out:
On a warm early-September evening, Melissa and I headed out with the camera, some new lenses, and a mission to snap an interesting photo while riding the Boar Hunter along the river. With the fires having dramatically worsened the air quality for most of the summer, the recent respite has been welcome – and prompted me to get outside and enjoy it.
Thanks to a predictable torque-sensing powertrain, the Hunter let me make the most of it and snap some great images while riding places that only monster fat tires will let you comfortably go.
Words & Photography:
Cameron Martel
Surface 604
loaned us this ebike for a week for the purposes of this review. I'd like to thank
Ebikes Calgary
for facilitating the loan of this fat-tire ebike. webBikeWorld does not
have a financial relationship with Surface 604 or Ebikes Calgary.
2023 Surface 604 Boar Hunter Specifications​
MSRP: $2,799 USD / $3,699 CAD
Where to Buy: Surface604Bikes.com / CalgaryEBikes.ca
Warranty: 1-year
Top Speed: 22 mph / 35 kph
Range: 72 km (45 miles) w/ 14 Ah, or 105 km (65 miles) w/ 20 Ah
Bike Weight: 52.5 lbs (23.8 kg)
Weight capacity: 285 lbs (130 kg)
Motor: Bafang 500 watt rear hub
PAS: Torque sensor with 5 settings, thumb throttle
Brakes: Tektro Auriga hydraulic brakes with 180 mm front/rear rotors
Gearing: SRAM X5 groupset
Battery: 48V 14 Ah or 48V 20 Ah
Wheels: 26" x 4.5" Kenda Juggernaut Sport
Riding the Surface 604 Boar Explorer​
As the speedo topped 45 kph on the long, shallow downhill toward the river, I clamped the hydraulic brakes hard and came to a dead stop shortly after. Feathering the brakes, I kept the rear tire from locking up as the Hunter stopped at the base of the hill.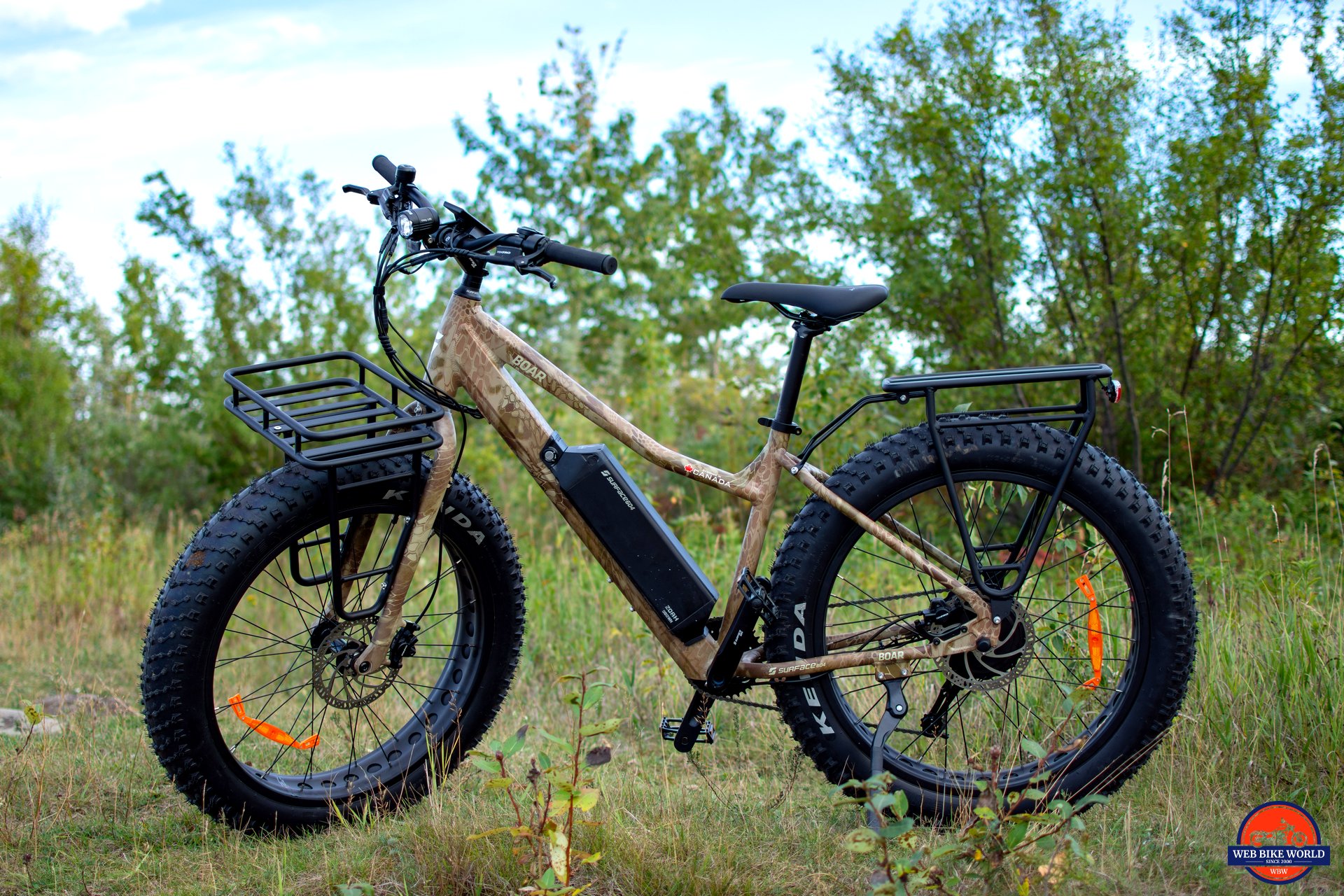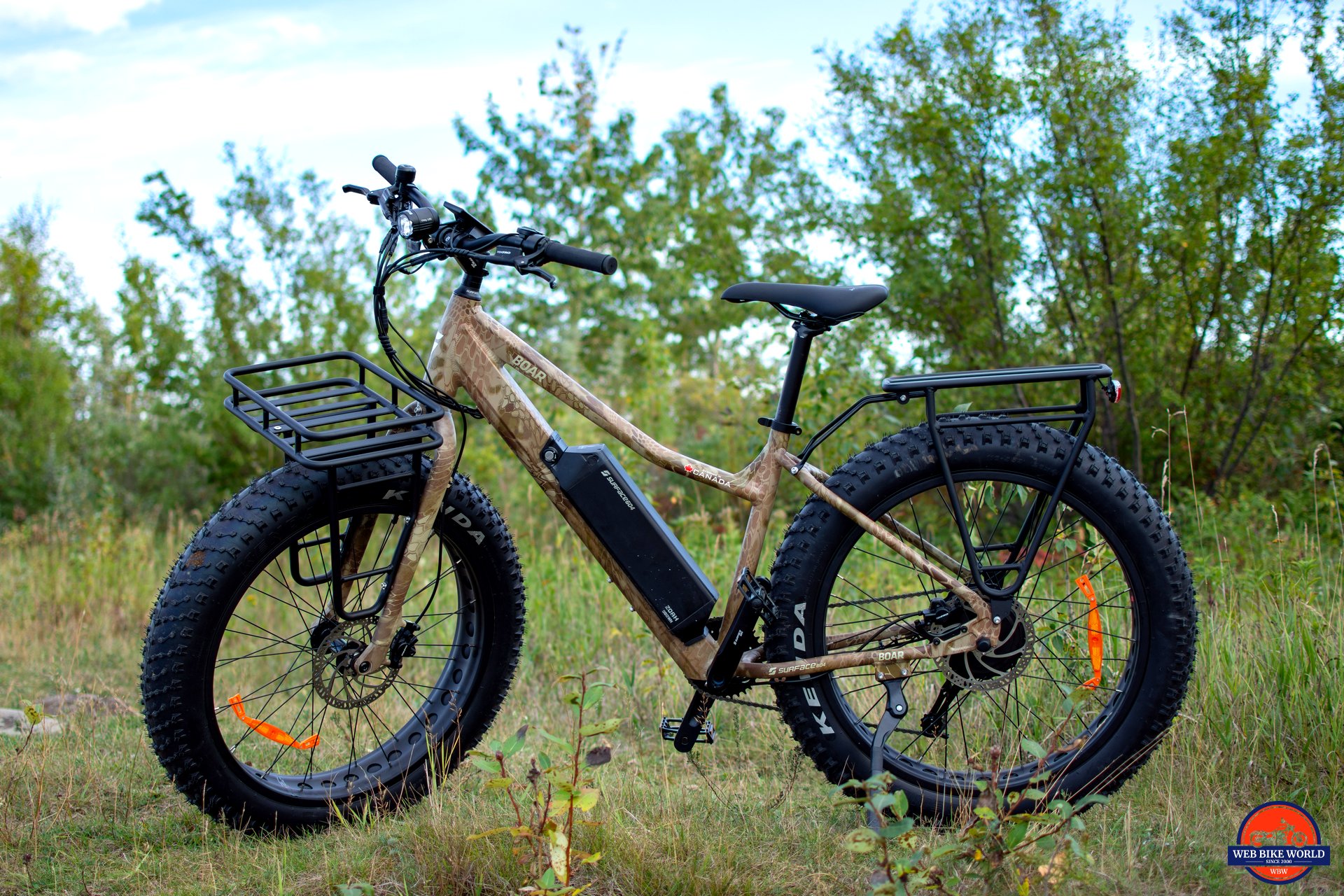 The big front rack may give the impression that the Boar Hunter is forward-heavy, but it's surprisingly not that much different than riding the front-rackless Boar Explorer. Compared to the Explorer, which has 27.5″ x 4.5″ wheels and tires, the Hunter's 1″ diameter smaller arrangement feels a bit more nimble on turn-in and easier to move around; there is always plenty of traction, and you have a lot of control when riding slow due to the stiff forks.
With the tires inflated to 20 psi, there's a bit of cushion to take some of the jarring bumps out of the trails. It's almost as good as having suspension, and a heck of a lot lighter and thus easier to ride on the tight trails of the riverbed I'm seeking.
Stopped at the head of the singletrack I'll be weeding through momentarily, I couldn't help but take a moment to appreciate the scene. A freshwater river flows as I'm riding a bike designed to get out in the wild and hunt, and in seconds, I'll be surrounded by trees, water, and dirt, and sand. Don't worry: Before I got sappy, I put my foot back on the pedal and started to ride.
I really do have the best job, though.
Aesthetics & Design​
I'm not much of a hunter myself, but it seems that if you own a camouflage bike, you should ride it in places where the camouflage makes sense. By the time my week with the bike was over, I was in like with the paint job – a first for me, for sure.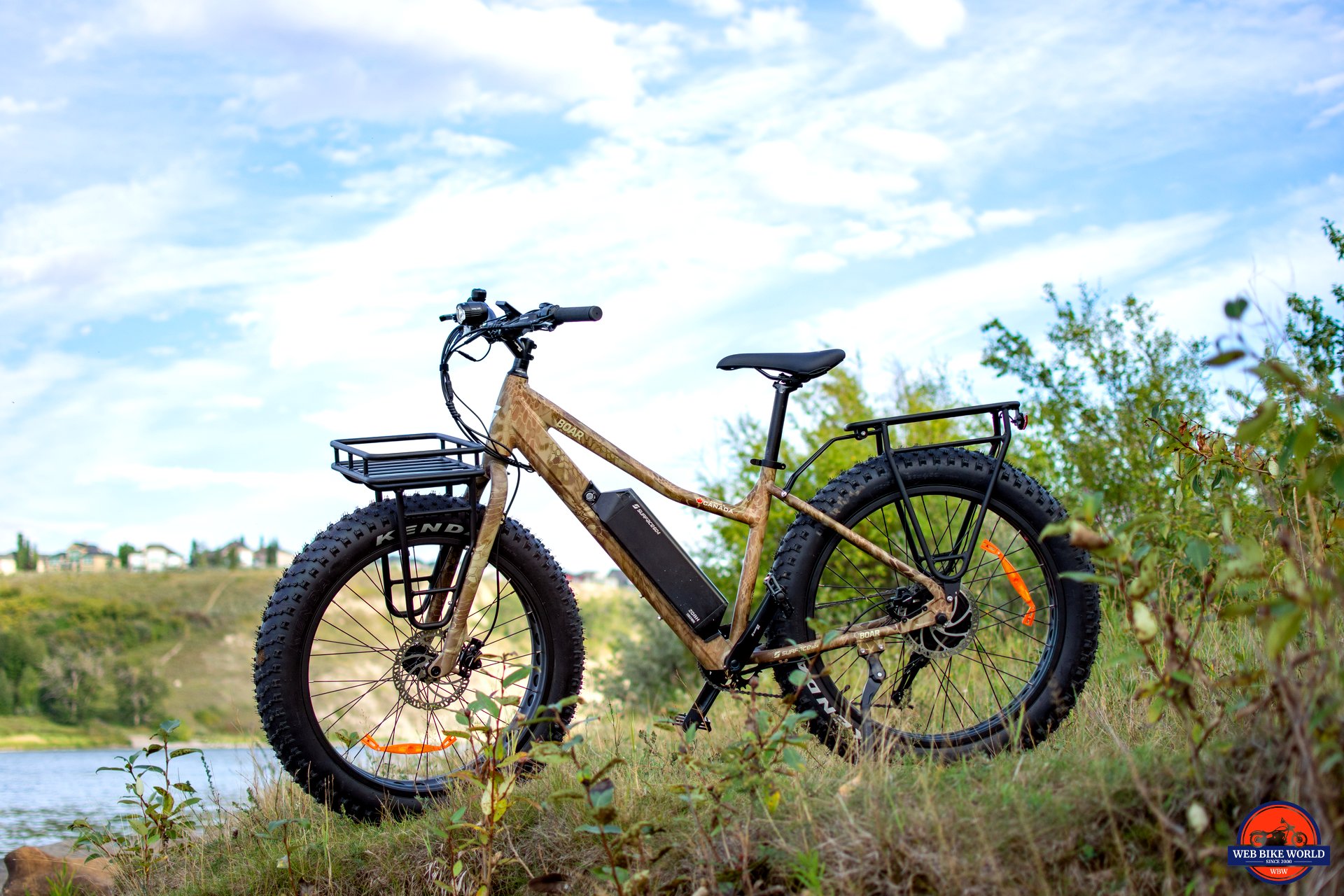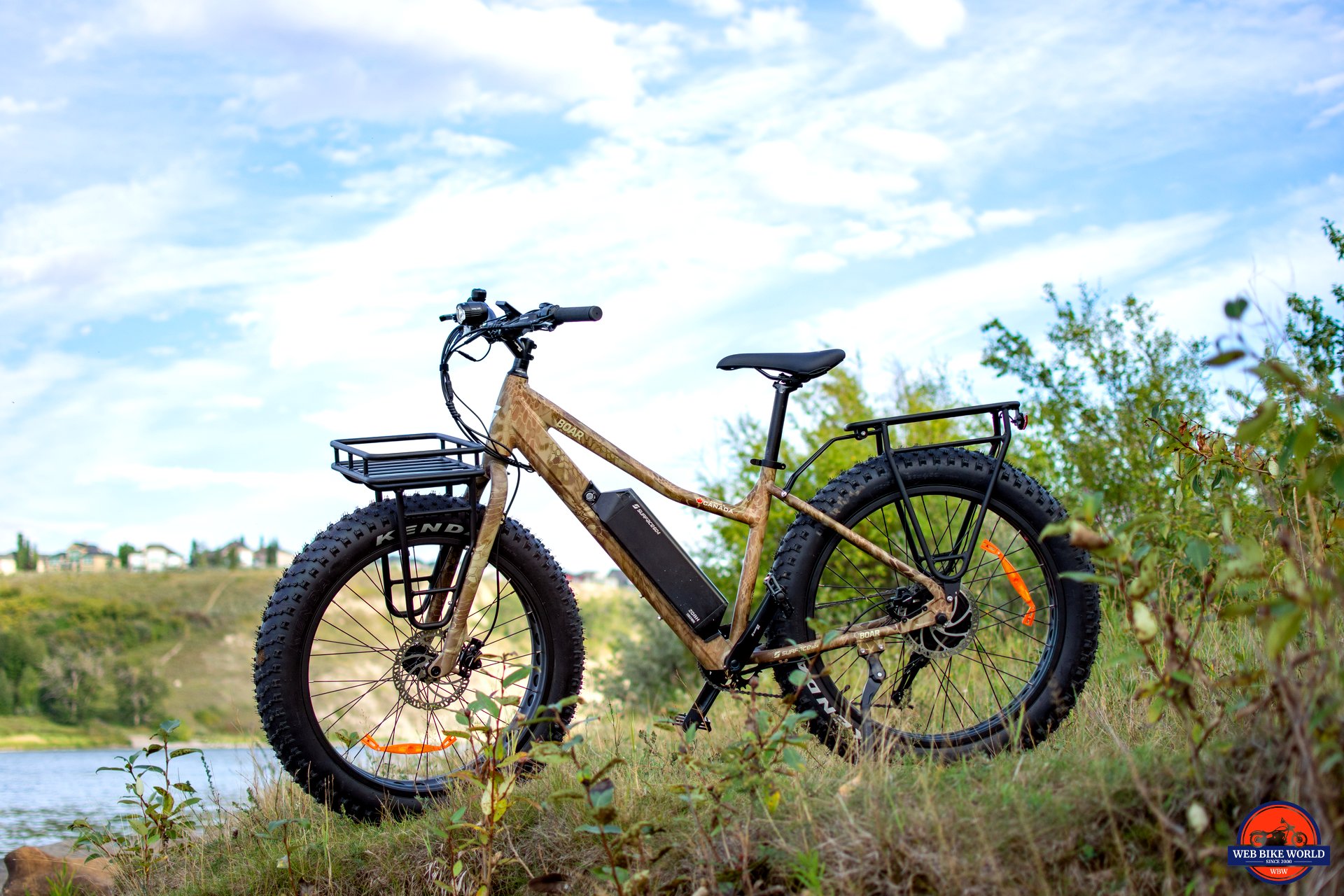 Large front and rear metal racks complement the big tires, which are hefty in more than just appearance. They are well-made and robust, and easily removable should you want to shed some weight. They also form a big part of the bike's aesthetic, adding additional ruggedness and utility to the Hunter's appearance.
Not everyone enjoys the Hunter aesthetic, and I'm not normally one for it either, but it works on this bike.
Torque-Sensing Powertrain​
I called the pedal-assist configuration on the Hunter's twin
sublime
, and the same high praise applies here, too. Surface 604 uses a dropout torque sensor and rear hub motor, with custom configuration baked into the software and controller.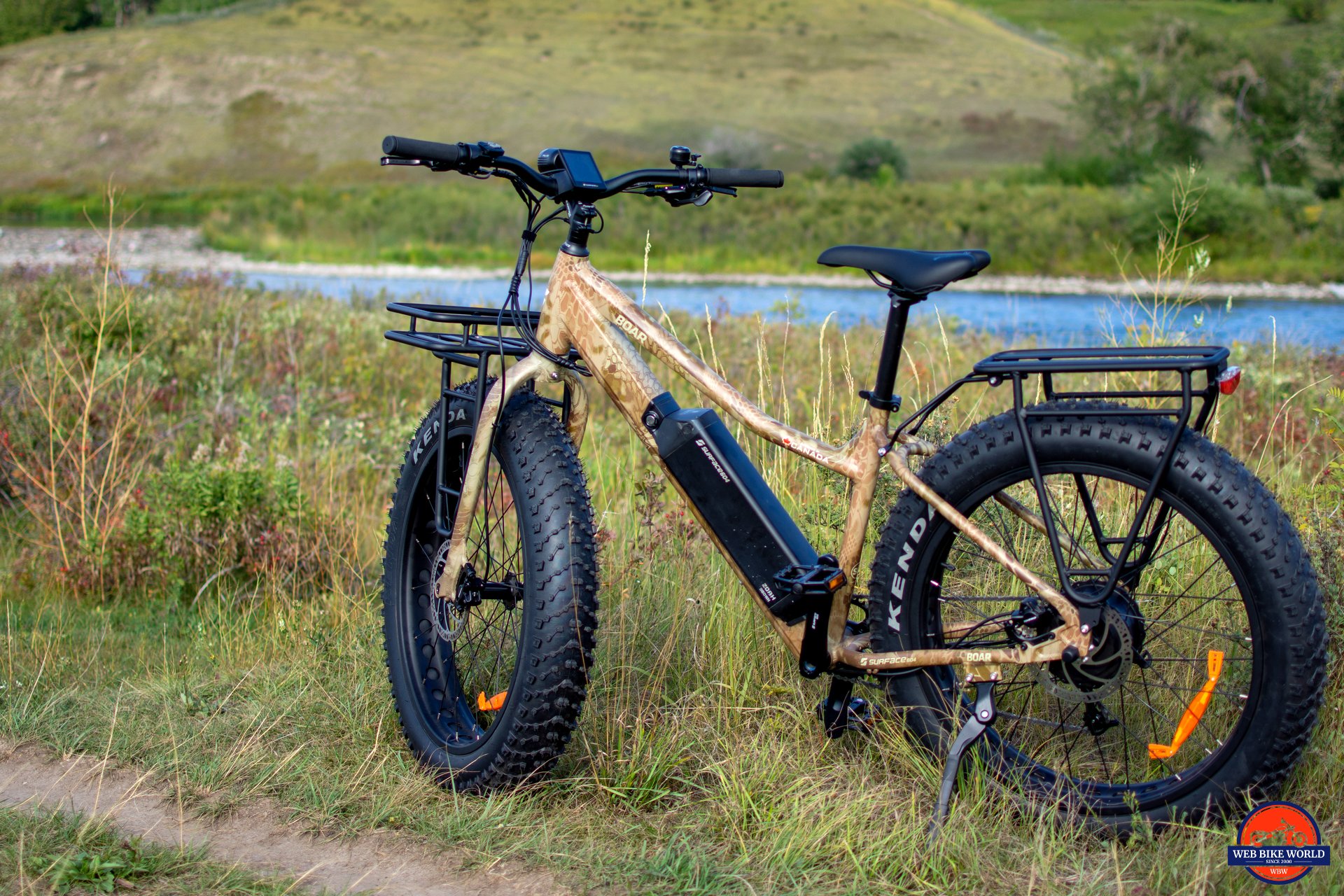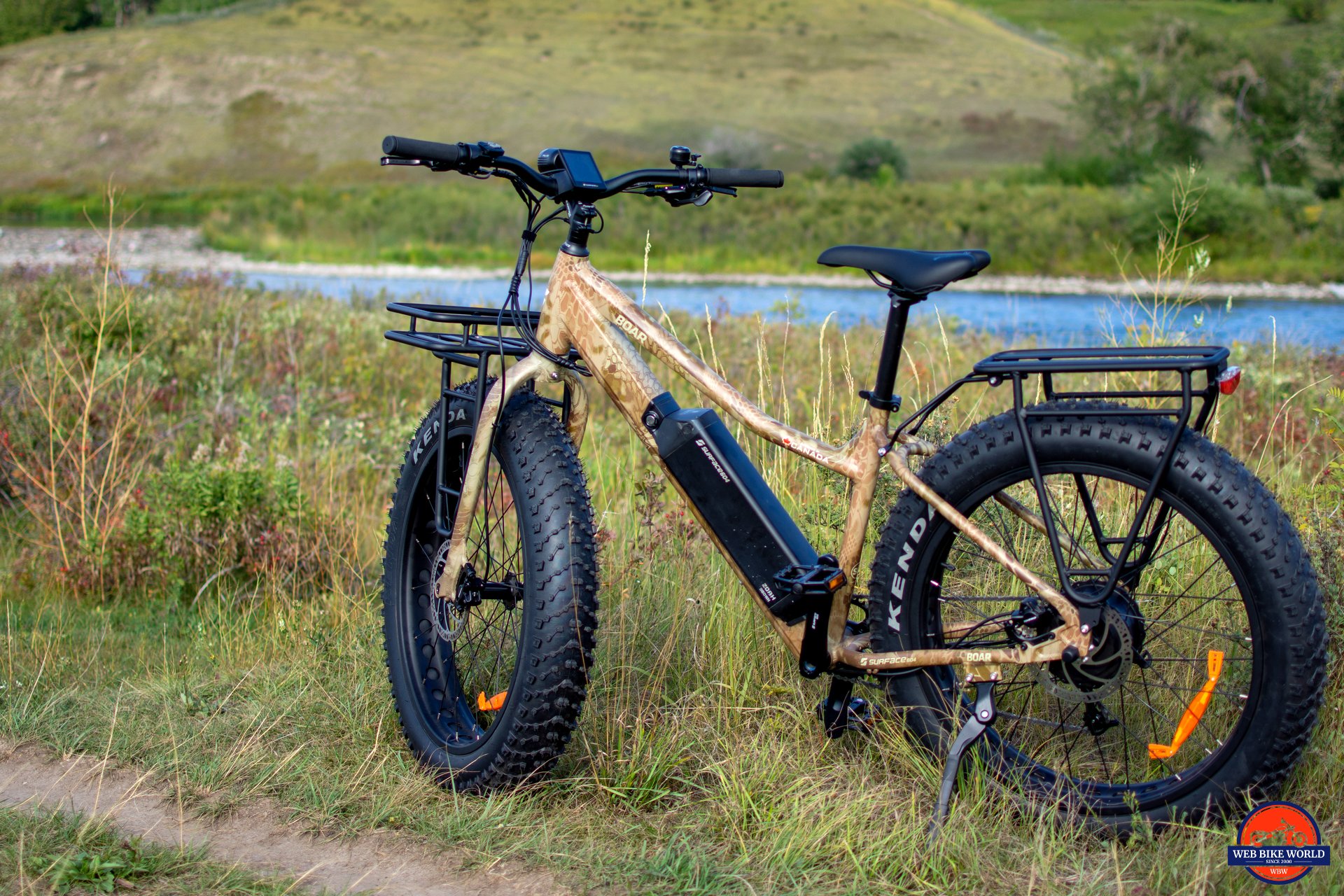 It's Surface 604's secret sauce, and it's quite good. The assist is smooth, quiet, and natural feeling. You can inch along if you wish, with the Hunter happy to comply, and you've always got full power available when you mash the throttle unless you have the pedal assist set to 0.
It's a simpler setup than a mid-drive, and for where the Hunter goes, it has enough power and range to get you into and out of the bush. It never feels overwhelming – you don't
surge
forward when power comes on – and it's always predictable.
So inching along streams and rock beds is easy, and between the gigantic tires and electrified powertrain, you've got all the traction and brute force you need, too.
Storage​
The Boar Hunter comes equipped with sturdy front and rear racks. The rear rack is mounted via four bolts and is where the LED taillight sits.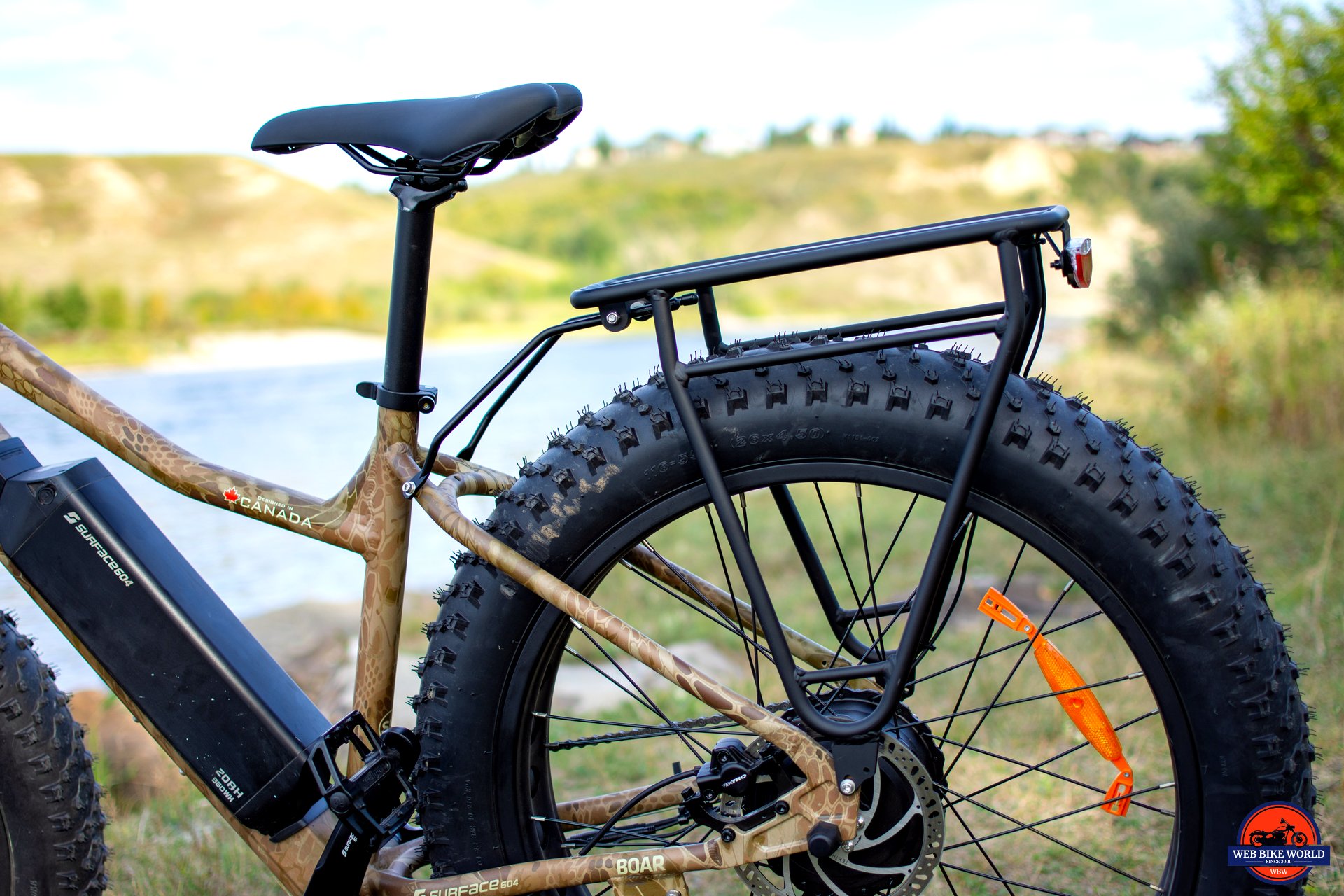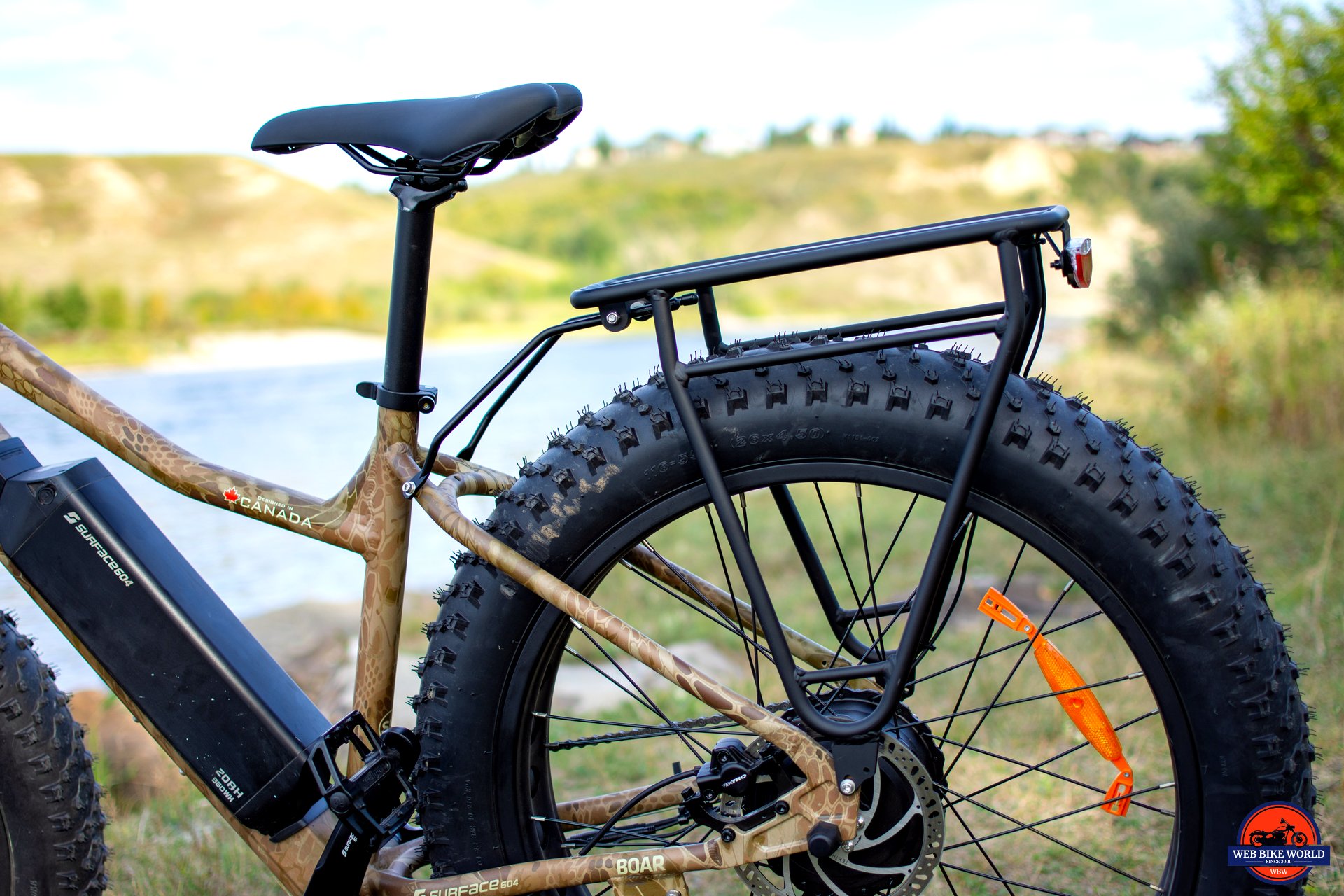 The front rack is larger than average and securely mounted to the forks. This means it moves when you turn the bike, so keep that in mind when securing your gear. This hefty rack could carry a decent amount of weight – good for moving gear around in the bush or to your favorite fishing spot.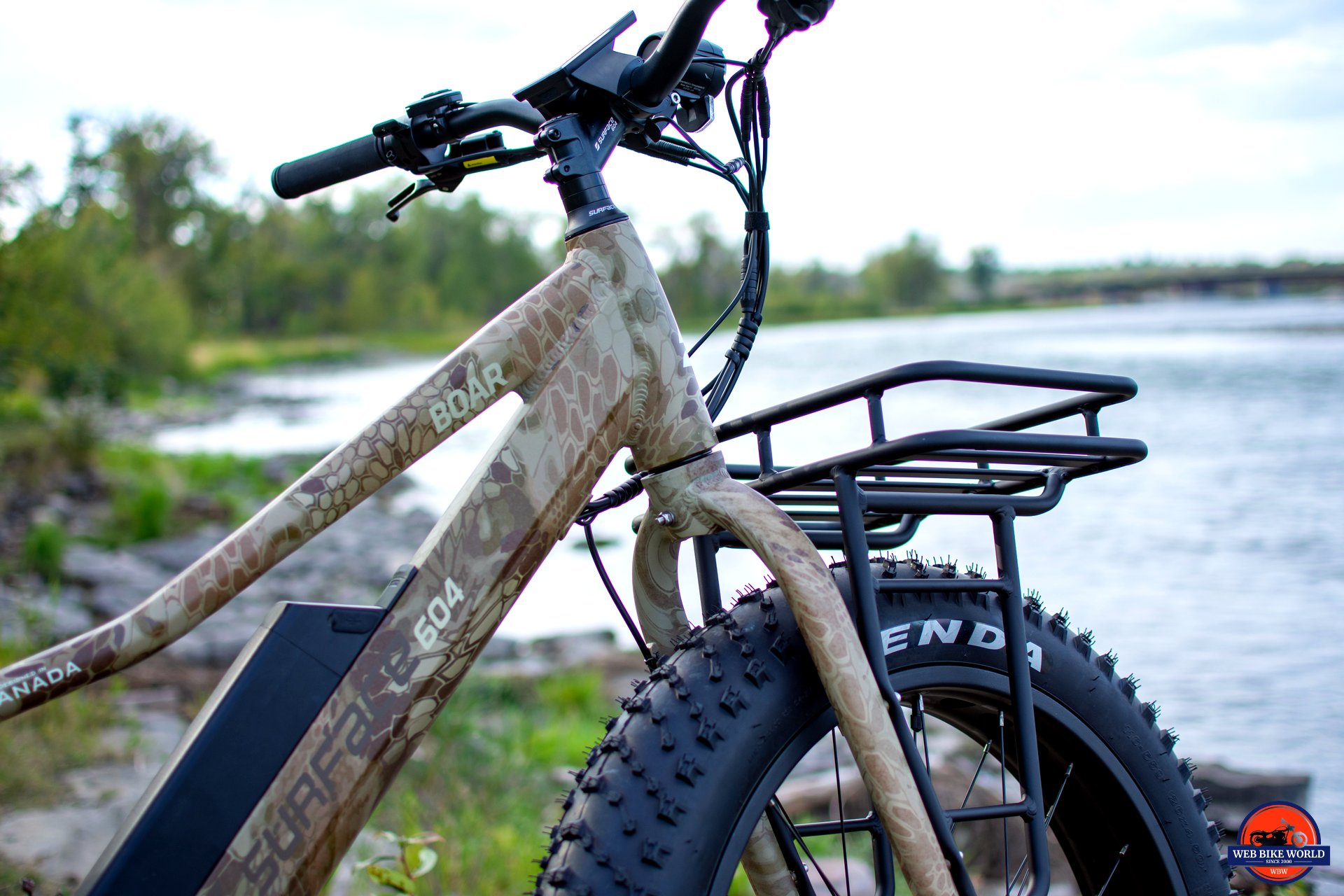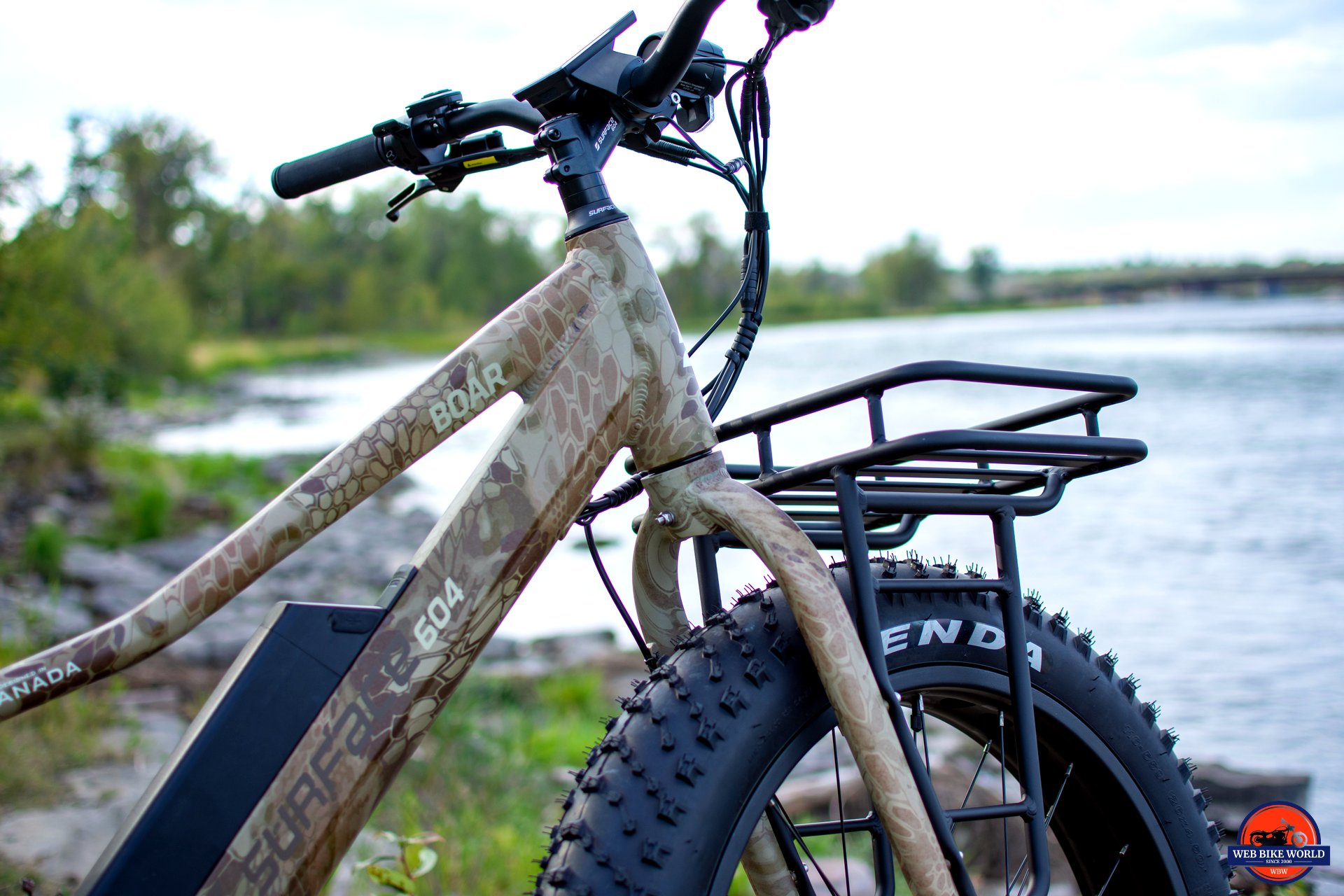 The Hunter has plenty of storage stock from the factory, but add some pannier bags to the mix, and you've got a viable replacement for a car for many types of trips. Considering that you can get the Hunter with up to 105 km (65 miles) of range, it's a good setup that costs almost nothing to run.
In terms of real-world range, I bet you'll see in the 90% of the advertised ranges, assuming you keep the bike on PAS 1 or 2, and pedal along continuously. 60 – 65 km (40 miles) on the 14 Ah battery and 80 – 90 km (56 miles) on the 20 Ah battery are achievable figures. The ride I took for this photoshoot was 22 km (13.5 miles) long, and I had used 15% of the battery by the time I got home. The battery life was also similar for the other rides I took.
Build Quality & Components​
Surface 604 bikes are generally built pretty well, and the Boar is no exception. The wiring is integrated into the frame where possible, welds are clean throughout the frame and racks, and the camo wrap is also good quality.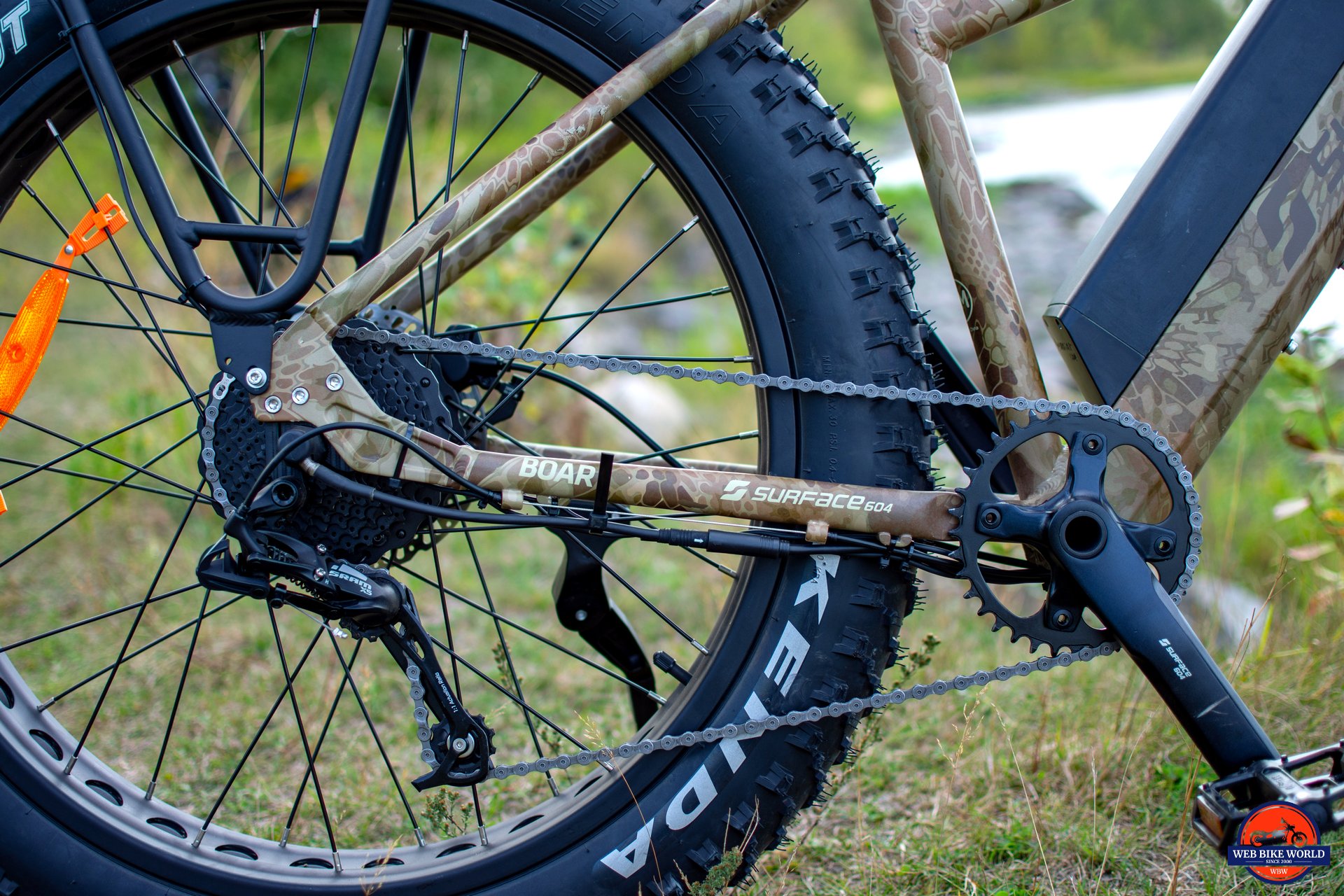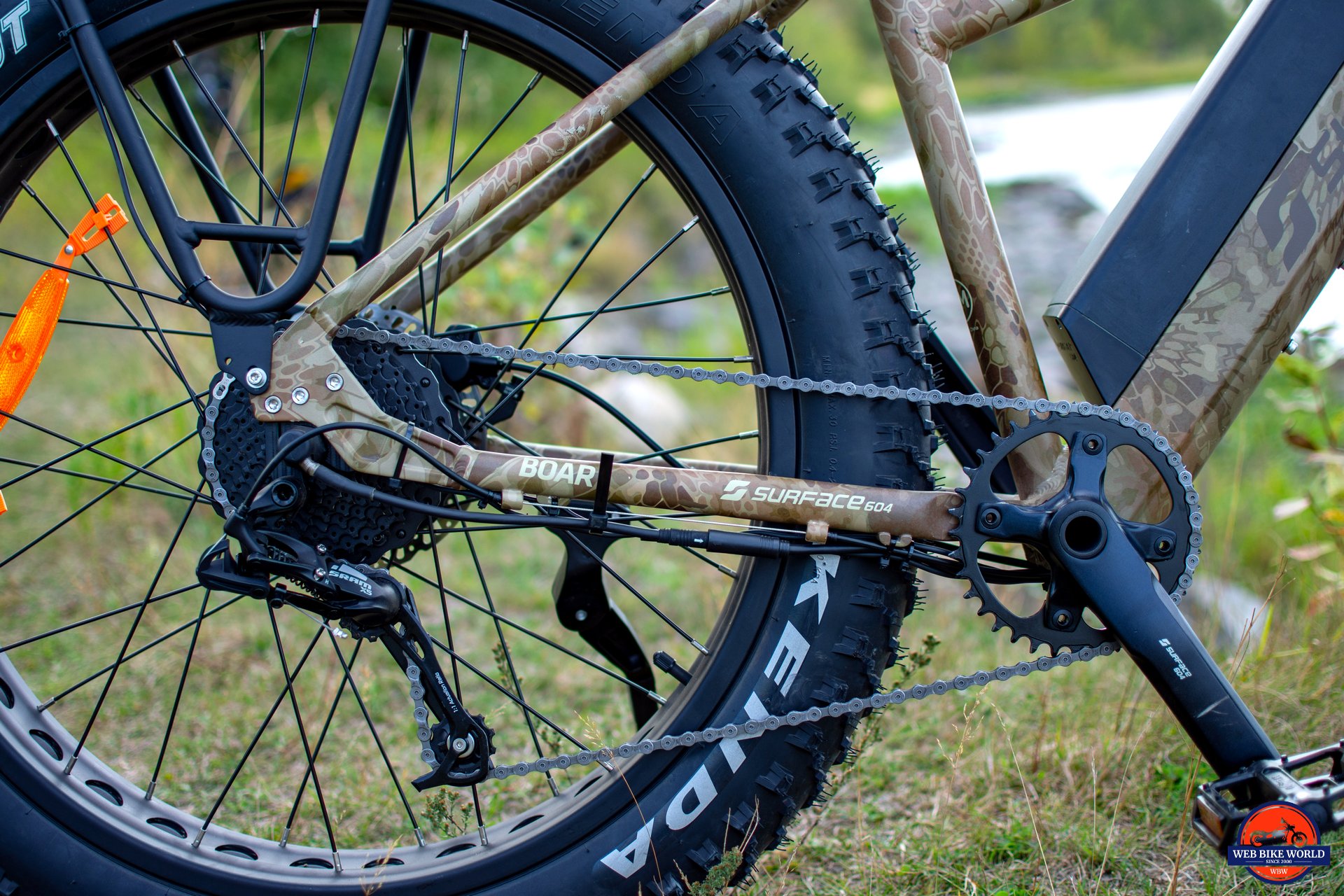 Forks & Frame​
The Hunter has a fairly upright riding position, which makes longer rides more comfortable. The solid forks in the front are lighter than their coil-sprung or air-bound counterparts, and the front end feels nimble and quick to maneuver despite the fat tires and front rack.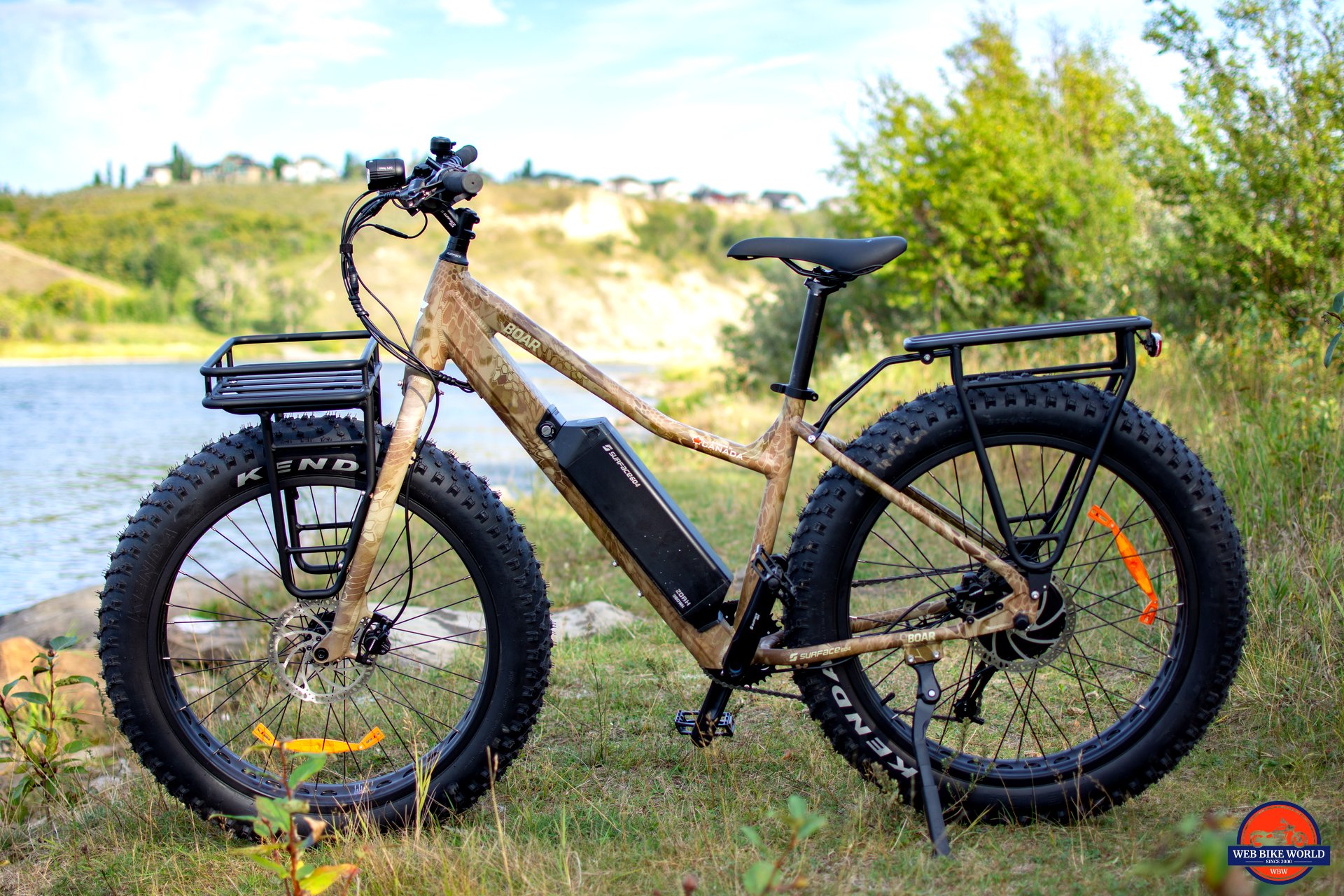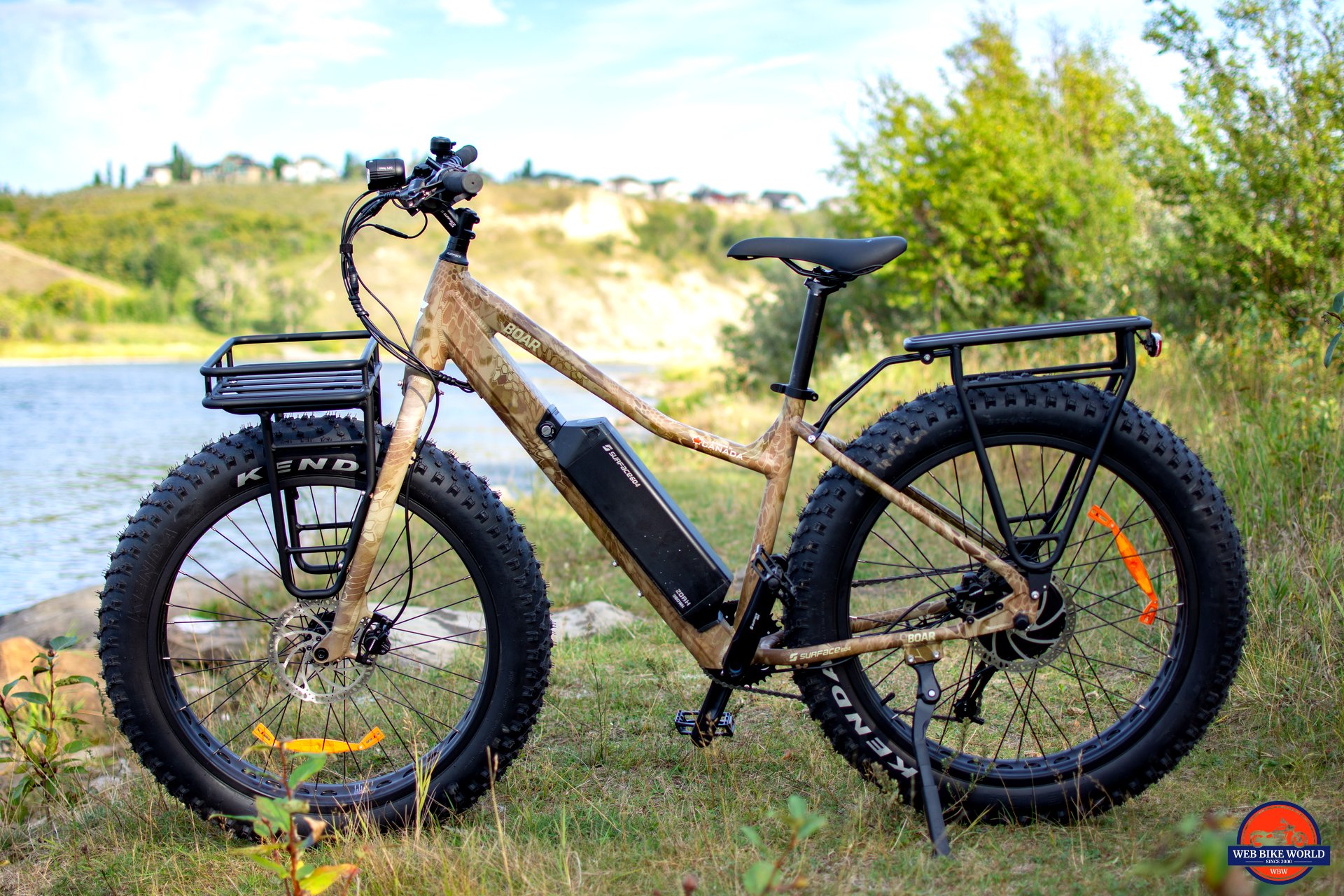 The geometry is similar to their Shred eMTB, which is more upright than other hardtails.
Wheels & Tires​
With 26″x 4.5" wheels and tires, the Boar Hunter is equipped for all-terrain and all seasons. If you enjoy fat bike riding in the snow, the Hunter is a great fit.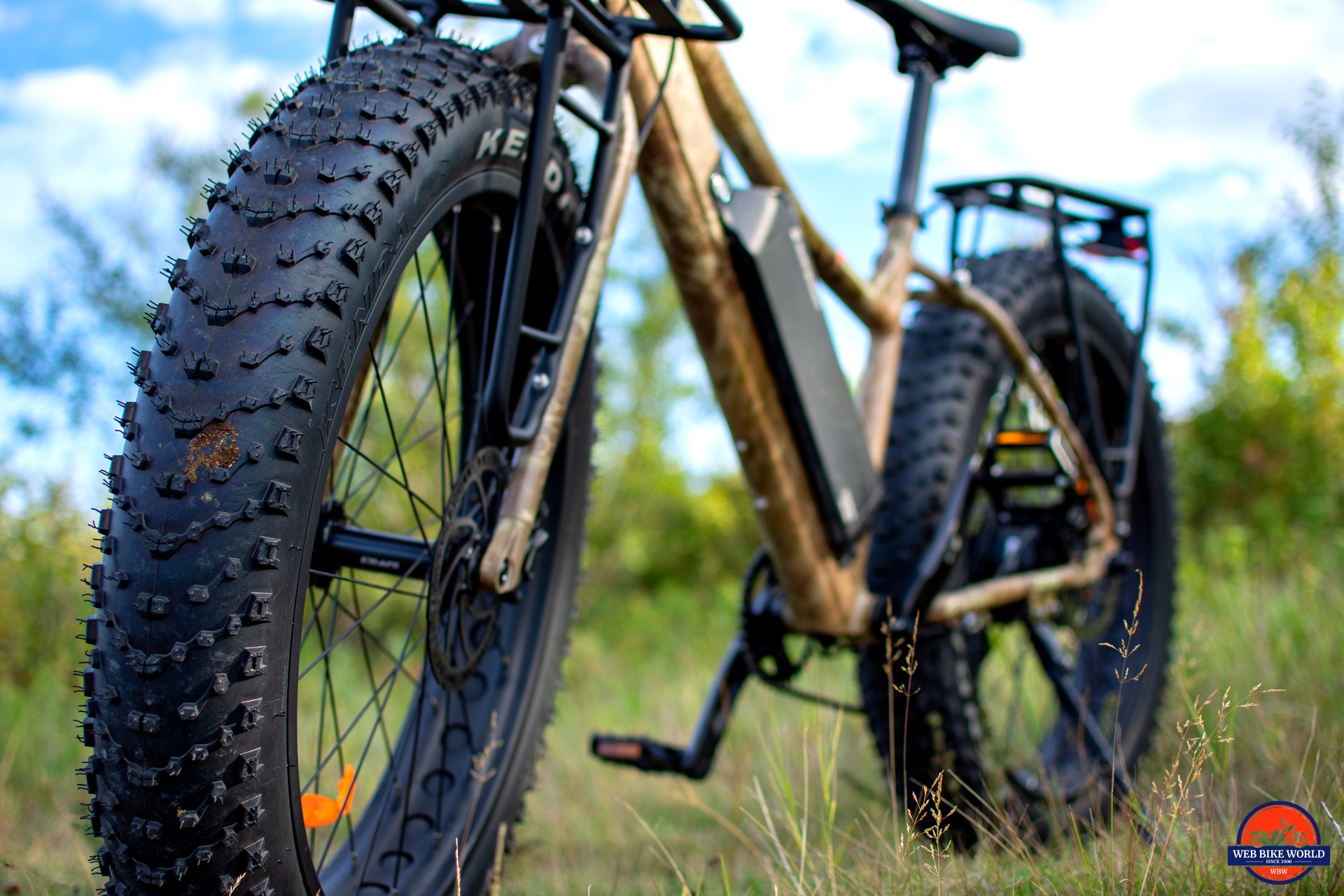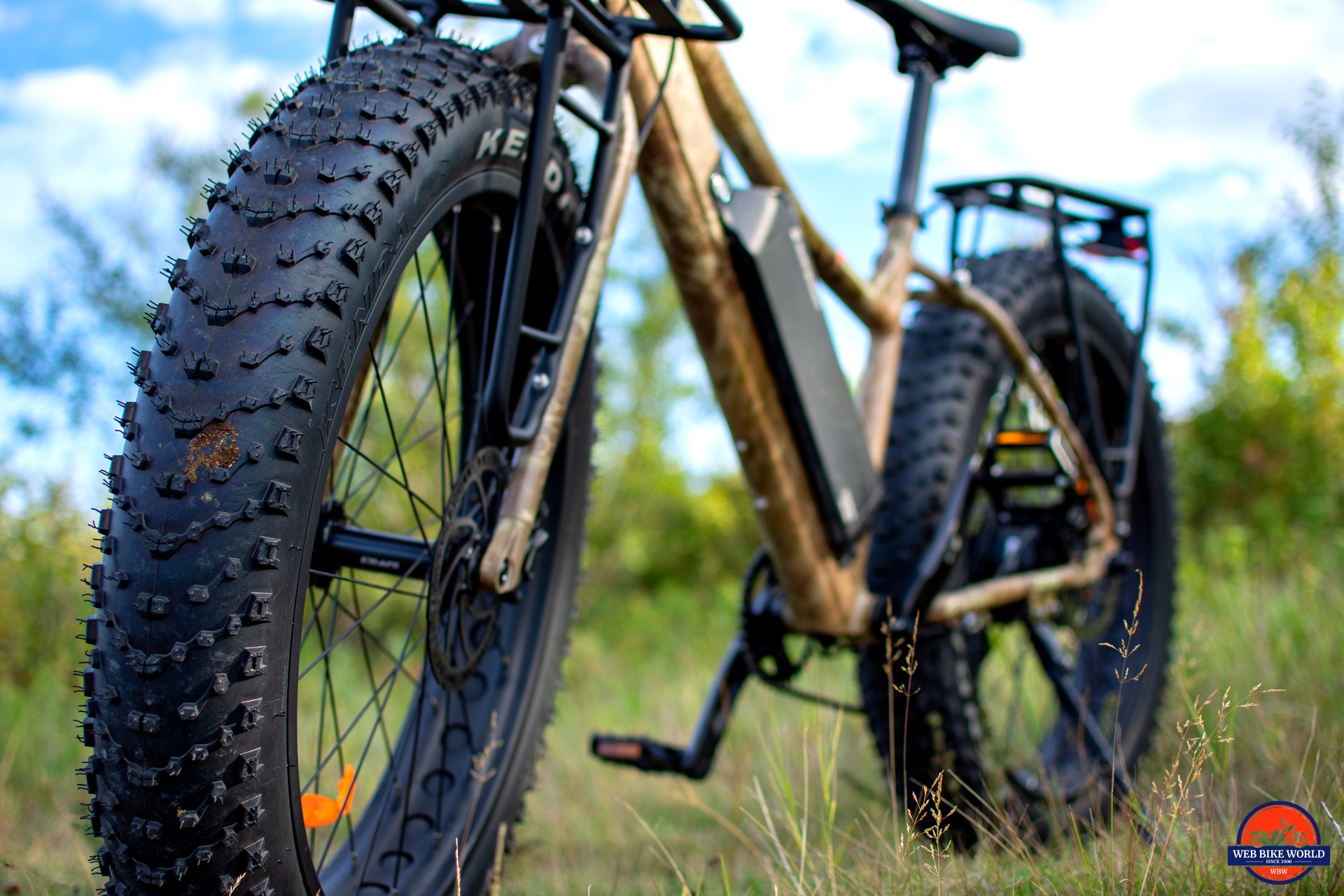 I'm a big fan of fat tires for overlanding, single tracks, and forging your own way through the bush. Riding along the creekside and navigating the rocks and streams is enjoyable with these tires.
Spec says to inflate them to a max of 30 psi. I ran them mostly at 20 psi, but also 28 psi when I was more on-road than not. There's definite rolling resistance when you run them at lower pressure, but the ride quality improves considerably. It's a trade-off, but the beauty of the drivetrain is that you can use the motor to compensate for the increased rolling resistance of low-pressure tires.
Handlebars, Display, & Shifting​
The full-color display looks good and is mostly easy to see, save for direct sunlight, where it doesn't have enough brightness to overpower the sun.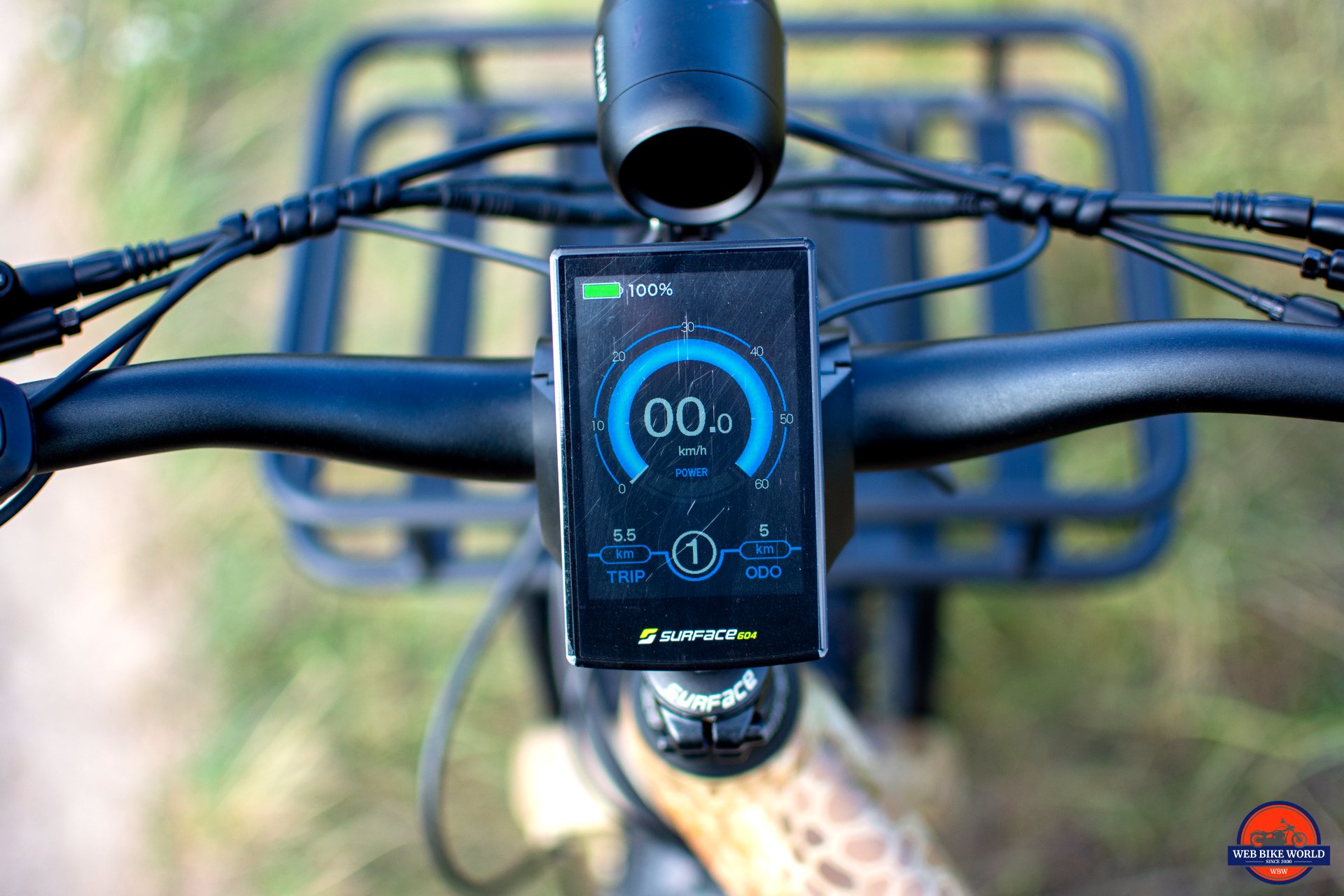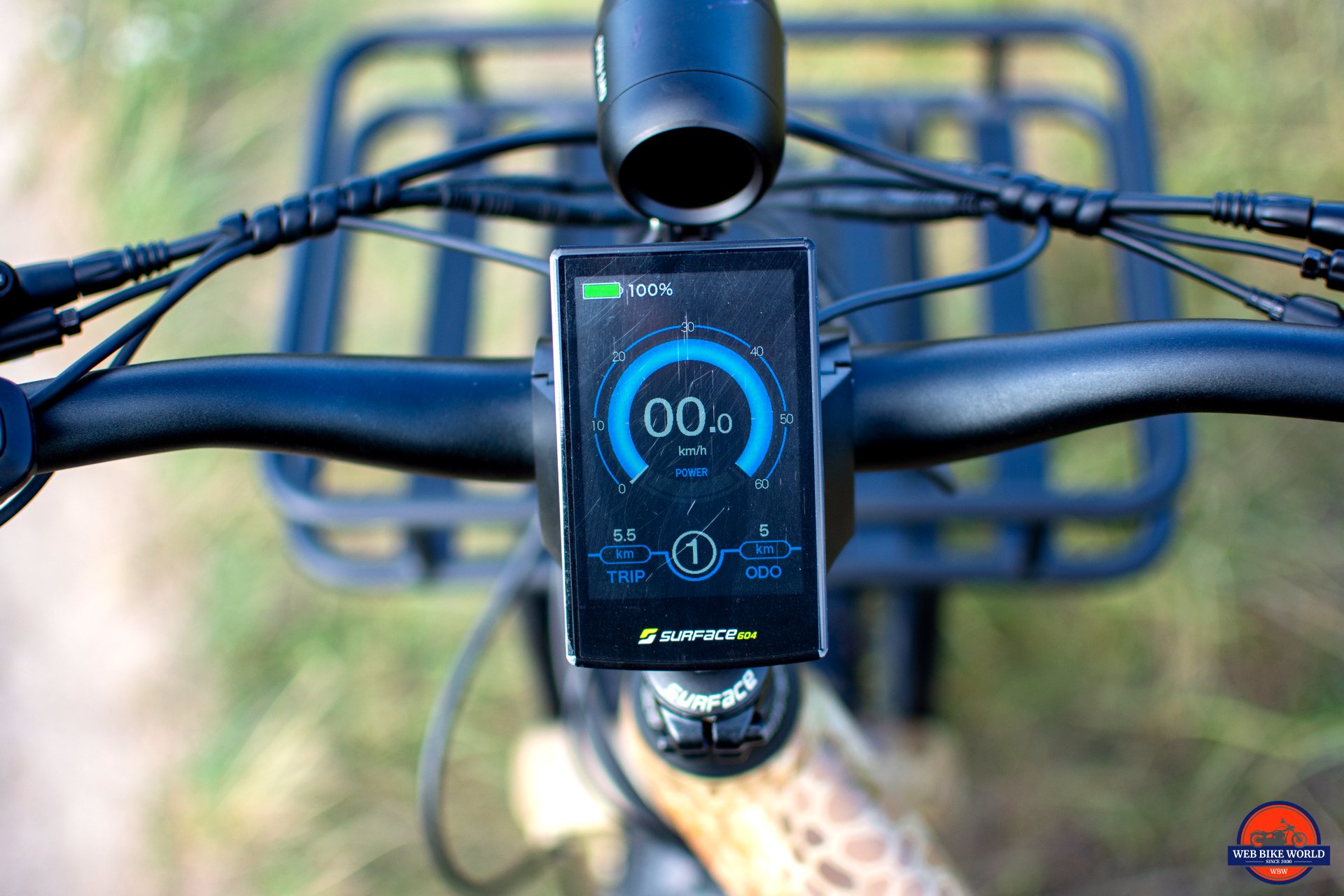 Unfortunately, like every other LCD screen I've seen on ebikes, the screen scratches pretty easily. It's not made with gorilla glass, so it will show wear if it gets hit or scratched by something. The above photo exaggerates the effect somewhat, as it's less noticeable when riding, but it is noticeable.
The good news is that replacing screens is straightforward and not too expensive. You can buy replacements from Surface 604; installing them only takes a few minutes.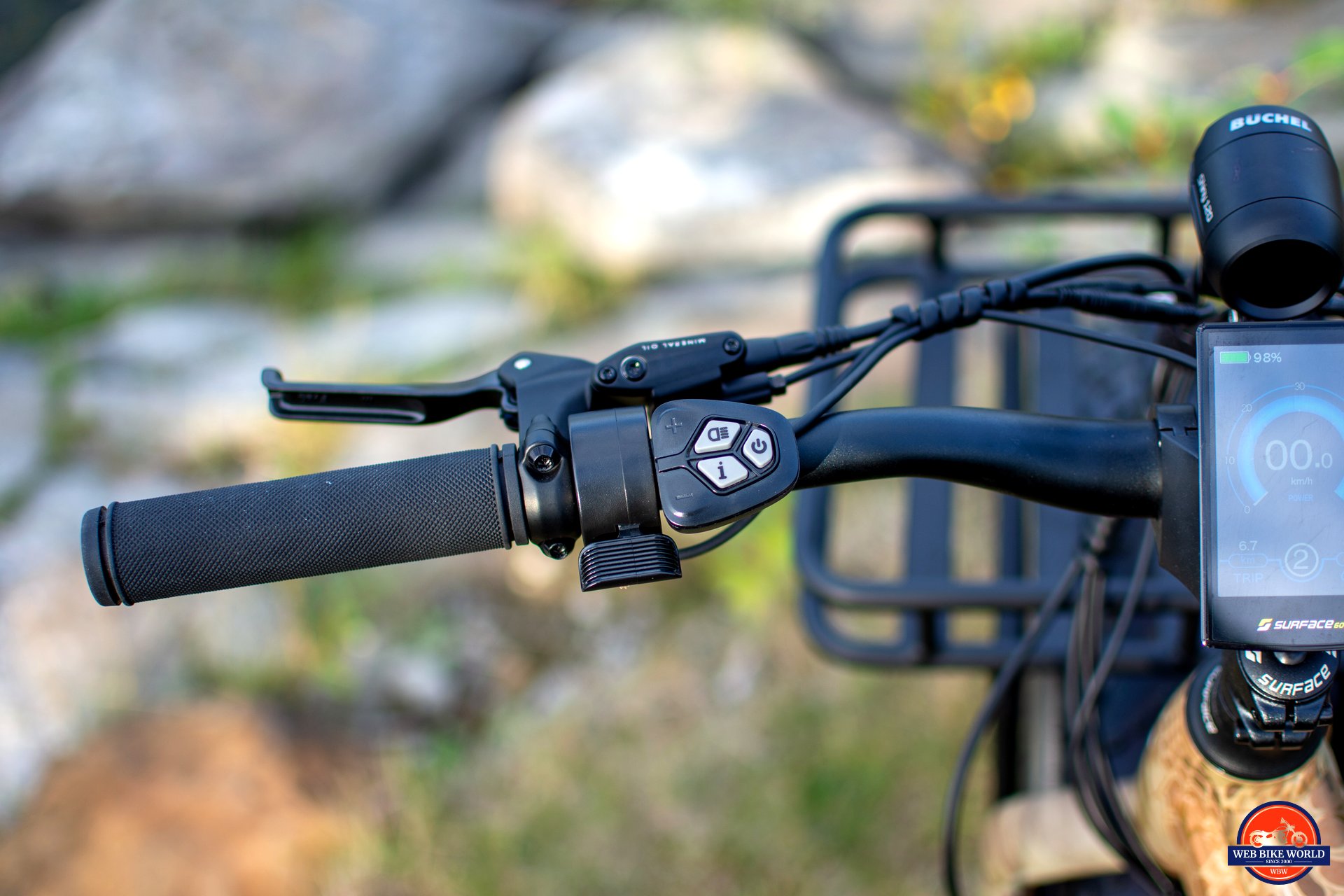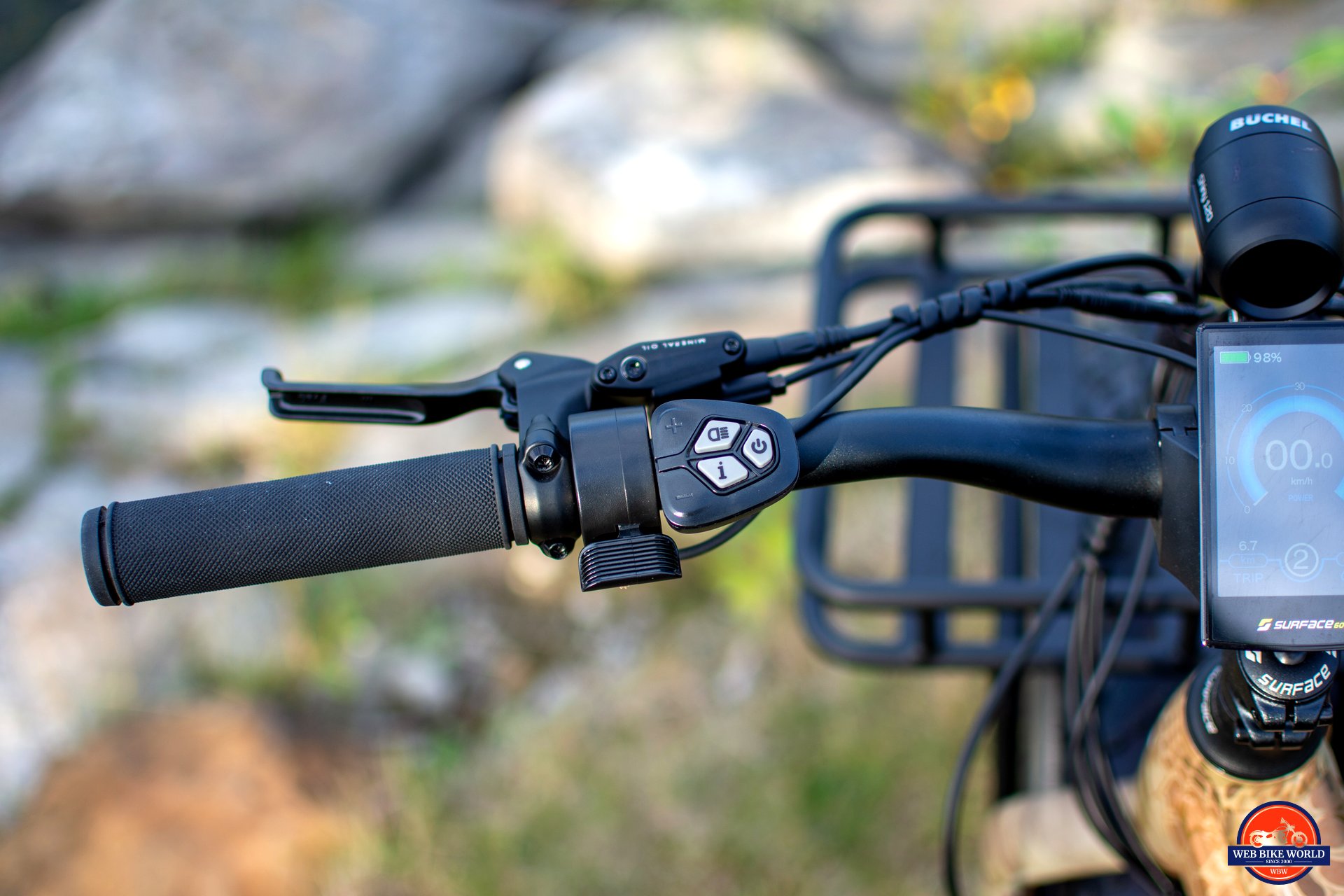 The left handlebars have the brakes, throttle, and display control pad. The control pad is how you change pedal assist settings, turn the headlight on or off, turn the bike itself on or off, and manipulate the settings menu.
Press the "i" button twice quickly to enter the settings menu, use the + / – buttons to navigate, and use the "i" button as enter. The settings menu is where you can reset your trip odometer, make settings changes to the display (such as changing from MPH to KPH), and remove the speed limiter (the code is 0512, but you didn't hear that from me).
I should note that Surface 604 ships the bike as a class-2 ebike and does not recommend unlocking the bike in regions that do not permit class-3 bikes. Ensure you know your local ebike laws before unlocking the speed limiter.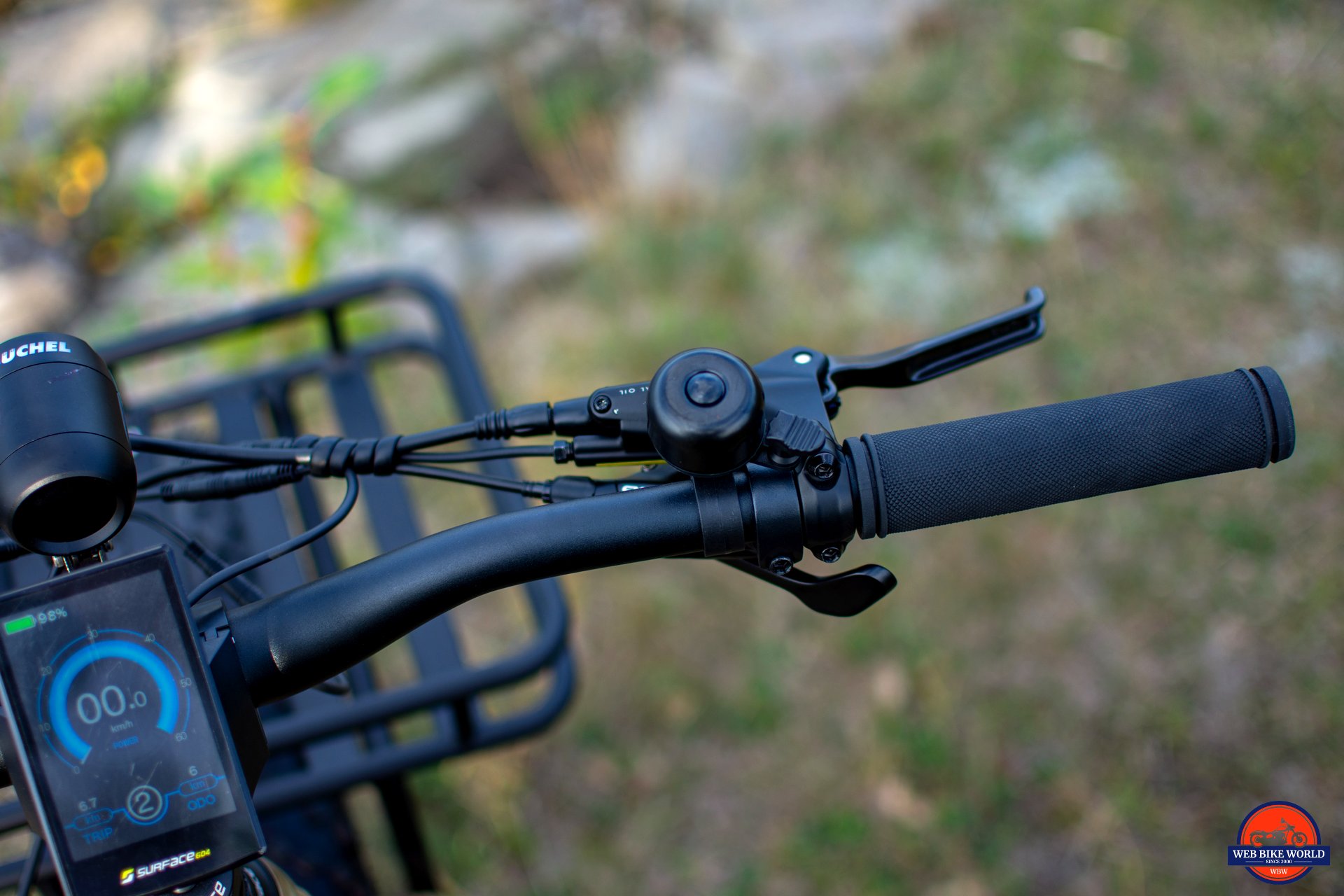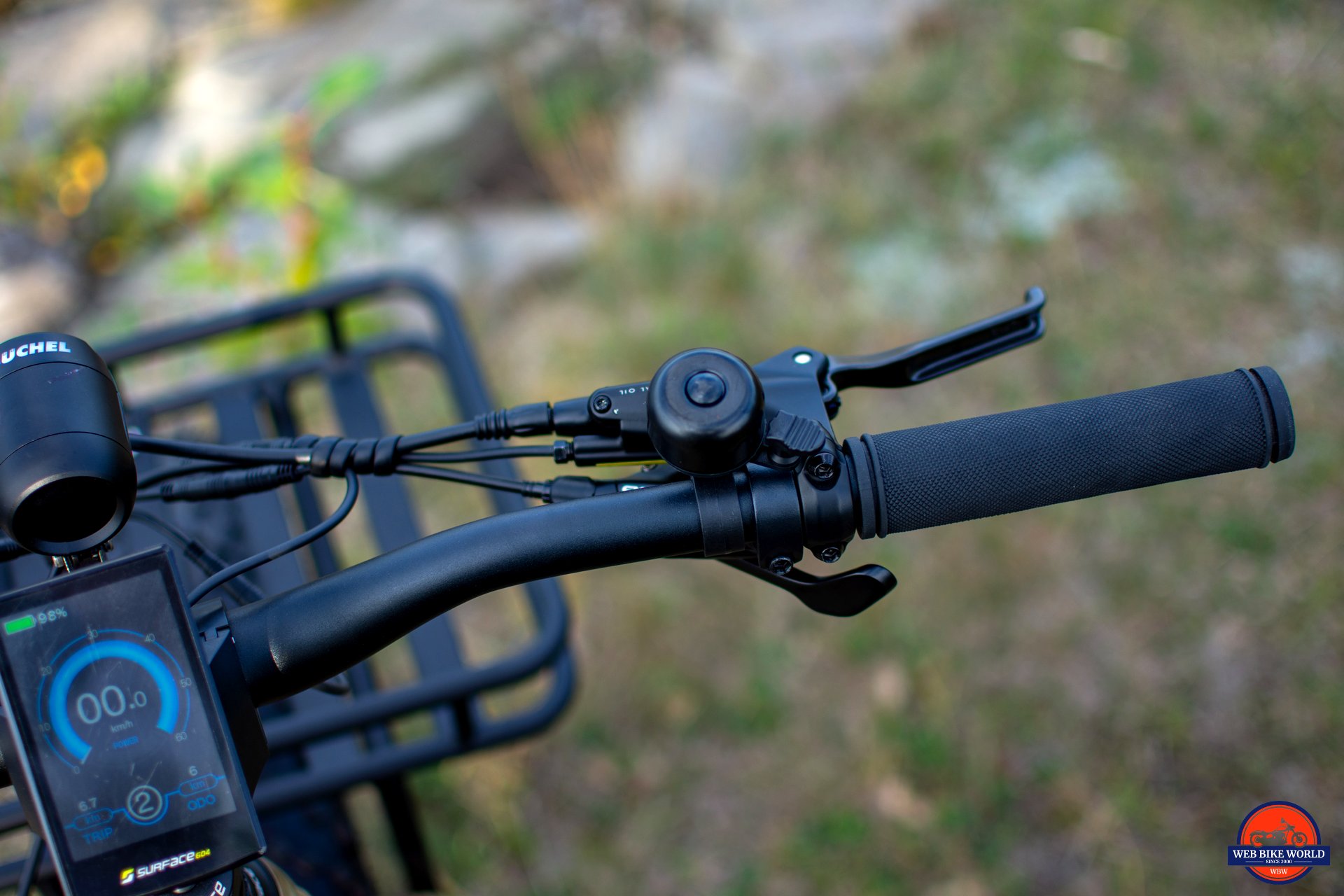 The right bars have the SRAM shifter, brakes, and bell. I like the SRAM X5 setup: The trigger shifter is quick, has good tactile feedback, and is very consistent. It's one of my favorite setups at this price point.
The only thing I'd change would be the grips; I'd install some cruiser-style grips, which I find more enjoyable for longer rides and with minimal loss of control.
Brakes​
The Boar Hunter comes with Tektro Auriga 2-piston hydraulic brakes and 180 mm rotors on both wheels.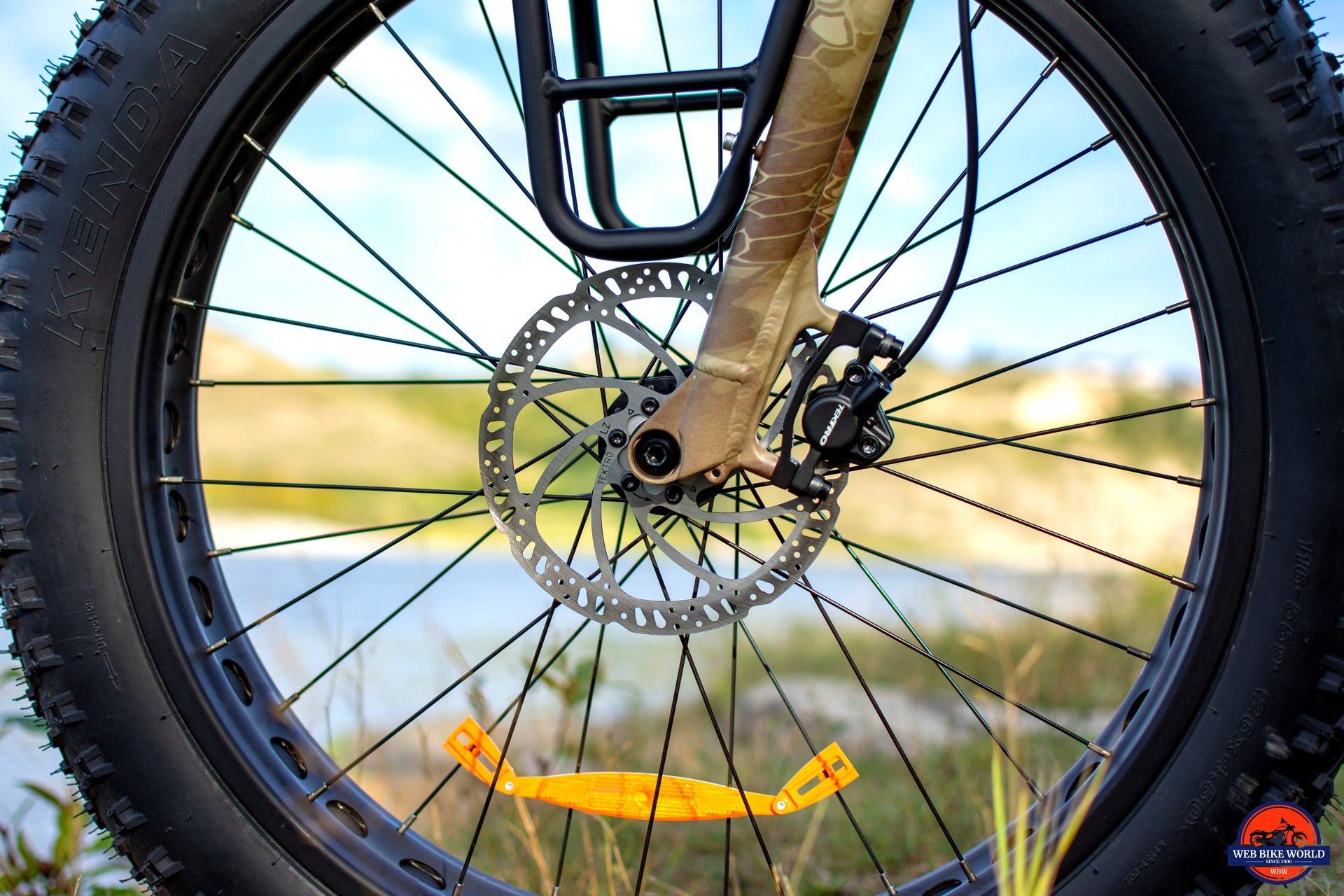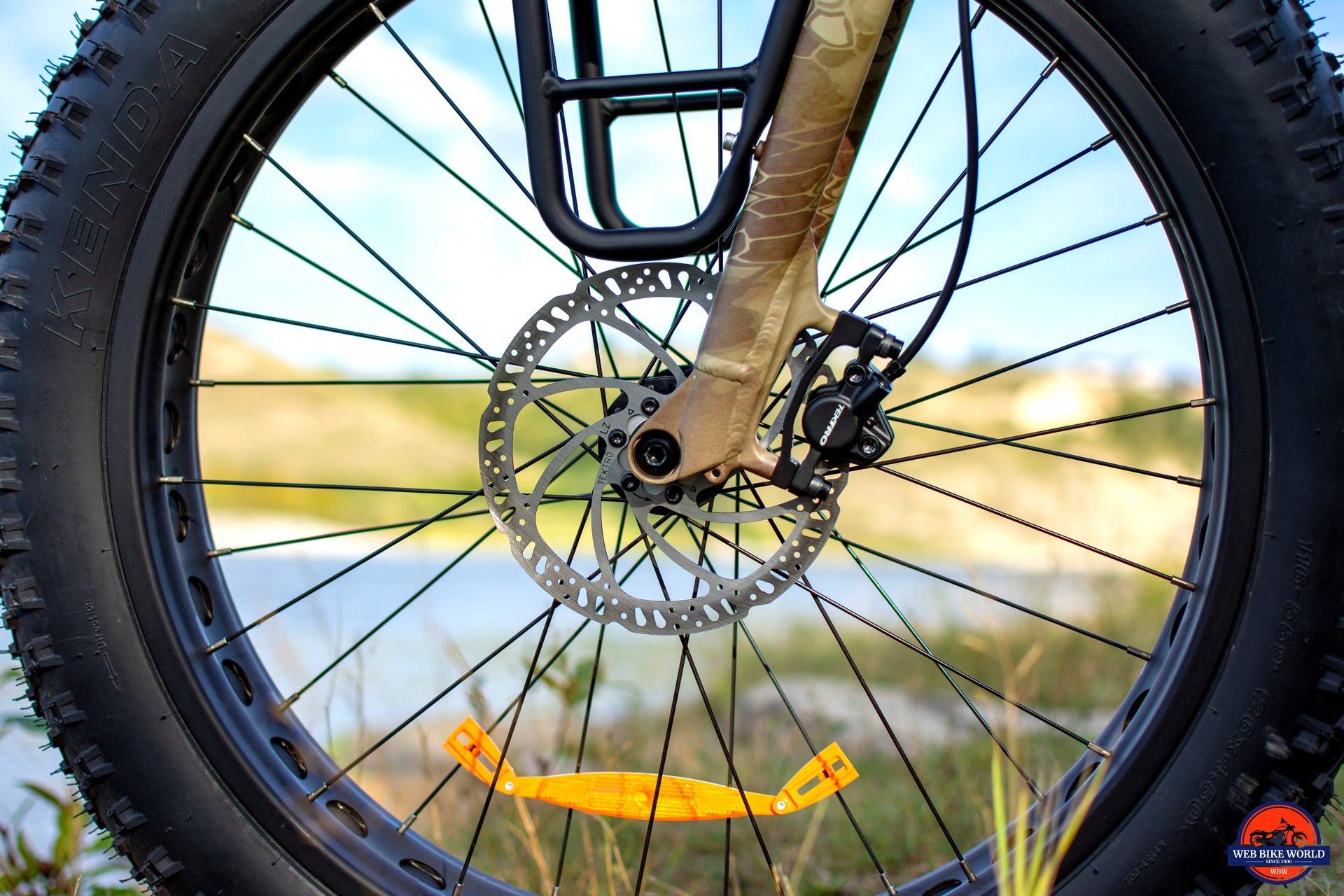 There's an argument to be made for using 4-piston brakes instead of 2-piston. "Normal" bike brakes are insufficient for ebikes due to the battery's and drivetrain's extra weight. This is why many of my
ebike reviews
for bikes with mechanical brakes contain a brief monologue about how all ebikes should be equipped with hydraulic brakes.
However, not all hydraulic brakes are created equally. The
HeyBike Tyson I just reviewed
also has hydraulic brakes from a no-name OEM brand. They're fine, but don't stack up to the Tektro models.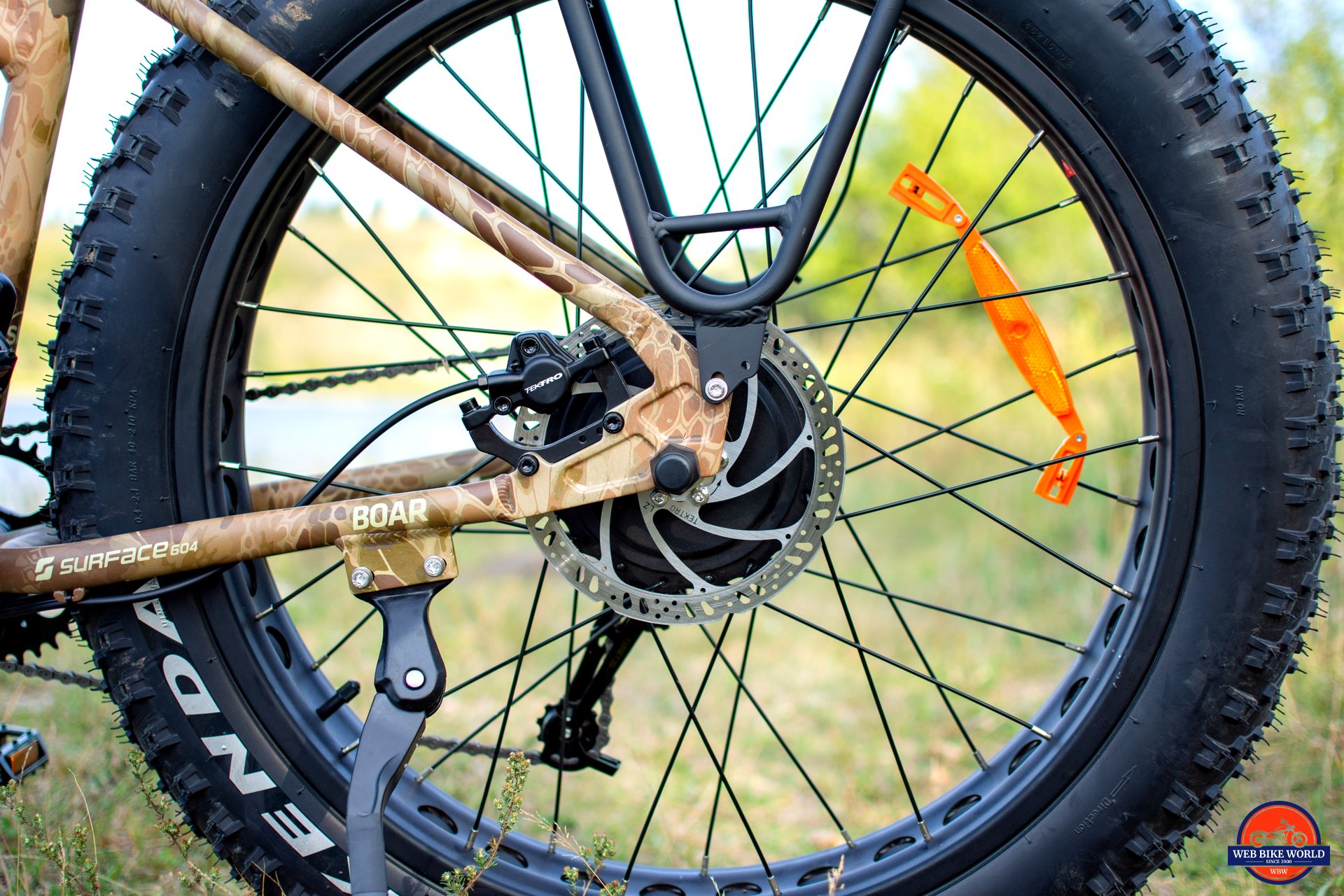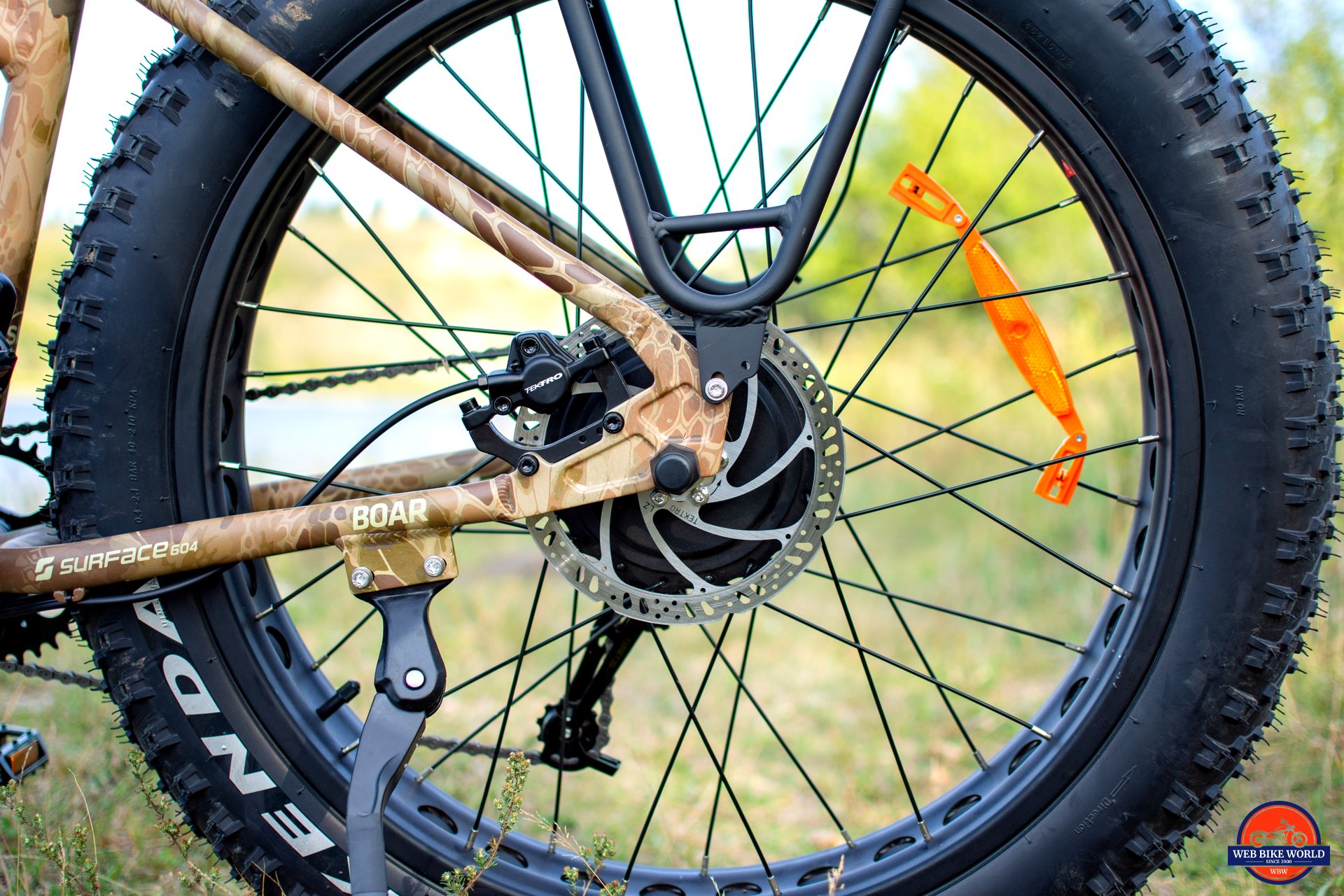 Braking on the Boar is good: the calipers have a strong bite, and the rotors resist heat fade well. However, if you're on the heavier side, and if you're going to have the bike carrying a load through hilly terrain, you may want to consider upgrading to 4-piston calipers. The upgrade is fairly inexpensive (under $250) and will give a heavier bike more stopping power. That said, for how I ride, the stock brakes are just fine.
Paint & Graphics​
I know the Boar is in this photo, but it's hard to make out. It's still a nice photo, though.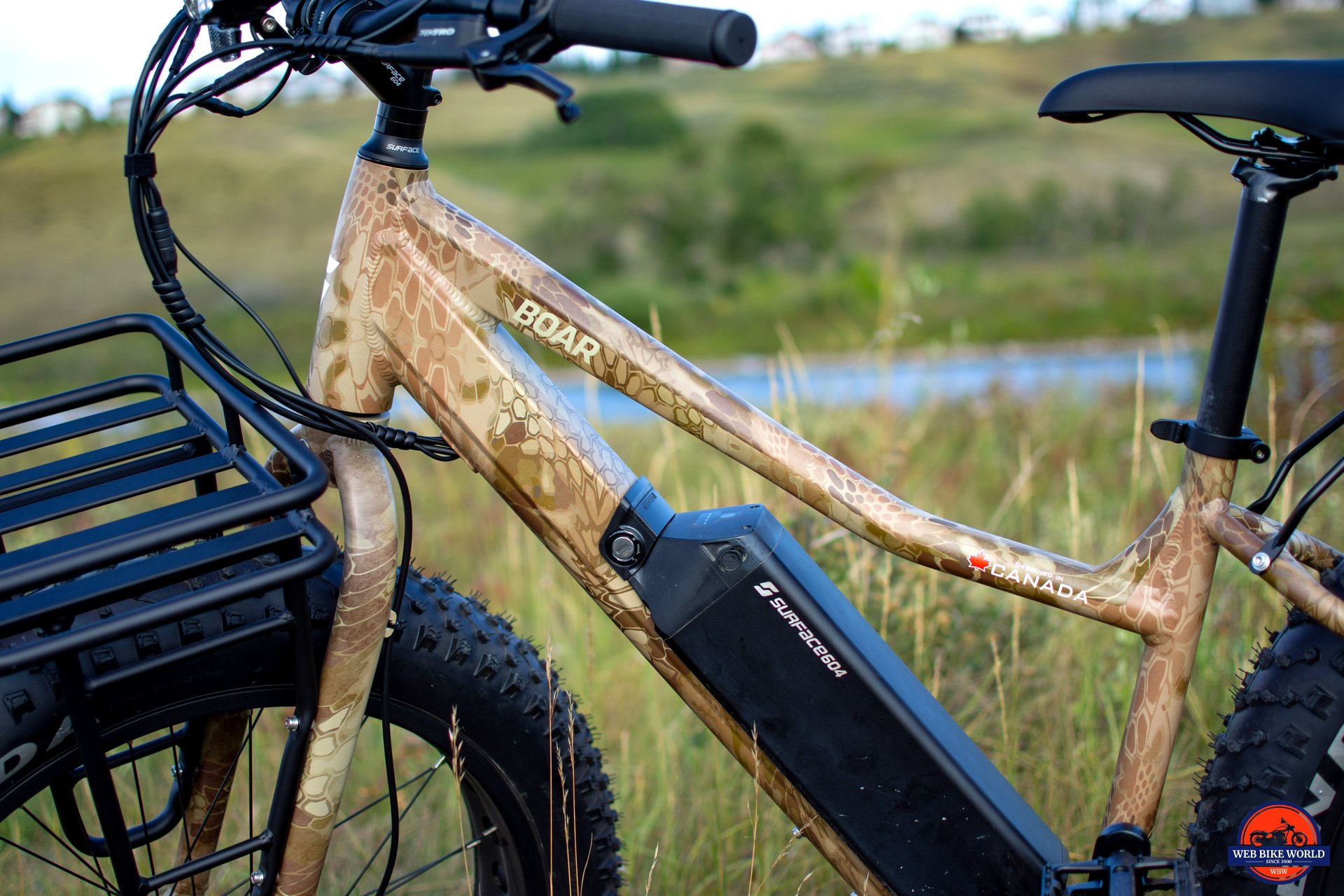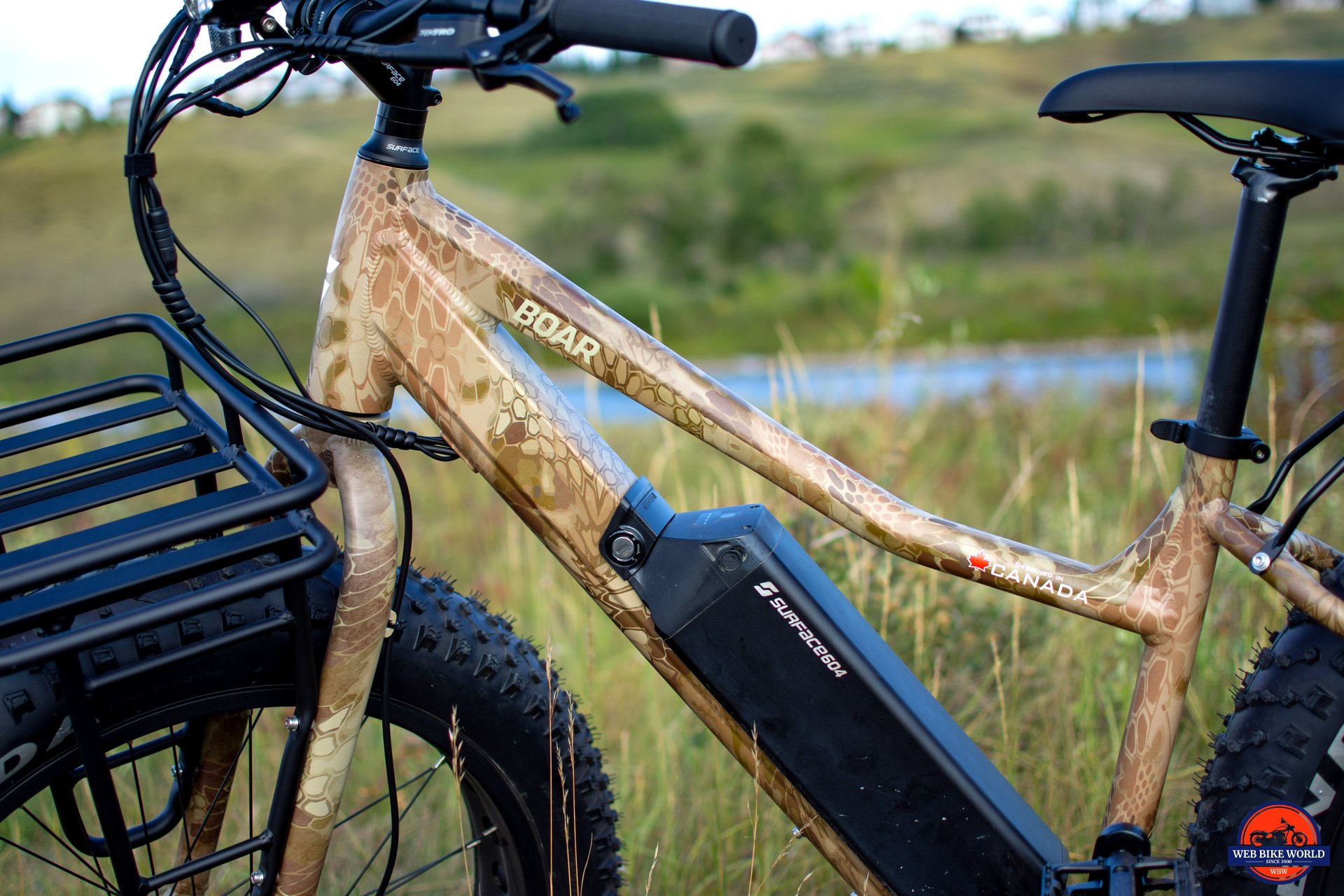 The decaling is fairly minimal, and the wrap on the frame does most of the talking. It's good quality all around. No complaints from me.
A Great Choice to Take Your Gear In, And Out Of the Bush​
The biggest piece of feedback I have on this bike is that it needs fenders. Surface 604 sells them, and there are many aftermarket options available. With big, fat tires and presumably a predication for off-road terrain, you will need them.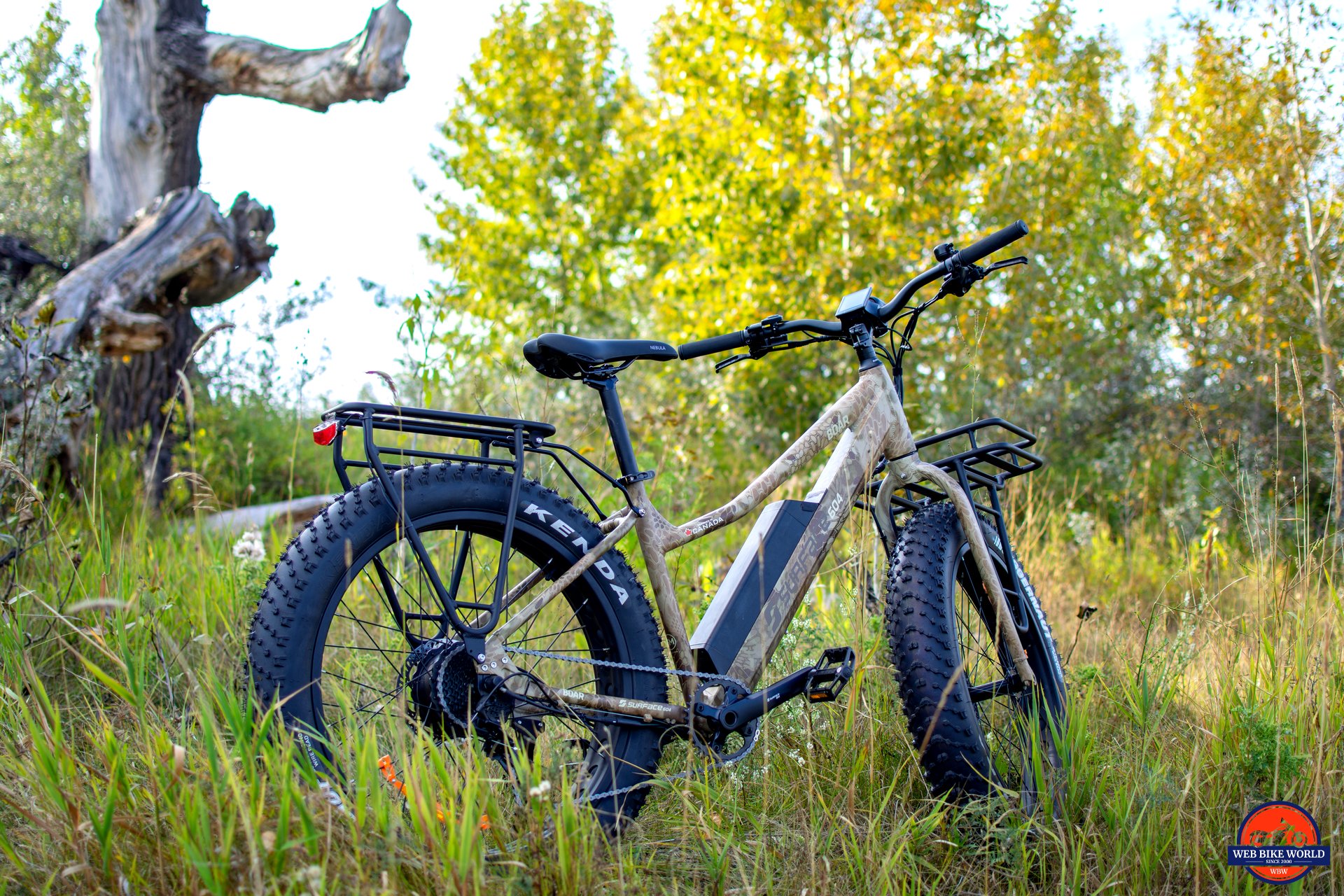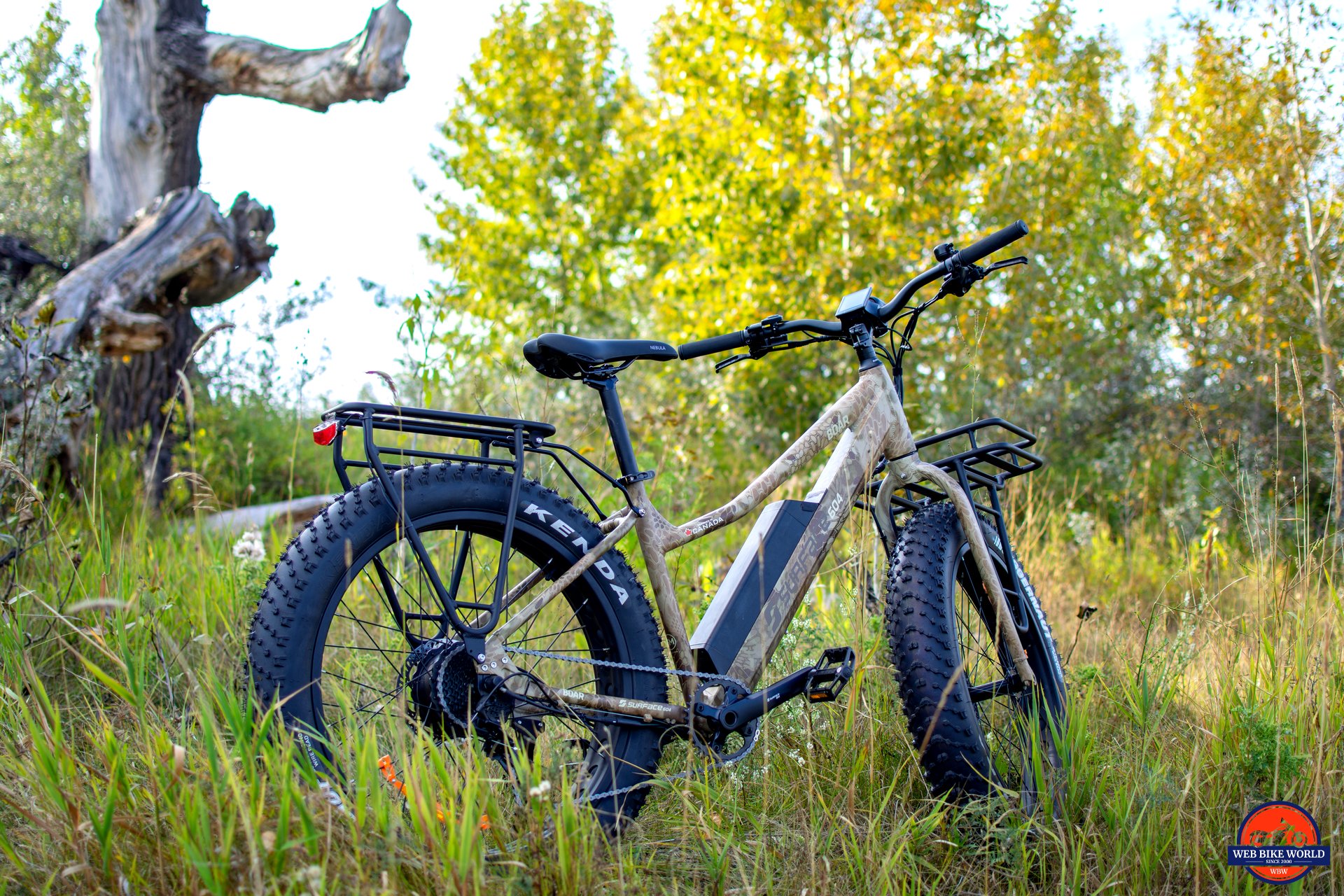 The Hunter is a pretty good value, using quality name-brand components and with many smart design decisions throughout. Coming with both front and rear racks, front and rear lights, and featuring a whisper-quiet 500-watt motor that puts out 80 nm of torque, the Hunter is equipped to take you wherever you feel so inclined to go.
2023 Surface 604 Boar Hunter Review
Review Summary
The Boar Explorer is a fat ebike with a rigid fork that loves to tackle the trails. The drivetrain is more than capable of getting the Boar moving, and the riding position and overall comfort will help you stay happy to rack up the miles in the saddle. It's priced right and made well, using quality components and smart thinking. This is a great fat tire ebike.
Design & Style
Performance
Build Quality
Value for Money
Reader Rating0 Votes
Pros
Robust front and rear racks
Bright headlight and taillights
Monstrous 4.5" wide tires are comfy and full of traction
Intuitive torque-sensing drivetrain
Cons
Needs fenders
Can't use throttle when PAS is set to 0
4.3
Excellent
Get Yours
USA
Canada
The post
2023 Surface 604 Boar Hunter Review
appeared first on
webBikeWorld
.
Continue reading...