Joined

Nov 11, 2011
Messages

7,044
Reaction score

207
Points

63
Location
When
Honda
launched the new
CB750 Hornet
I was eager to find out more about this bike and even better, see if I could get a ride on the bike.
You see, when I passed my bike test, my first 'big bike' was a 2003 Hornet 600 and as it was my first bike, I have very fond memories. I learnt so much on that bike, covered so many miles and had some great adventures.
Review Summary​
With a starting price of $8,640 USD / $11,546 CAD / £6,999 this makes it a really affordable new bike for any age range of riders.
3 Rider Modes plus a customisable User mode with three levels of torque and wheelie control.
Four color options available – black, white, gray and yellow.
At 190 kg and with a seat height of 795 mm this bike is especially ideal for those who are vertically challenged.
A2 license compliant meaning the bike can grow with you as your experience grows.
The new Hornet has had an overhaul from its previous namesake, it looks sleek, modern, sexy and fun.
Interestingly the new Hornet has put on a little weight, it is some 12kg heavier than my 2003 Hornet, it's seat height has grown by 5 mm to 795 mm and it has 5 bhp less with 90 bhp but instead of the engine being an inline four, it is now a liquid cooled parallel twin.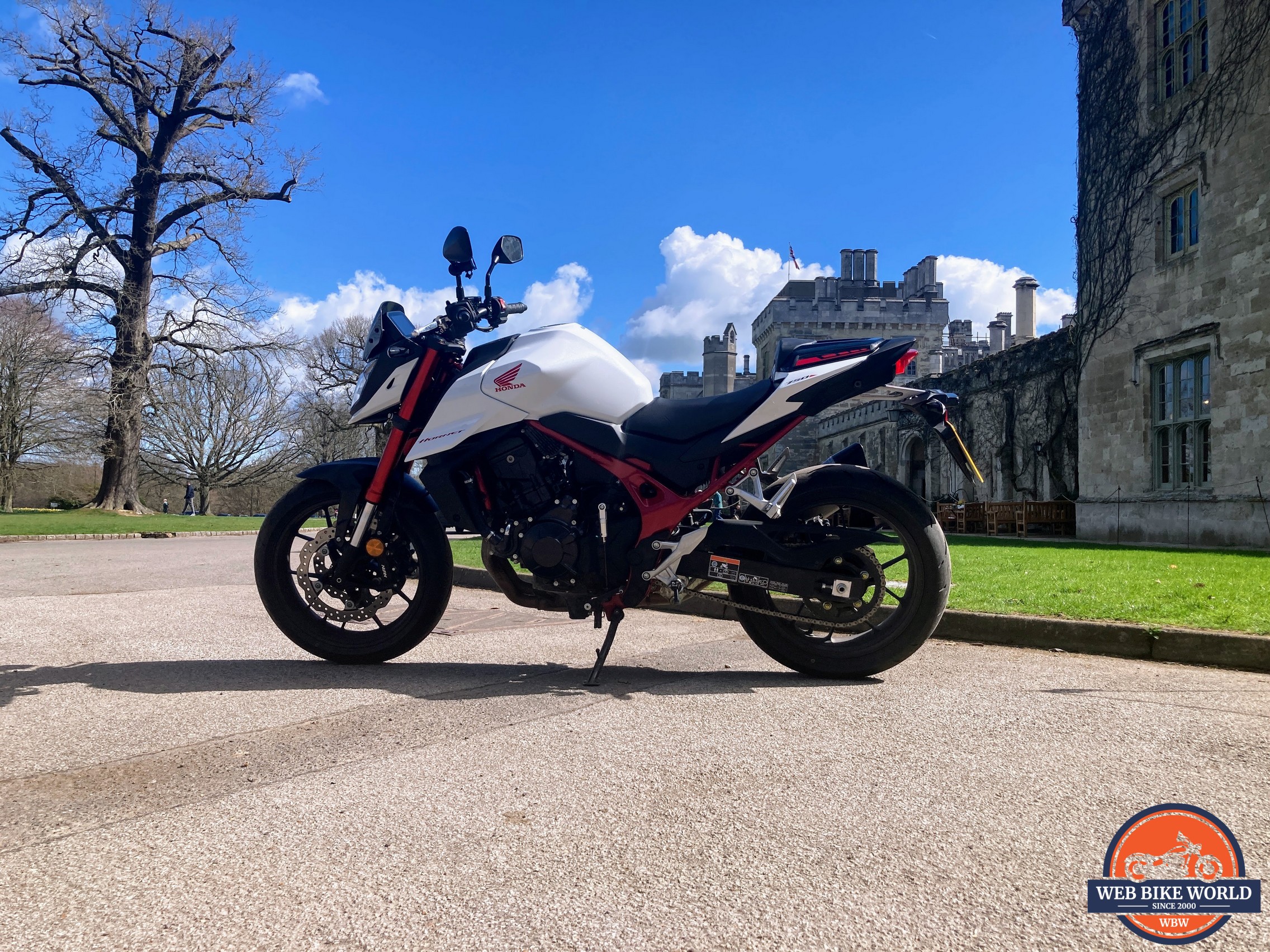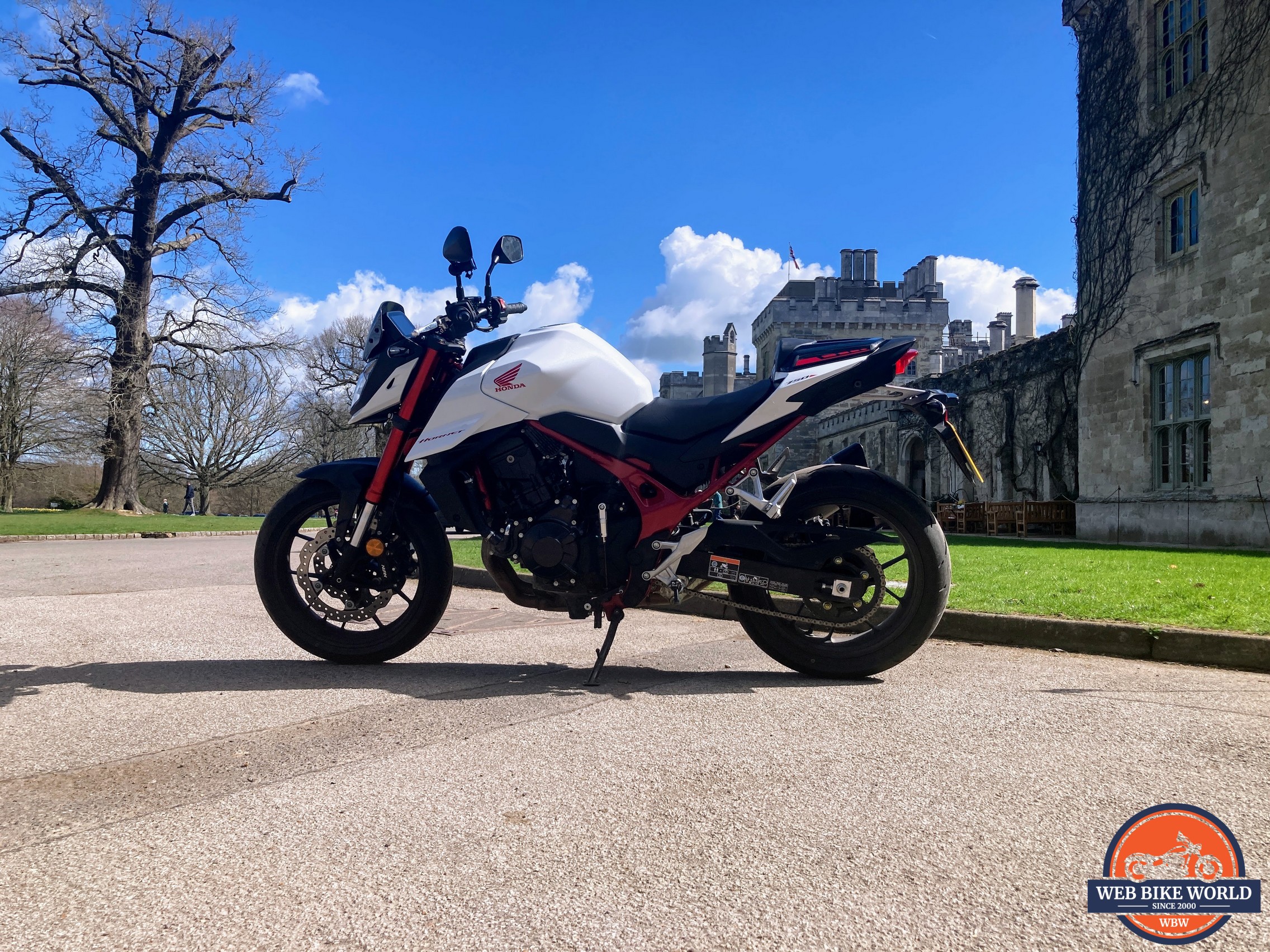 There are three accessory packs available with the Hornet namely Sport; Style and Tour. The bike I had on loan came with the sport pack so had a seat cowl, meter visor on the front, sport footpegs and a quickshifter. This pack costs an additional $685 USD / $923 CAD / £555 to the starting price.
The Style pack costs an additional $506 USD / $682 CAD / £410 and comes with aluminum handlebar holders, grip ends, wheel stripes, tank pad and skid pad.
The Tour pack comes with rear seat bag attachment, rear seat bag, panniers set, pannier attachment and 3L tank bag and will set you back $944 USD / $1,272 CAD / £765.
There are then various customized parts you can add to the bike such as comfort, design, luggage and performance. The bike I had on loan came with the SC Project muffler which is an additional $1,119 USD / $1,512 CAD / £900.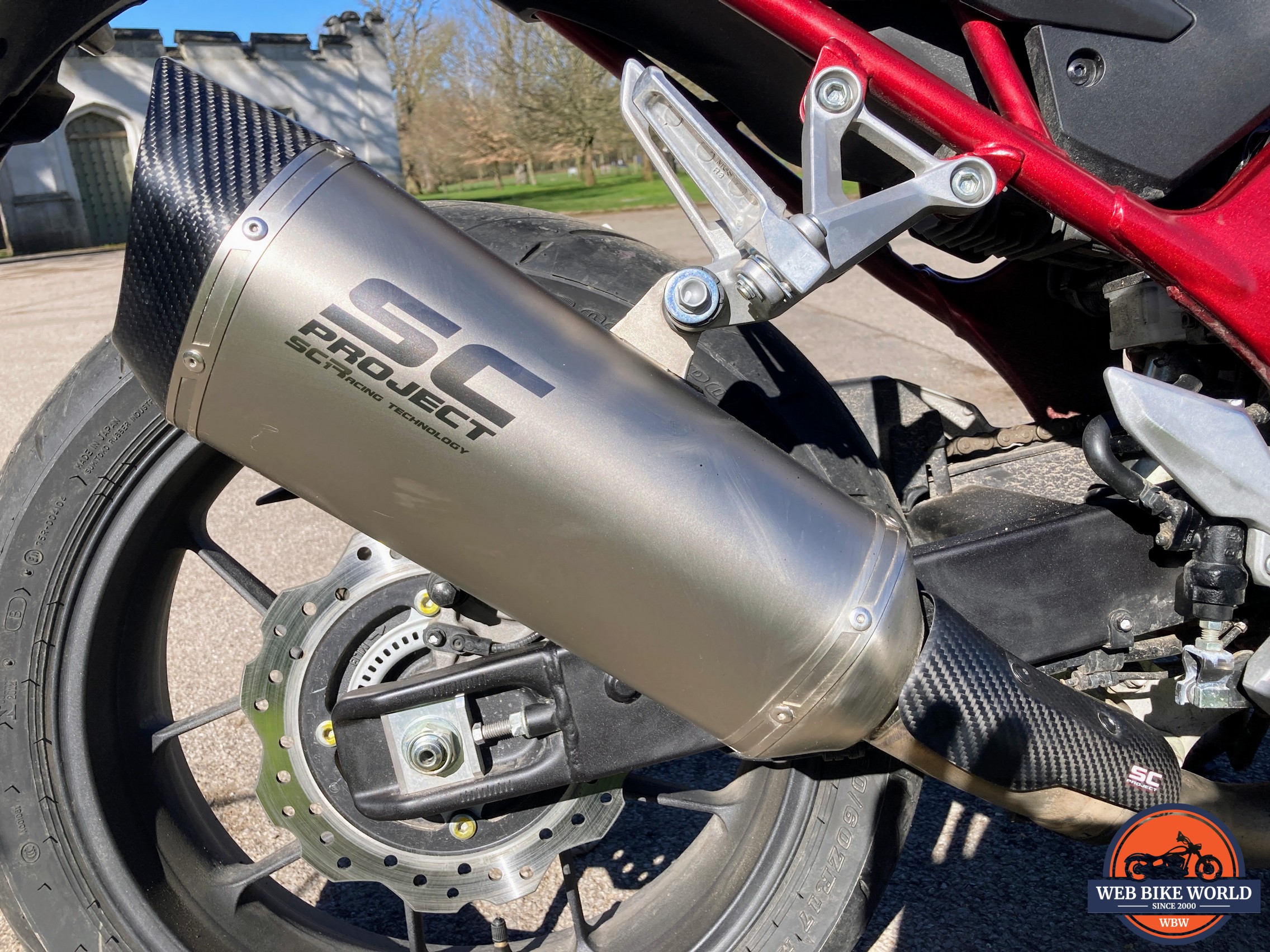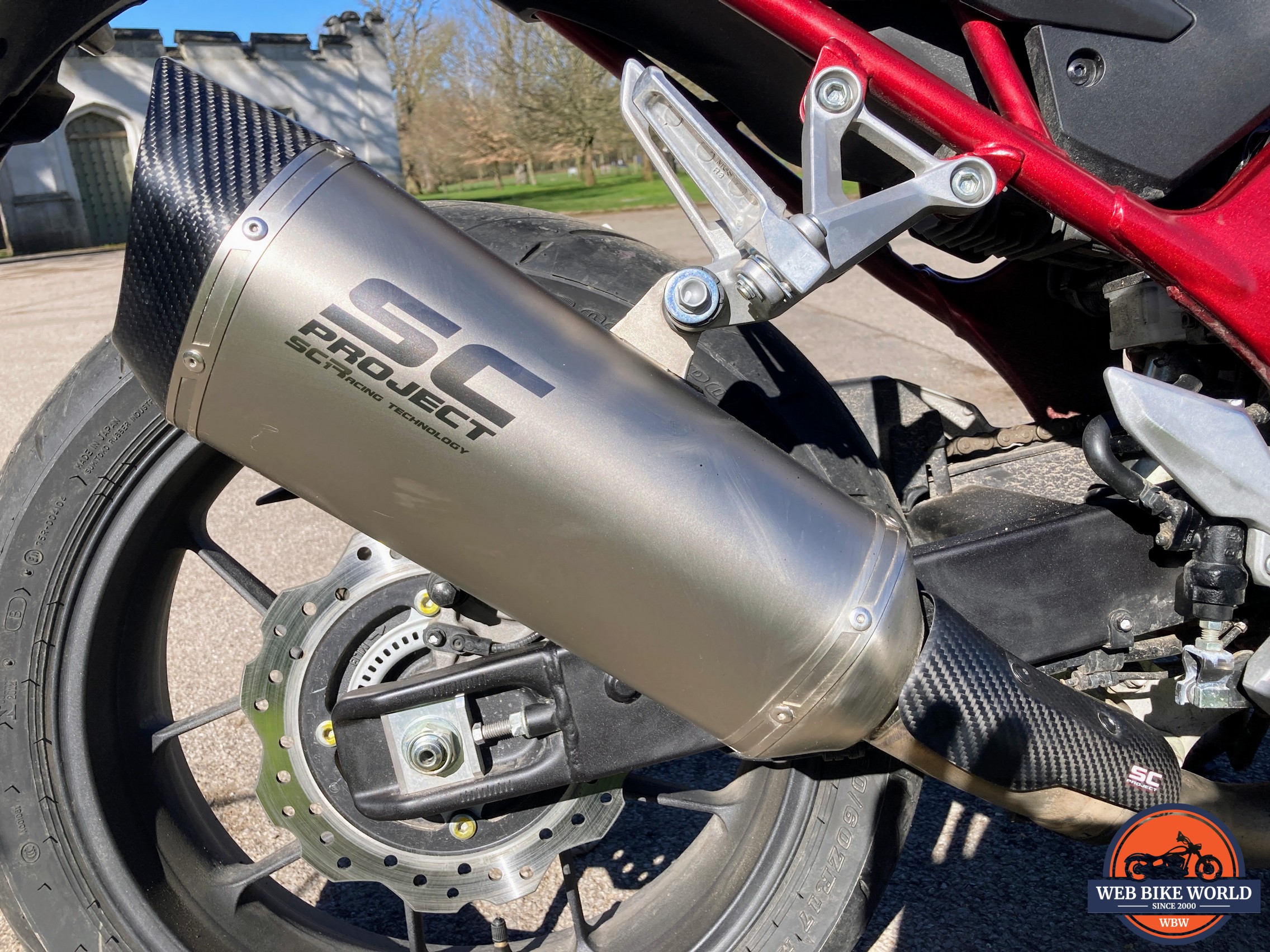 The SC Project muffler, this can be purchased as an accessory.
Let's take a closer look at the Hornet shall we.
At A Glance:​
Weight: 190 kg
750 cc parallel twin cylinder liquid cooled engine
67.5 kW @ peak with 75 Nm of torque, 90 bhp
5" TFT color screen
Three riding modes: rain, standard, sport plus customisable User mode
795 mm seat height
Honda selectable torque control and Wheelie control with 3 levels of intervention
Color Options: Black, White, Yellow and Grey
Price: $8,640 USD / $11,546 CAD / £6,999
First Impressions​
Wow! What a lot of bike for your money!
The new Hornet screams fun. It looks feisty, sexy and is just asking to be ridden. This new generation of Hornet is the talk of the town and I was eager to find out why.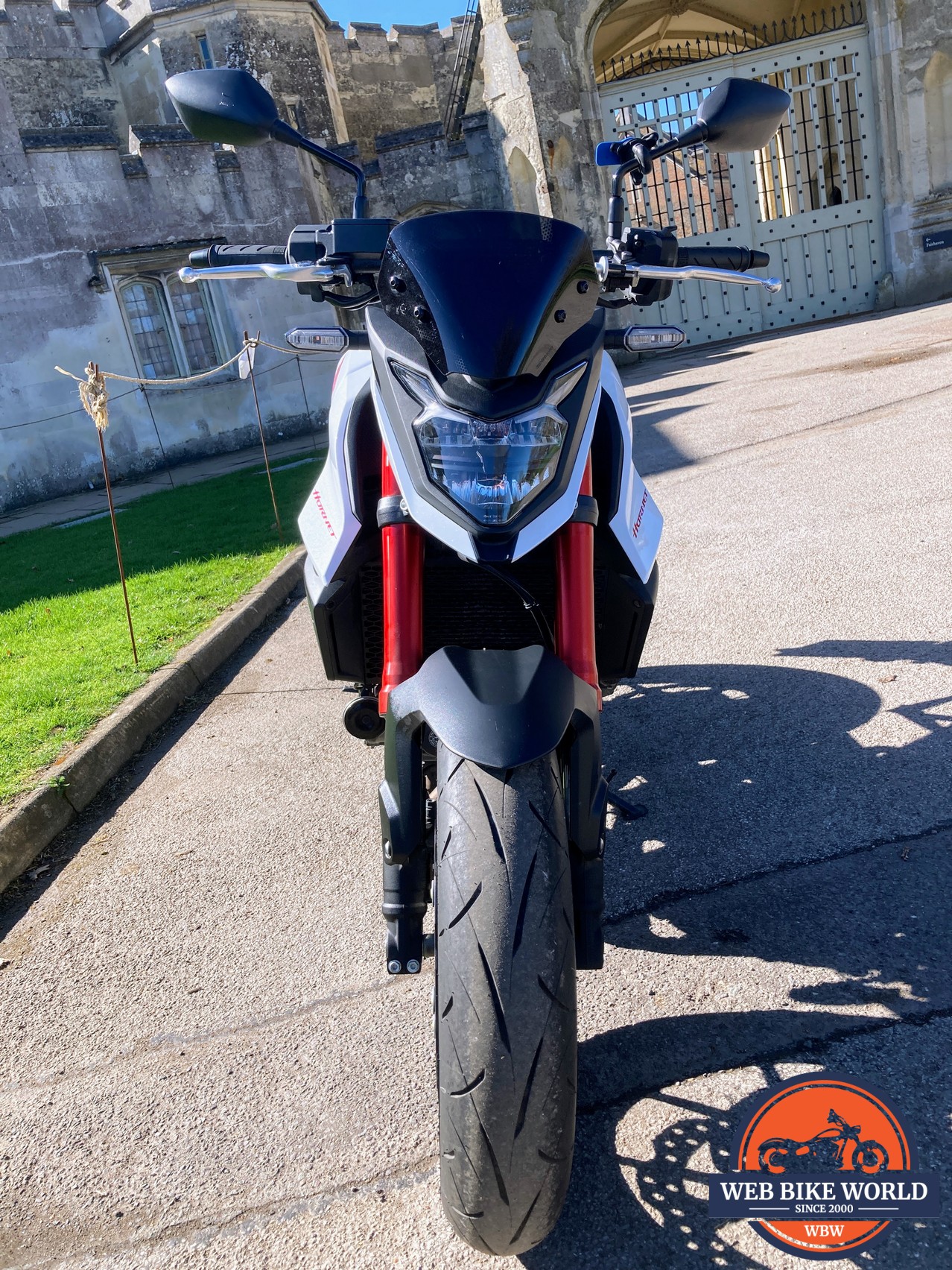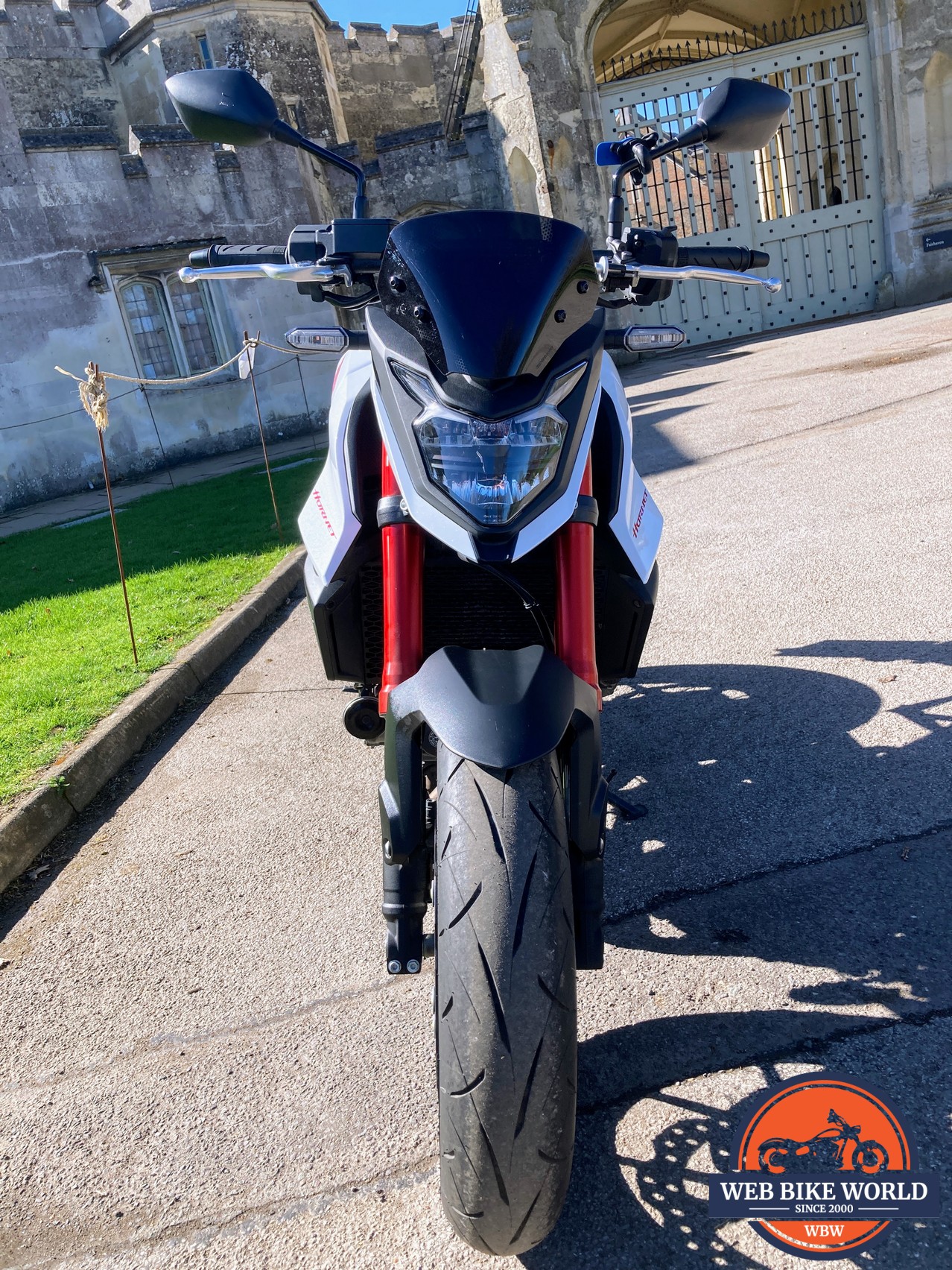 The Honda CB750 Hornet looks sleek from the front.
I have a
Honda CB1000R
and having owned a previous model Hornet, I know that with Honda there is a certain level of build quality that comes as standard on their bikes, they are nicely put together.
Before the Hornet arrived, I was thinking that at the price perhaps this would not be up to par. Apart from the front mudguard which I thought was a little on the flimsy side, it is everything you would expect.
My first couple of rides on the Hornet were wet ones so although I could get a feel for the bike, it was not until I had a drier ride that the true nature of the bike appeared. I knew that I was going to enjoy my time with the Hornet.
Engine​
The Hornet comes equipped with a brand new engine – a parallel twin cylinder liquid cooled engine giving out 67.5kW peak power and 75Nm torque. With a wet weight of 190kg, it has a class-leading power-to-weight ratio of 0.36kW per kg / 2.81kg per kW making this a super fun bike to ride, it really does give you a buzz.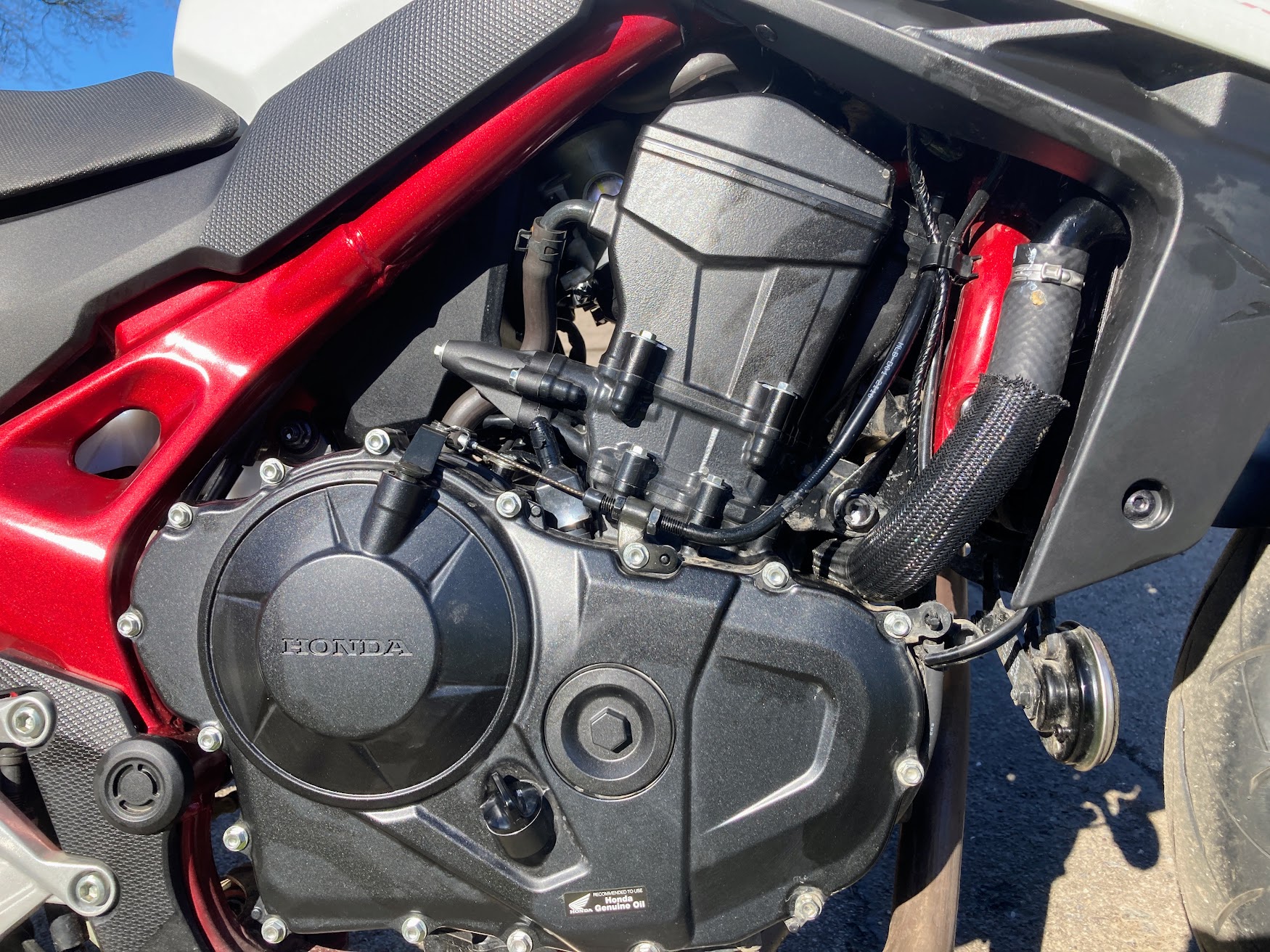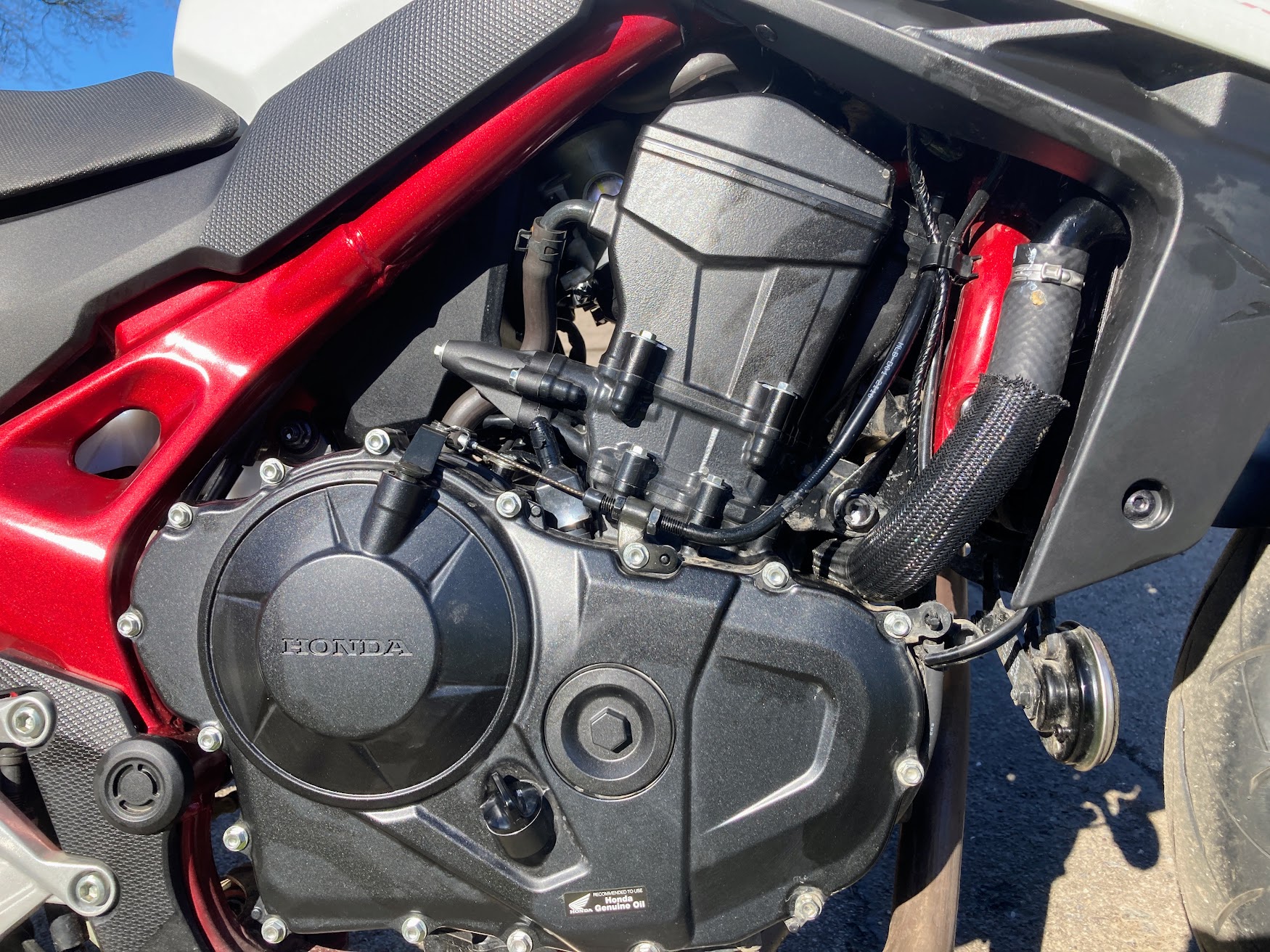 The new parallel twin cylinder liquid cooled engine.
Honda describes the Hornet as delivering both top end buzz and heaps of mid-range usability and I would agree with this. The Hornet was happy at low speeds through the towns and came alive on an open road. On a twisty road the bike is flickable whilst giving you that planted feeling that it is just doing what it is supposed to do. A 270° crank delivers feel and character; the Hornet has a soul.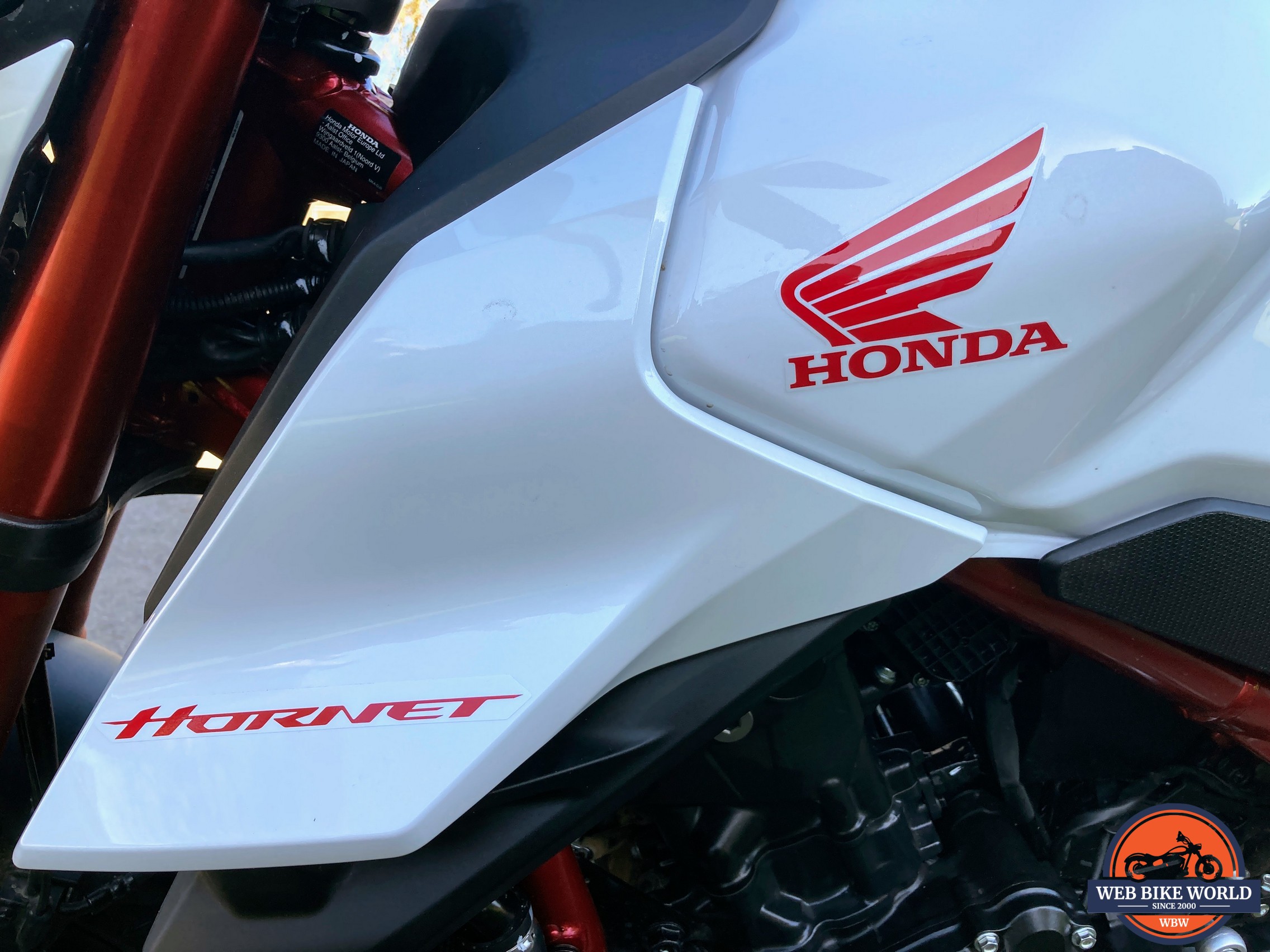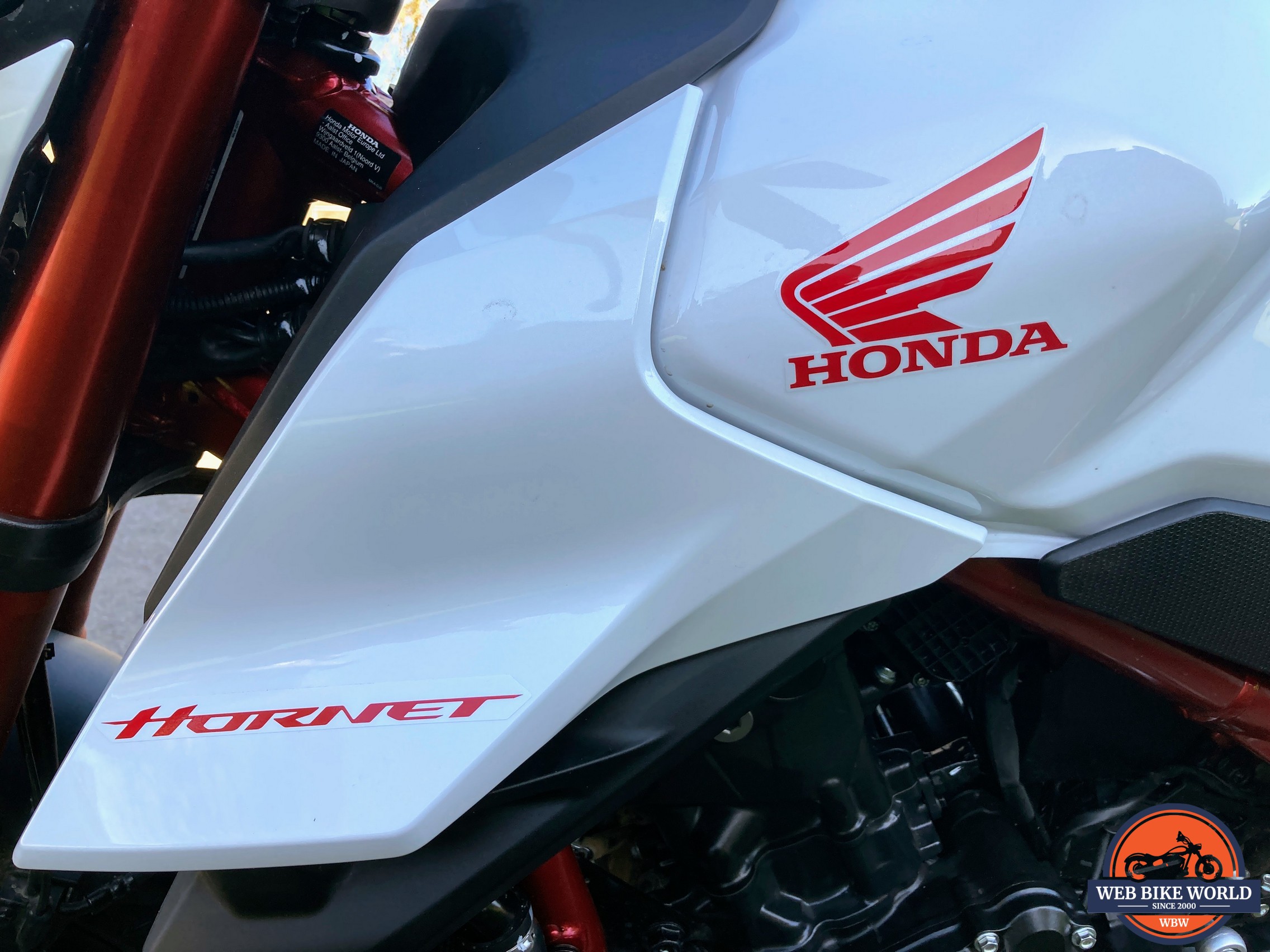 An A2 license option will also be available meaning for those on a restricted license, an accessory pack is available. This can be removed once an A1 license is obtained, thus the bike can grow with your riding and experience.
Chassis​
The engine is housed in a new steel diamond lightweight frame with Showa 41 mm USD forks and a rear shock operating through Pro-Link.
The dual four-piston radial-mount calipers ensure that the brakes work efficiently and effectively and come equipped with Emergency Stop Signal (ESS) technology.
Ride by Wire Throttle & Modes​
The Honda has throttle by wire engine control meaning there is no physical connection between the twist grip and the throttle butterflies, it is controlled electronically, with three default riding modes: rain, standard and sport, adjusting the engine's delivery and feel to suit conditions and your riding style. The modes can easily be changed using the mode button on the left bar.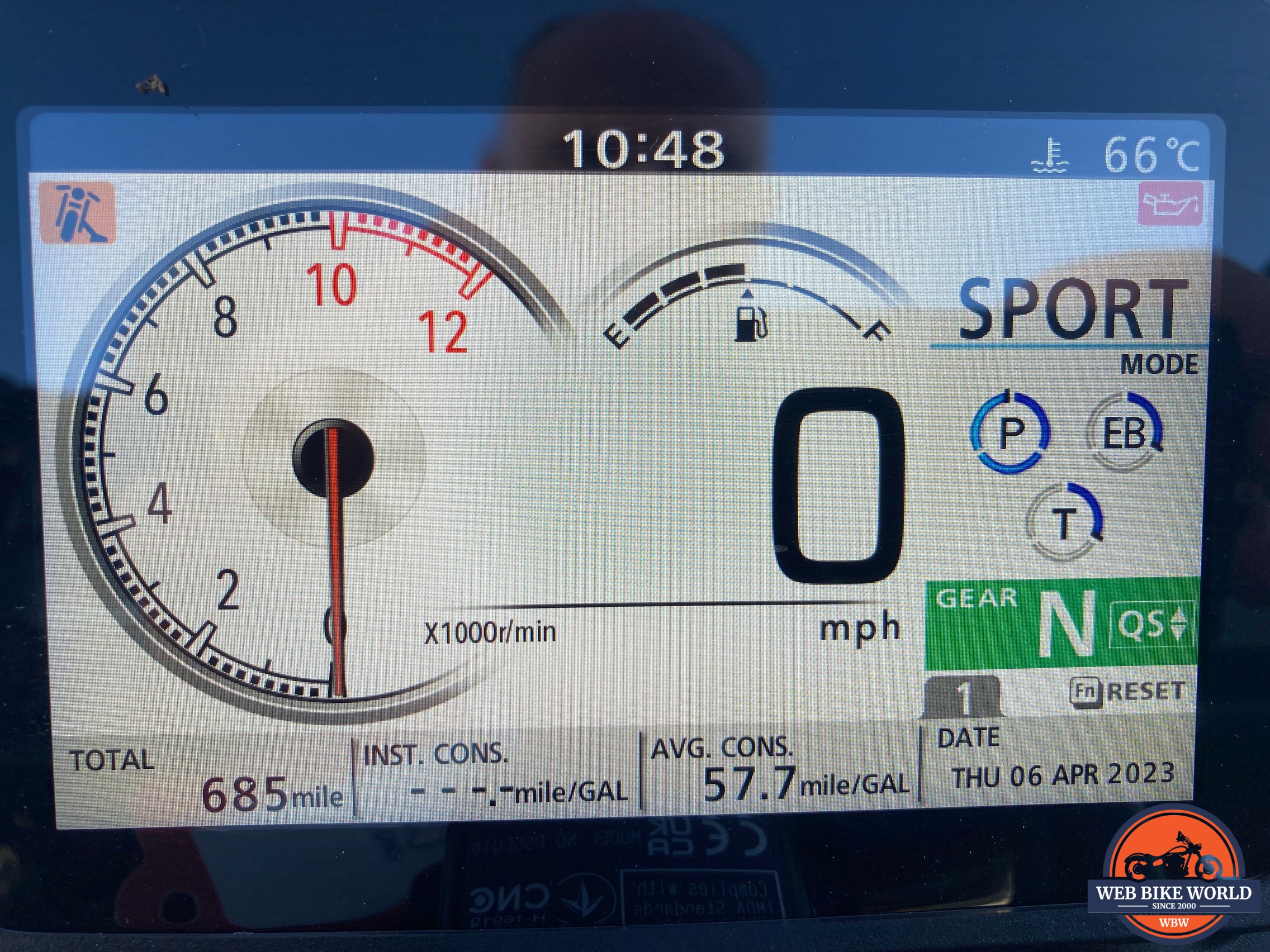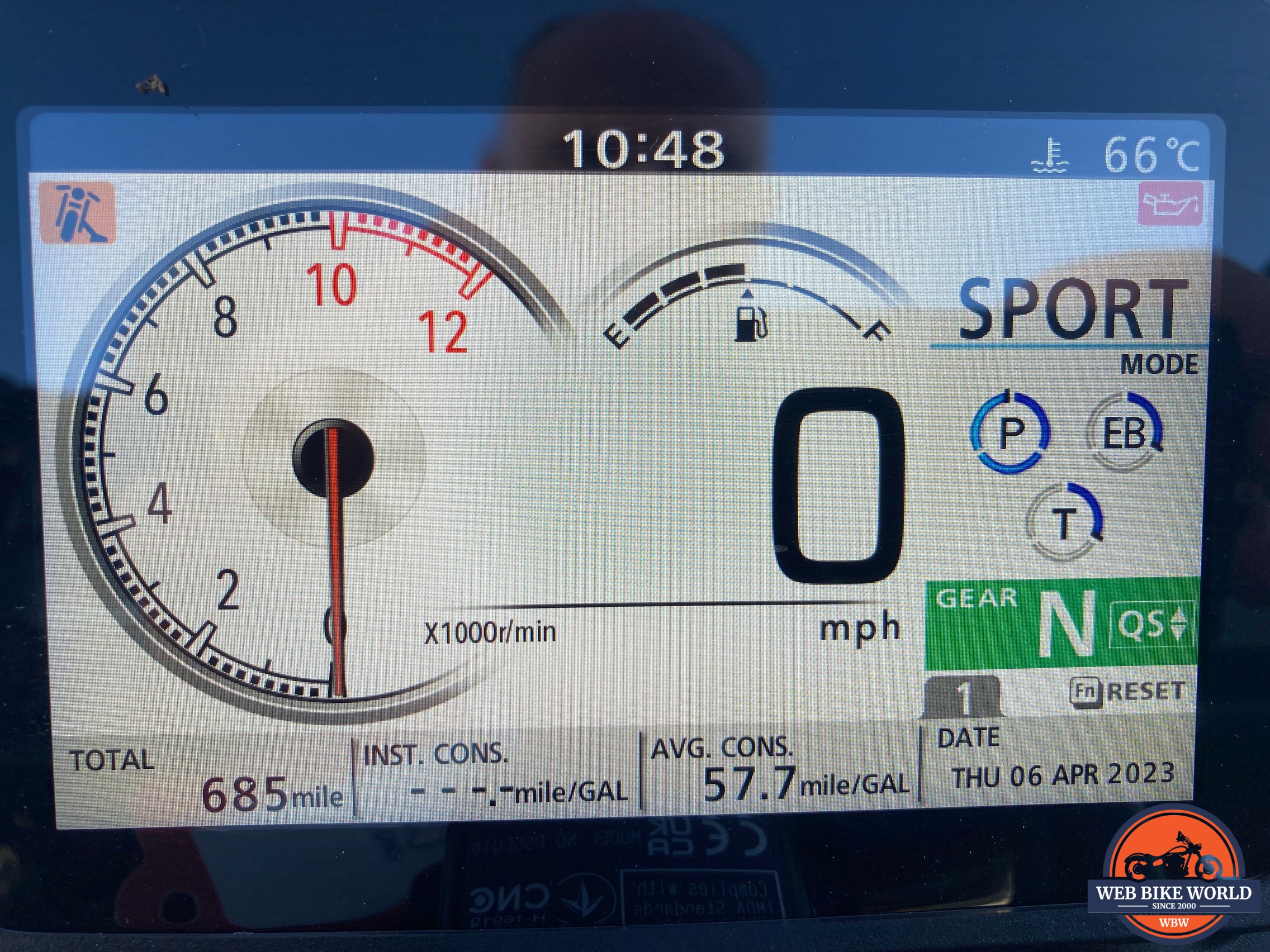 The 5" TFT screen is easy and clear to read.
There are 3 levels of Engine Power (EP), Engine Brake (EB) and Honda Selectable Torque Control (HSTC) with integrated Wheelie Control available; HSTC can also be switched off.
Honda say the riding modes offer different combinations of each parameter:
SPORT uses level 3 EP and level 1 EB and HSTC to deliver maximum performance with minimum intervention.
STANDARD mode is a mid-way setting that uses level 2 settings for EP, EB and HSTC.
RAIN mode employs the lowest EP setting, level 1, for the least aggressive power delivery with level 2 EB and 3 HSTC.
USER mode allows the rider to choose between the 3 settings for each parameter and save the setting for future use.
I found I preferred to have the bike in Sport mode even in wet conditions. I liked the way bike handled and behaved in this mode, it definitely suited my riding style the best.
Quick Shifter​
This Hornet had the sports pack on it and so came with the up and down quickshifter which has an adjustable operation load in three stages, you can choose soft, medium or hard. The best option I found for me was soft mode.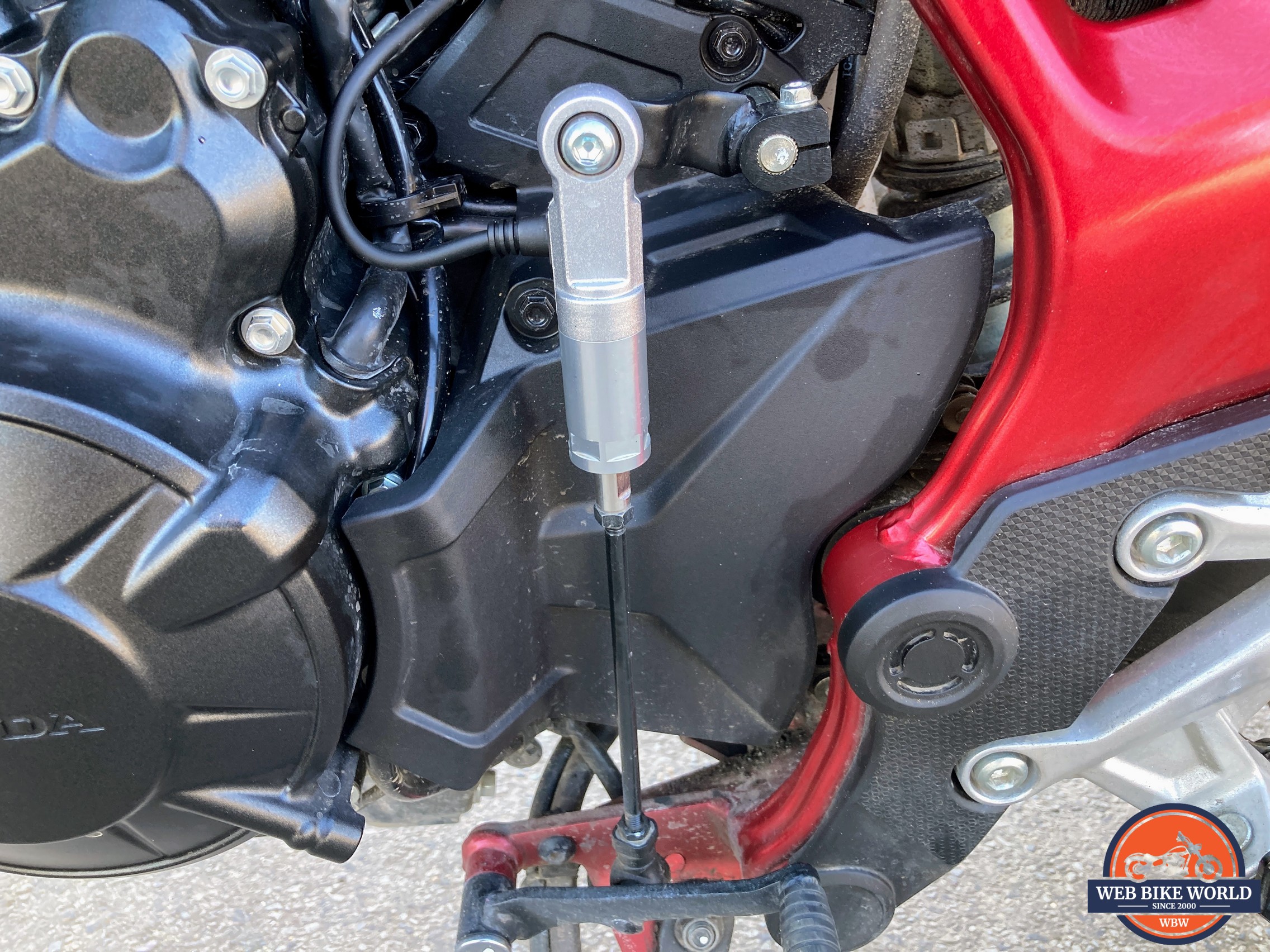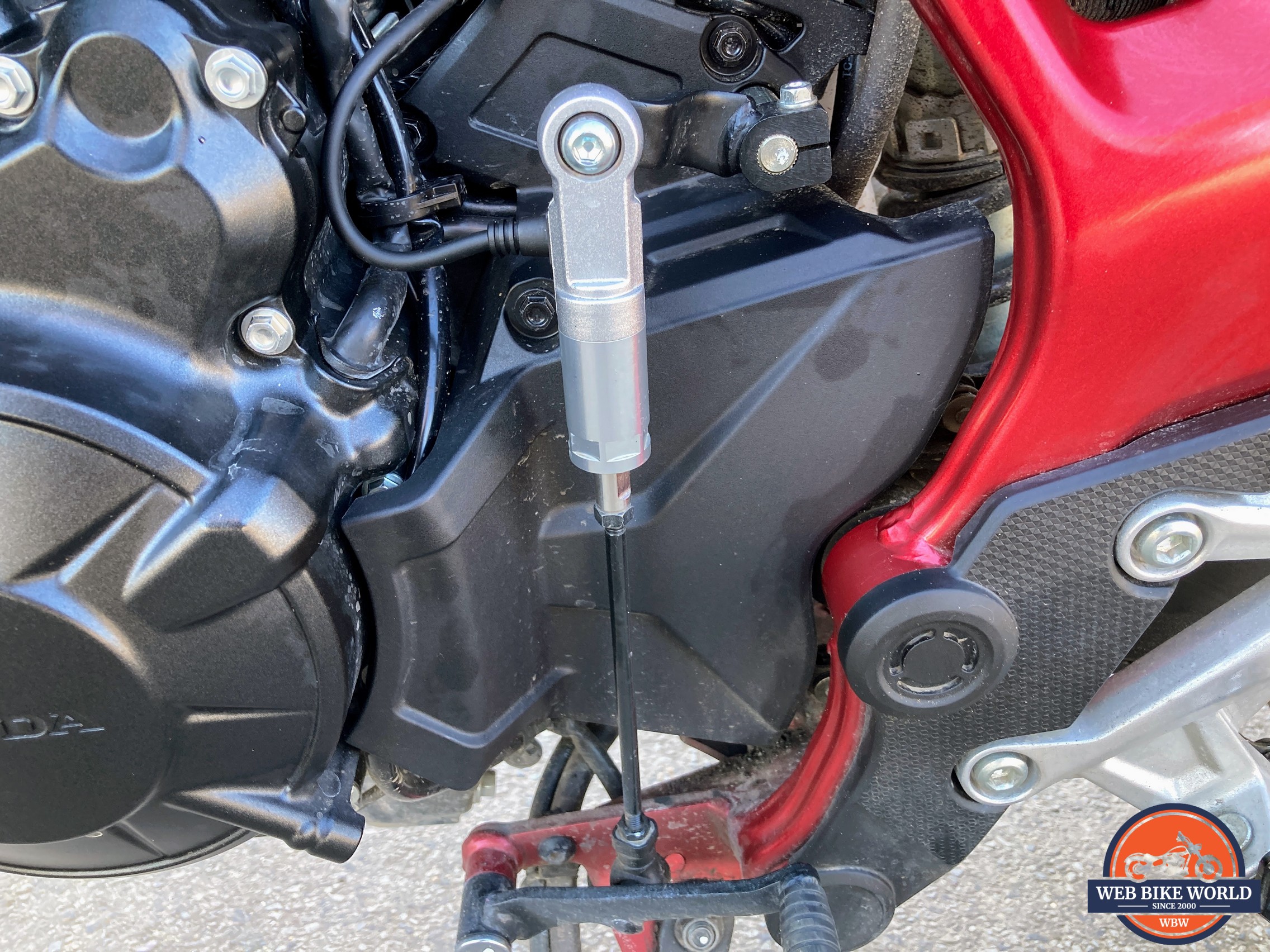 The quick shifter.
I did find the quick shifter a little clunky at lower speeds, which I think is quite common, but when going at a faster speed, it was nice and smooth. You can turn the quick shifter off altogether if you wish or you can have it set in up only or down only mode.
After riding the bike for a couple of weeks, I really got used to having the quick shifter and I can see why people love them, I'm just not sure if I am enough of a fan to pay for this as an optional extra.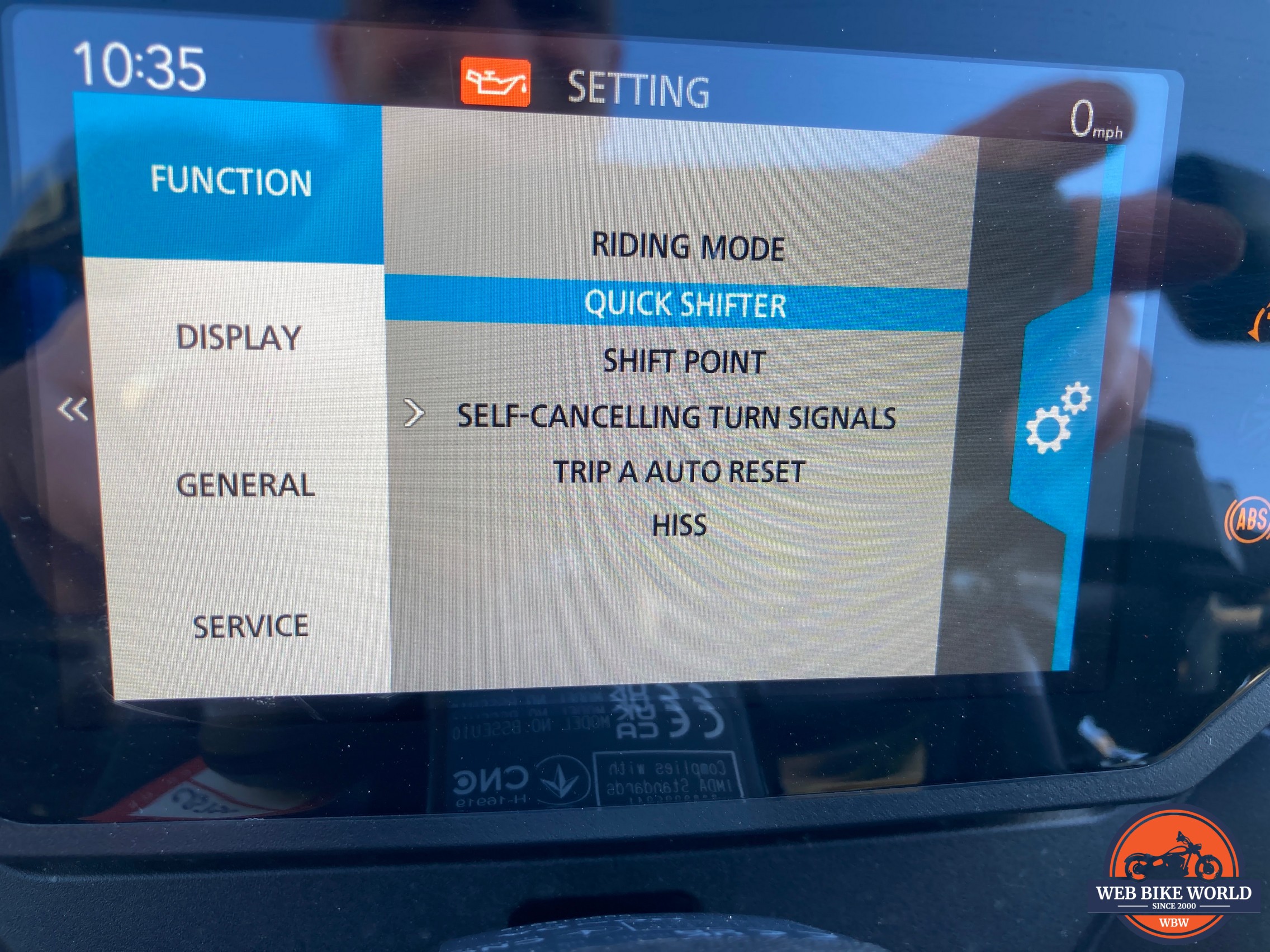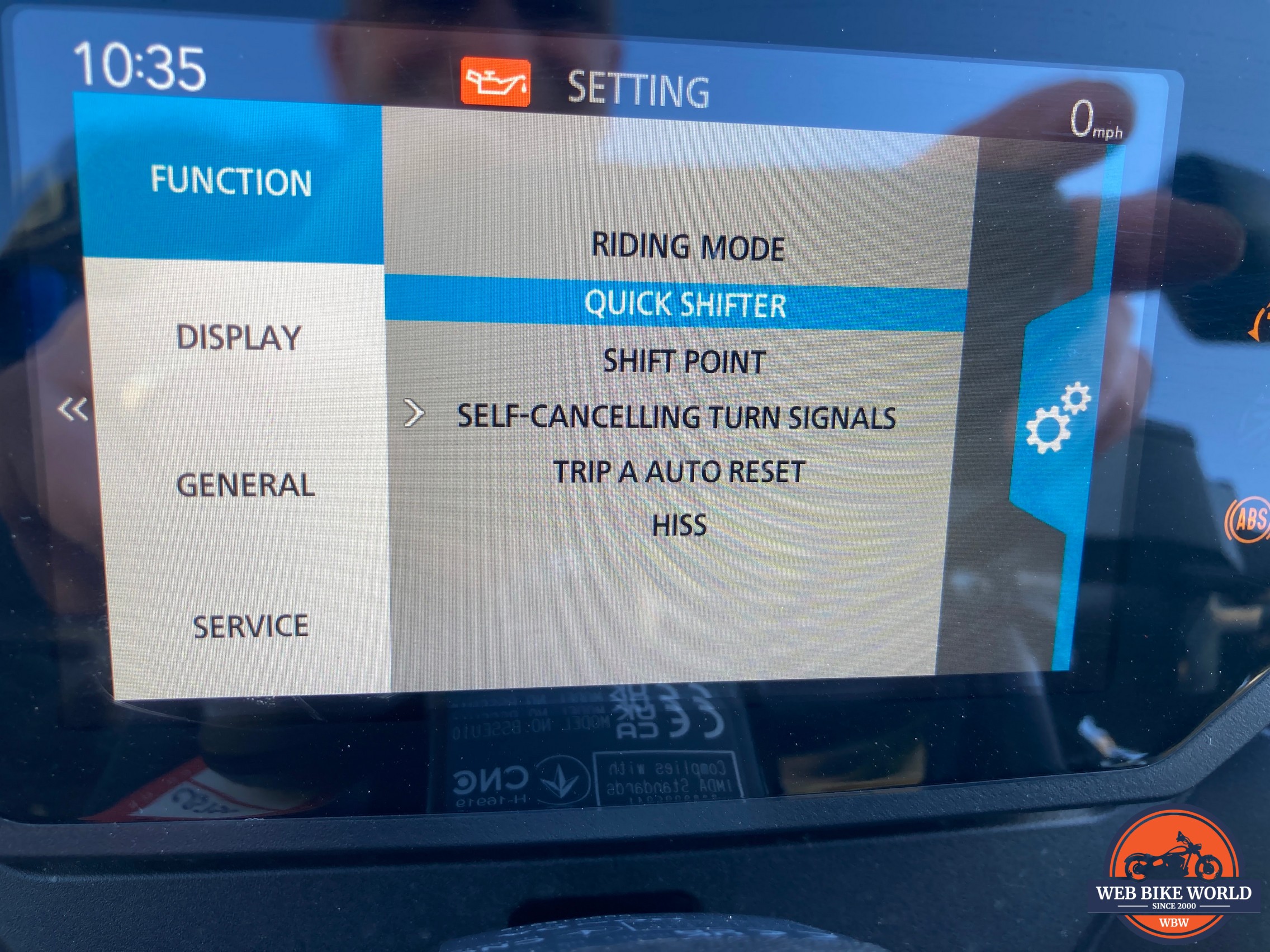 Quick shifter options – you can turn this off, up only, down only, up and down.
The quick shifter is a great addition but I don't know that it is needed on the Hornet. When I think of a quickshifter I think of a
sports bike
as it is a different type of riding. At the end of the day of course, it is personal preference.
Instrument Display​
The 5" TFT color instrument display comes with HSVC (Honda Smartphone Voice Control). With the Honda Road Sync app you can access the device via
bluetooth headset
so it can be used for navigation, calls, messages and music.
I did download the app and connected my phone to the bike which I found relatively easy to do, the prompt along each step of the way helped! It was great to be able to access navigation whilst riding and also a bit of music which is not something I would normally do.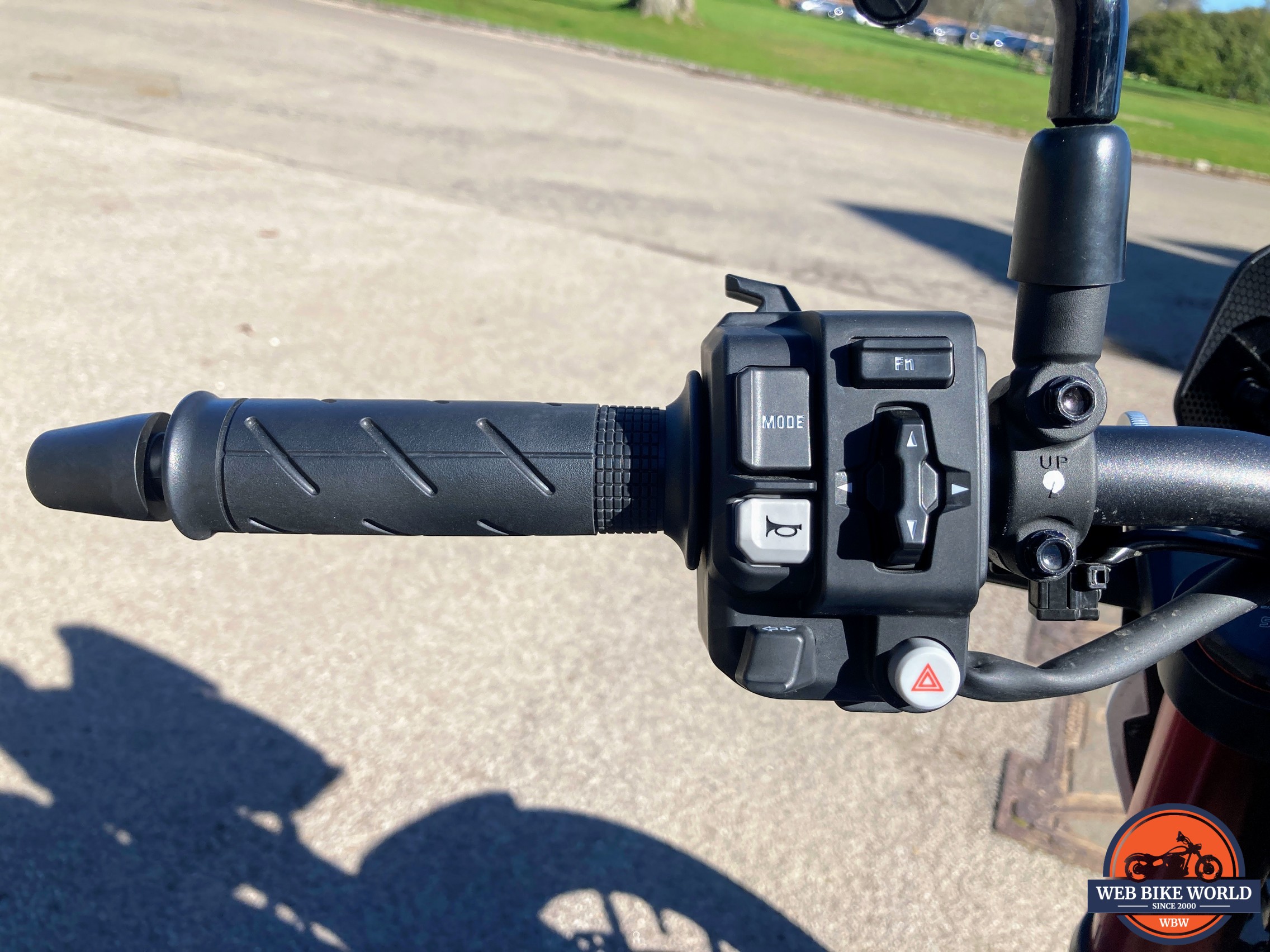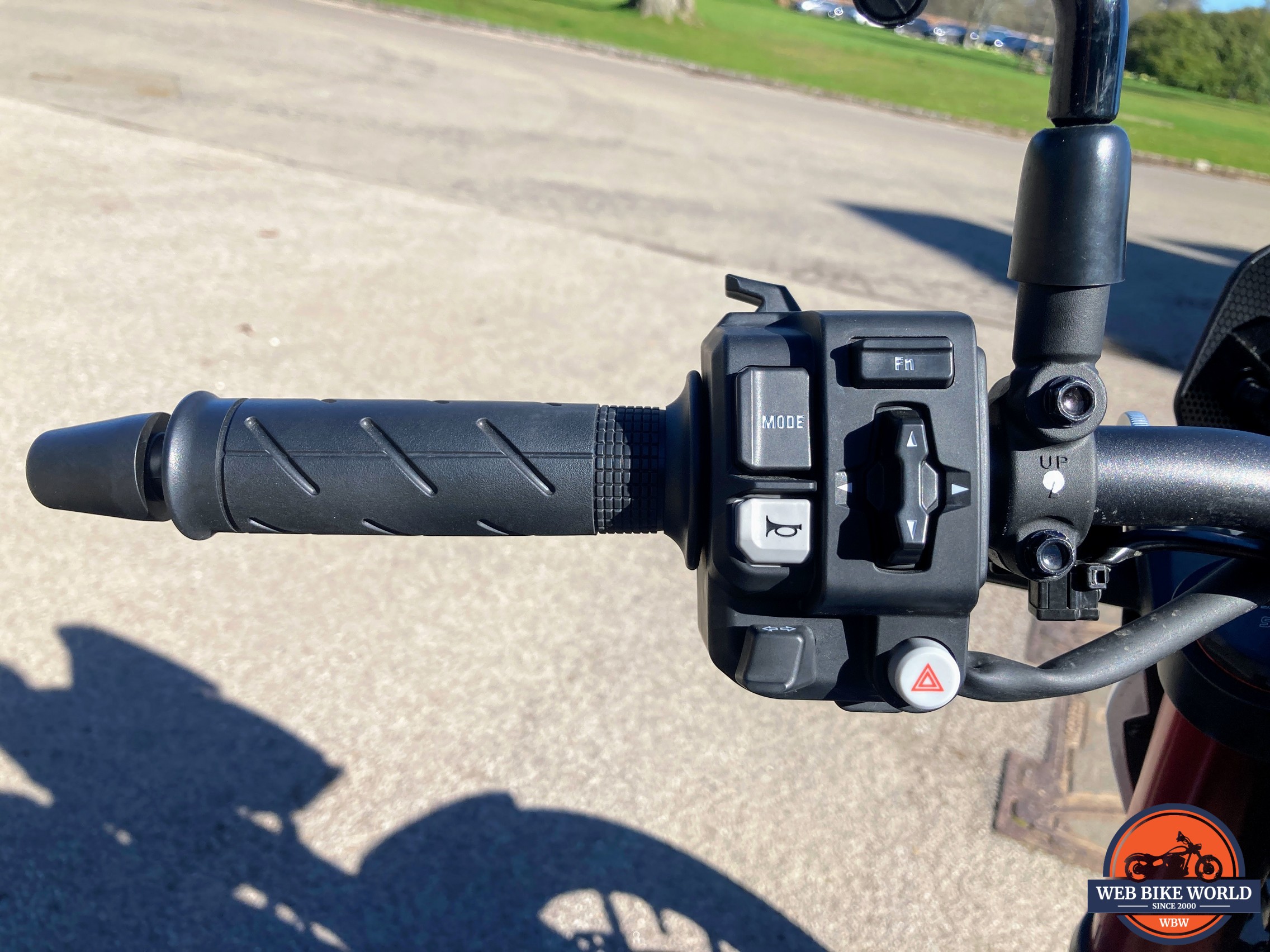 The Mode and navigational buttons on the left bar.
I thought the screen was clear and easy to read and said what I needed it to say – revs, speeds, gear, which mode I'm in and the time. Navigating my way around the screen was easy too which is a huge plus point for me.
There is a Mode button on the left bar to select which mode you would like and within those modes are three levels of torque and wheelie control.
When the stand is down, on the top left of the screen a little bike with a stand appears. Just a little helpful reminder when you start the bike up and hopefully before you pull away!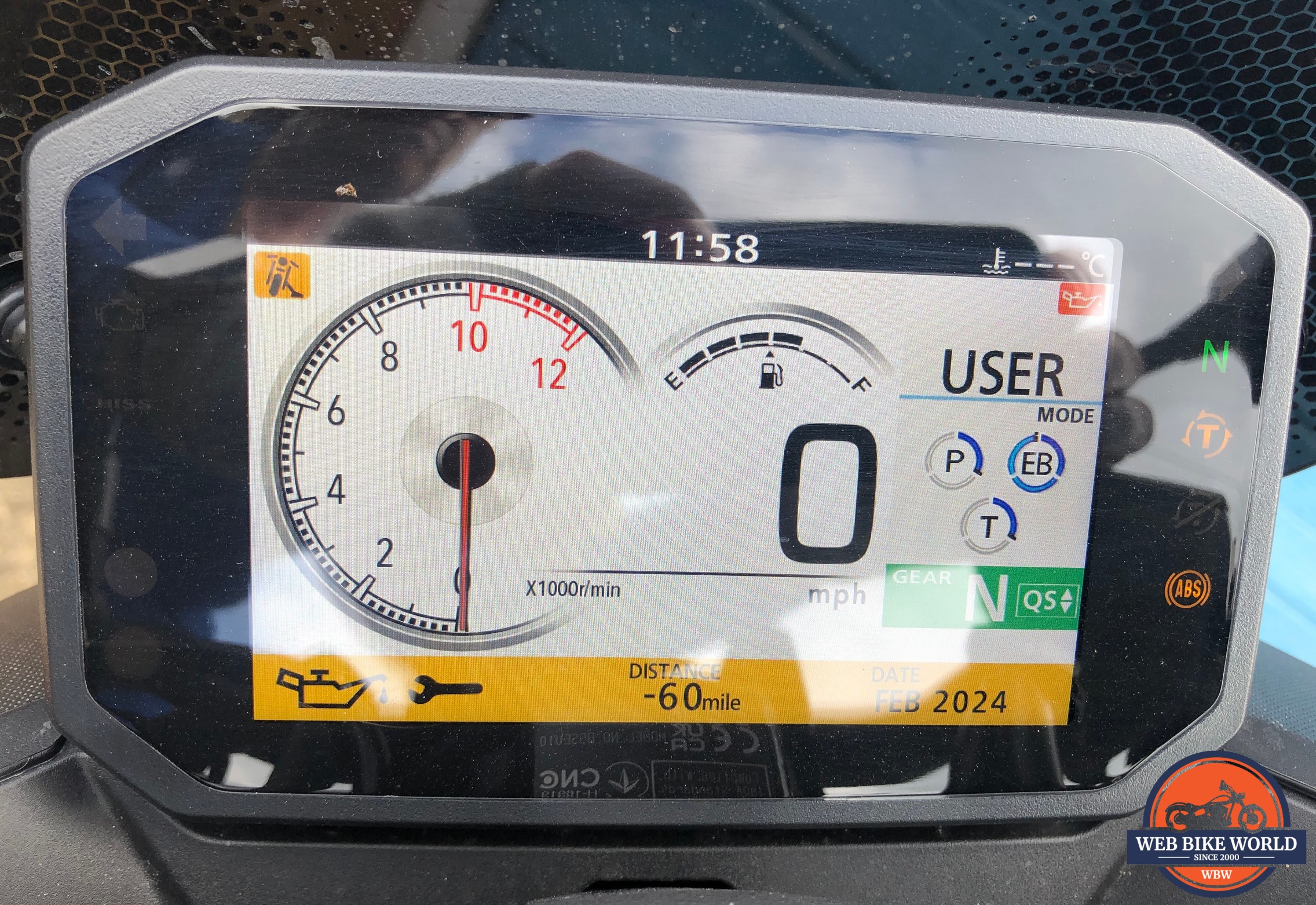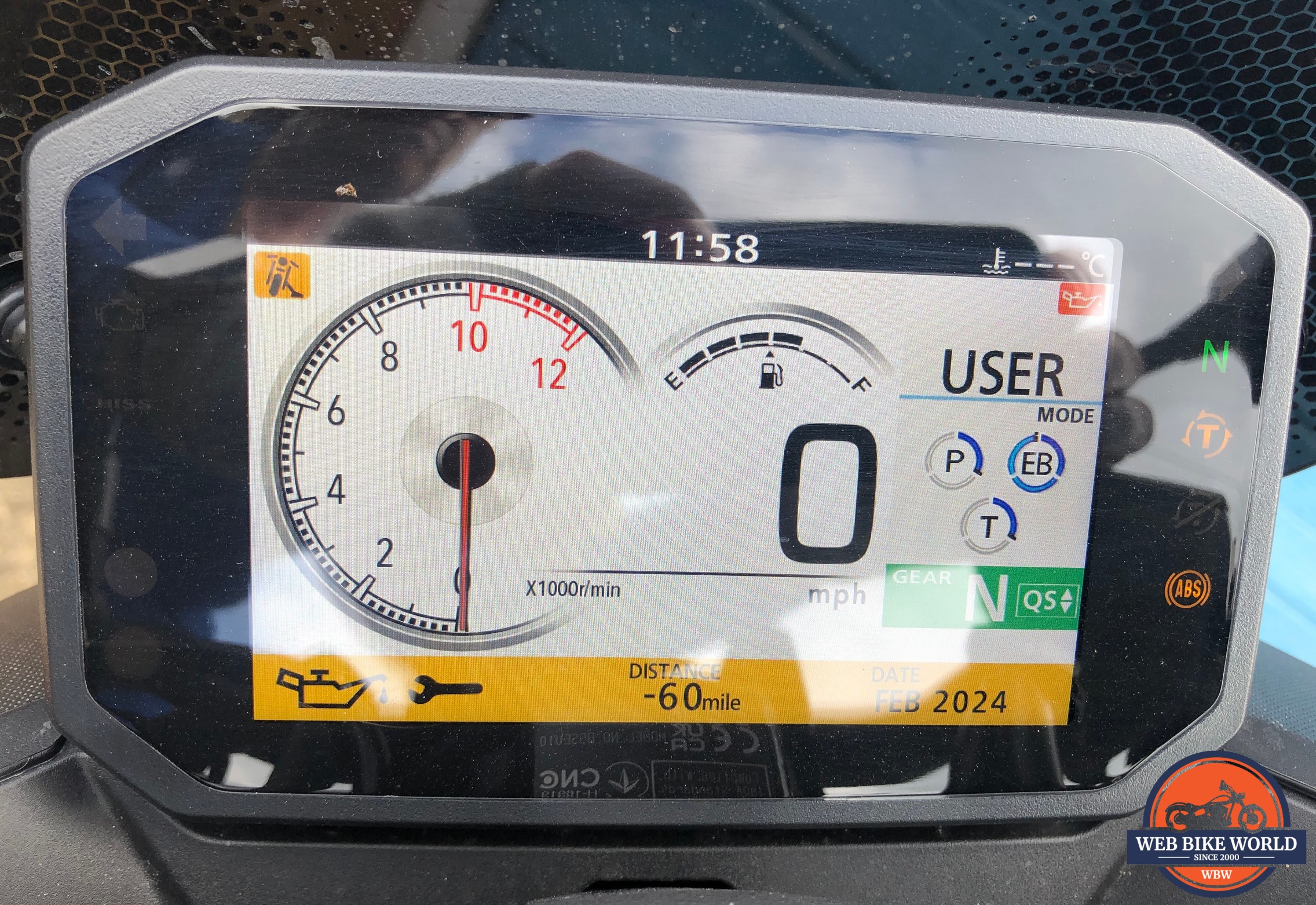 The yellow strip across the bottom of the screen appears when the service is due.
The service became due during the time I had the bike and when you first start the bike up, the bottom of the screen is yellow with an oil can and spanner appearing and a note of how many miles to go until the service is due. This will stay on the screen until the service has been done and cleared by the dealer or you can press the 'fn' button on the bar and this will clear the message until the bike is started again.
Tires​
The tires on the Hornet are
Dunlop Sportmax Roadsport 2
. I have not ridden with these tires before so I was interested to see how I would find them.
Dunlop Sportmax Roadsport 2 tires.
My personal bikes have
Michelin Road 6's
which I find to be a great all round, all year tire which work well in all conditions – hot, cold, wet or dry.
Dunlop describe these tires as "a new sport tire ideal for riders who seek sport performance and value". The Sportmax are an upgraded sport performance from the
GPR-300
tires offering more grip and stability under braking, quick to warm-up and nimble, predictable handling and quick turn in.
During the time I had the bike, the weather was around ten degrees and mostly wet! I was impressed with these tires, they did what they are designed to do and did not falter in the wet conditions.
On the rides that were dry, the bike handled beautifully and I felt that the bike was nimble in the corners especially on the twisties.
LED Lights​
The lights on the Hornet are LED which seems to be mostly the case now with new bikes.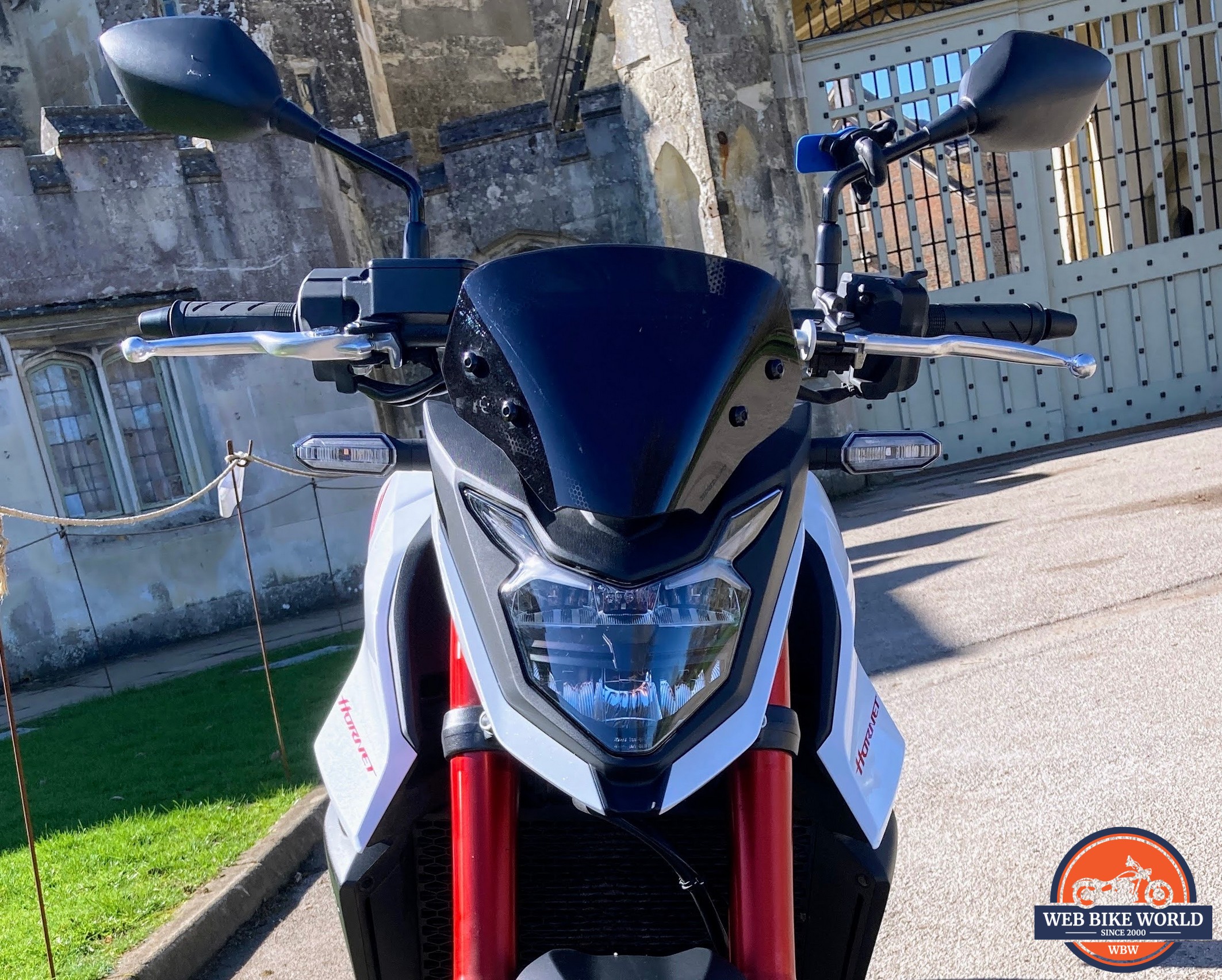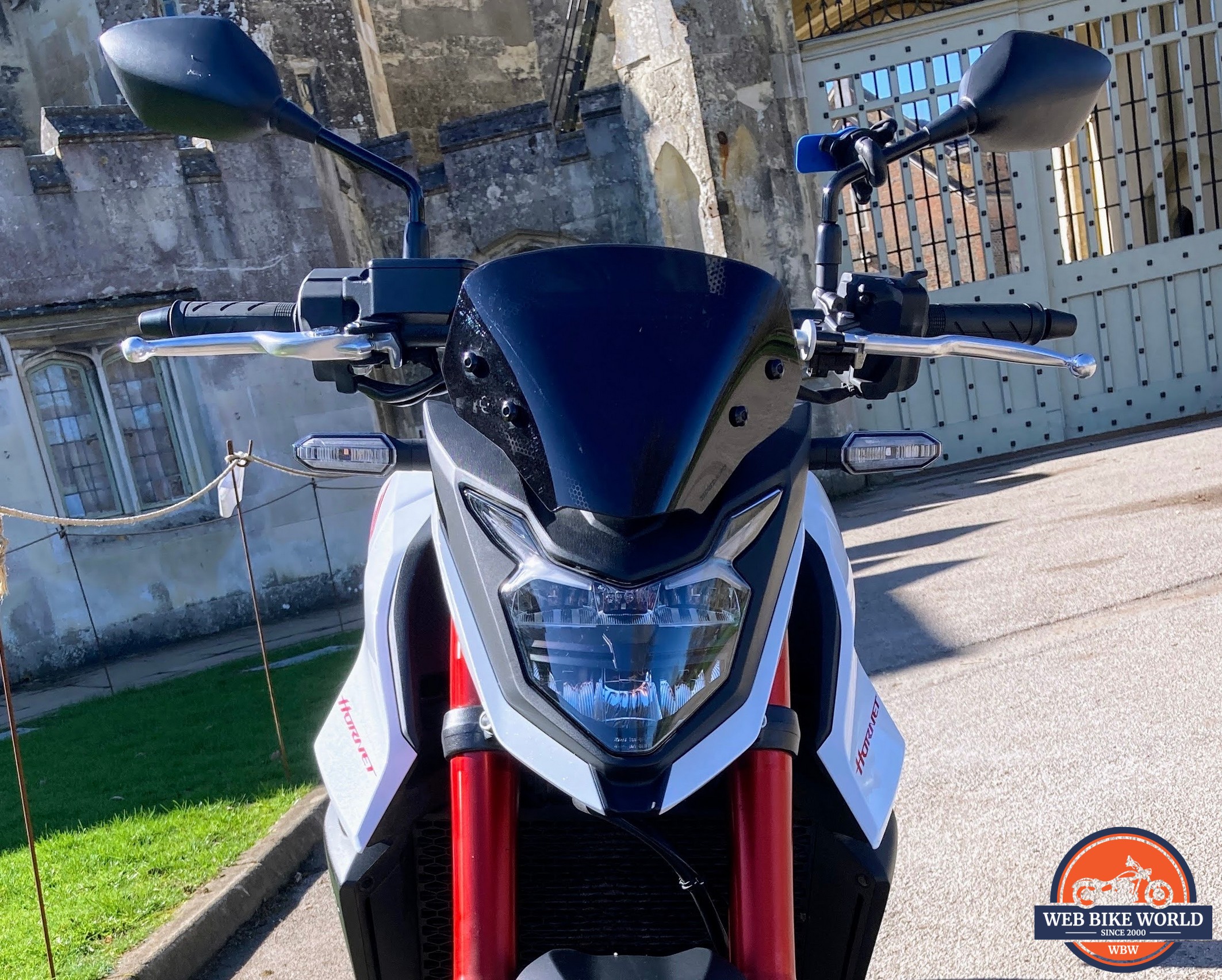 The front headlight on the Hornet.
The front headlight appears to have horns coming out of it, very distinctive and cool in design. They light up the road really well and give plenty of illumination.
The front indicators are permanently lit when the engine is running and then flash when turned on. I'm not keen on this feature, I would prefer they only lit up when in use but this seems to be common among new Hondas for the last few years.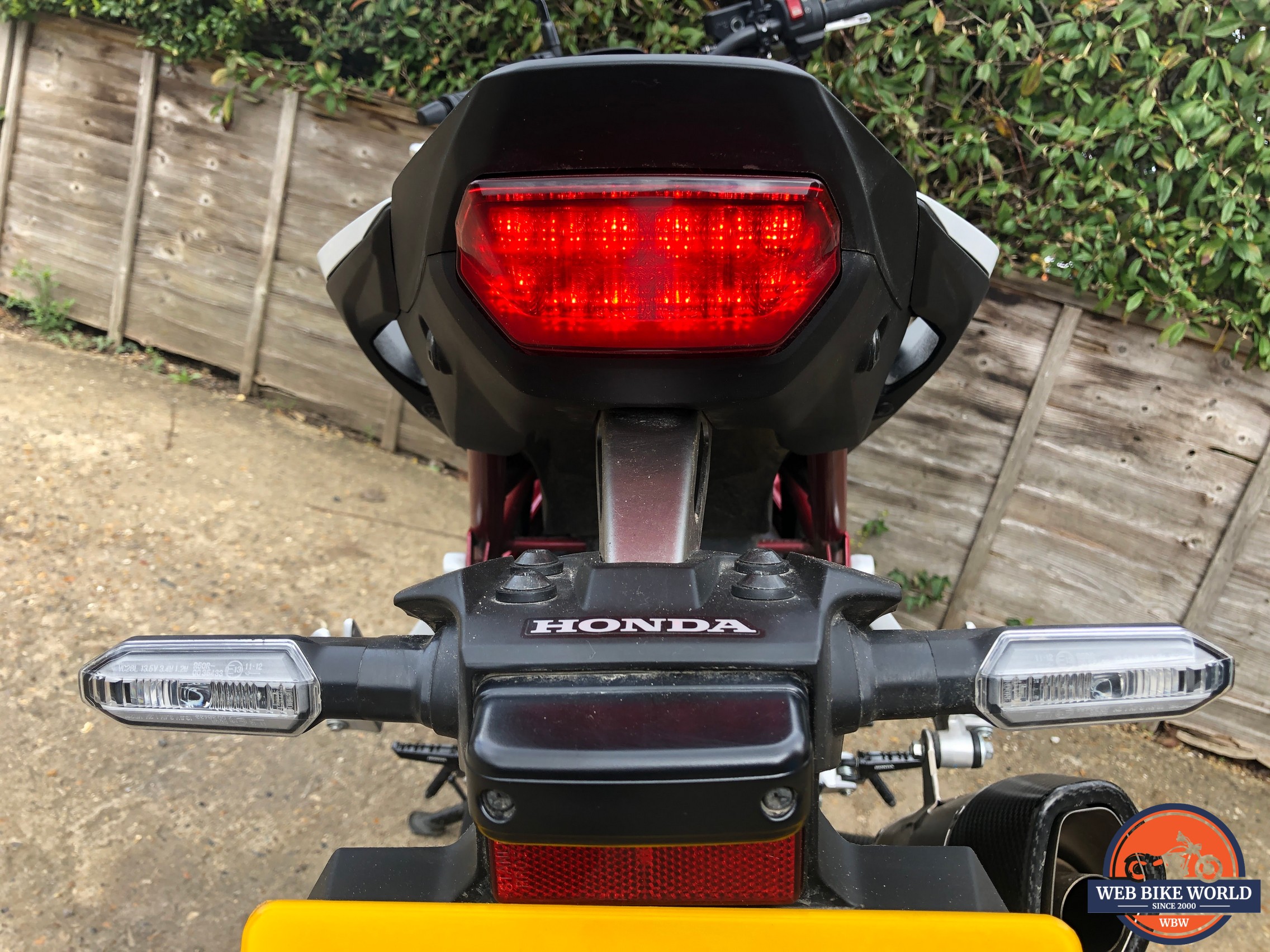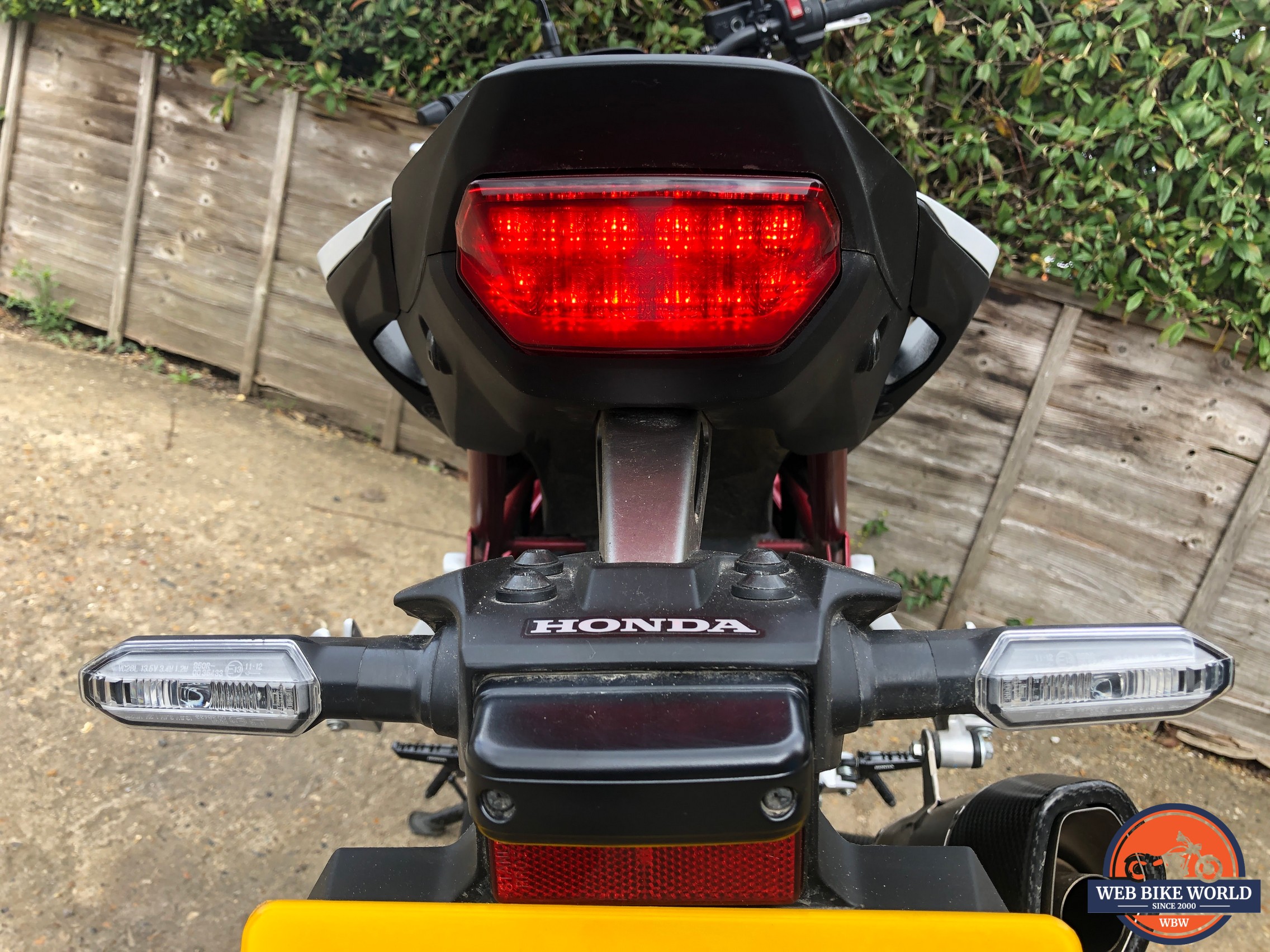 The rear lights on the 2023 Honda CB750 Hornet.
I think the rear light housing is equally as stylish as the front, again LED. It sits neatly underneath the rear seat and really suits the bike.
The LED lights themselves gave off crisp light and were really effective especially if the weather was poor or at night.
The rear indicators have an Emergency Stop Signal (ESS) function. This is how Honda describe how they work: at a minimum speed of 56km/h, with either brake working if negative acceleration of a minimum of 6.0m/s2 is detected, the hazard lights flash to warn other road users a hard stop is in process. At the same speed the threshold is reduced if ABS is activated, to a negative acceleration of a minimum 2.5m/s2.
I did experience the ESS function but I didn't think I was doing a particularly hard brake. I am not sure if I am a fan of this function.
What I absolutely love, and think should be fitted to all bikes (especially mine

), are the auto-canceling indicators! The Hornet ones work whereby rather than using a simple timer, the system compares front and rear wheel speed difference and calculates when to cancel the indication relative to the situation. These come as standard on the bike but even if they were an optional extra, I would absolutely have these.
What's The Honda CB750 Hornet Like To Ride?​
So, what is the Hornet like to ride? My first 'big bike' after I passed my test was a Hornet 600. I'm not sure if it was because it was my first bike, but I have great memories of this bike and I learnt so much on it so I was really interested to see what the new 750 would be like and if I would like this model as much as the 600.
The first ride I had on the Hornet was a rainy one so I was taking it easy. The roads were wet and the temperature was around 7 or 8 degrees so I didn't really feel it was a fair assessment of the bike. Having said which, I could tell from this ride that with some dry roads, you could have some fun on this bike.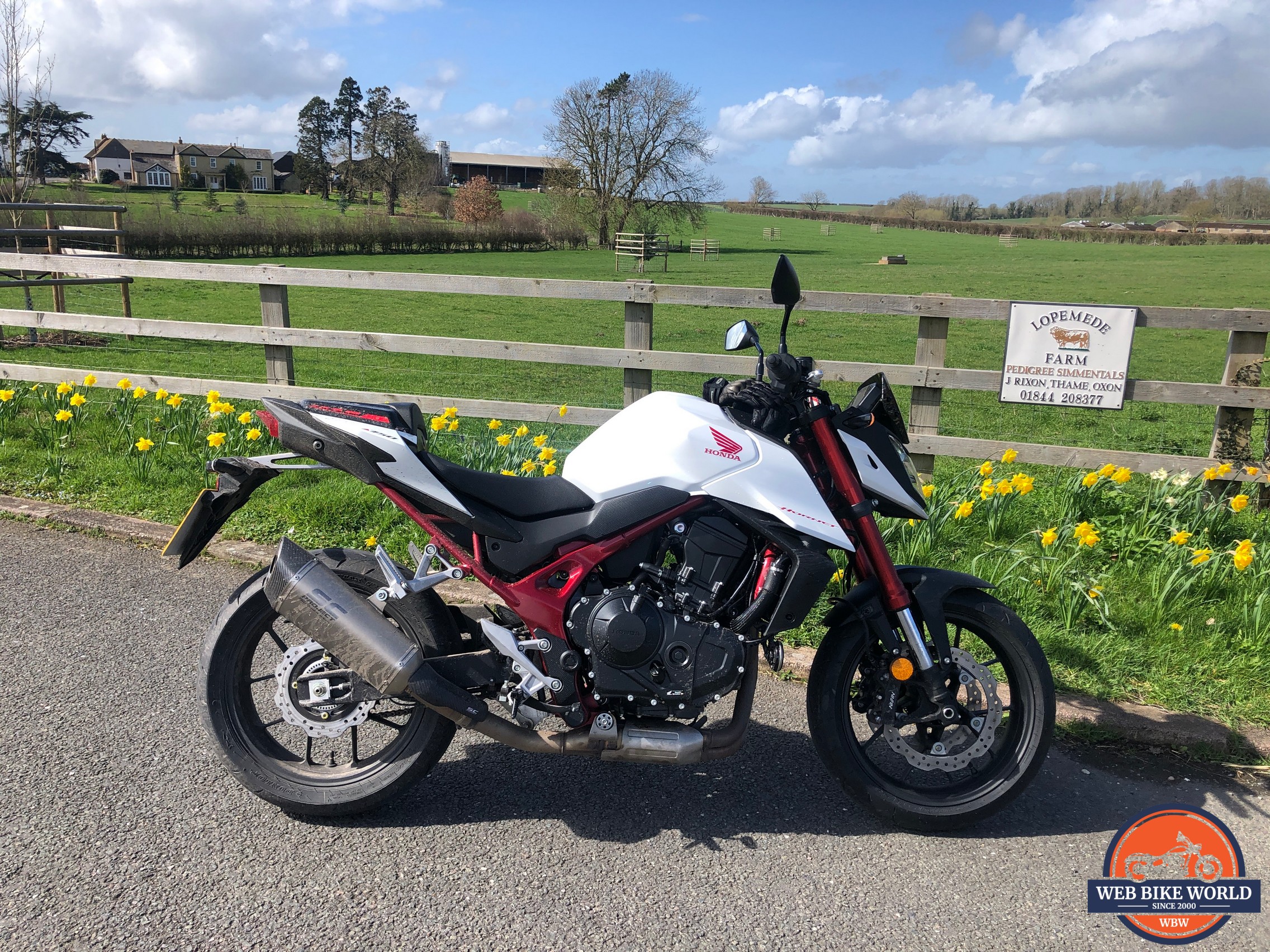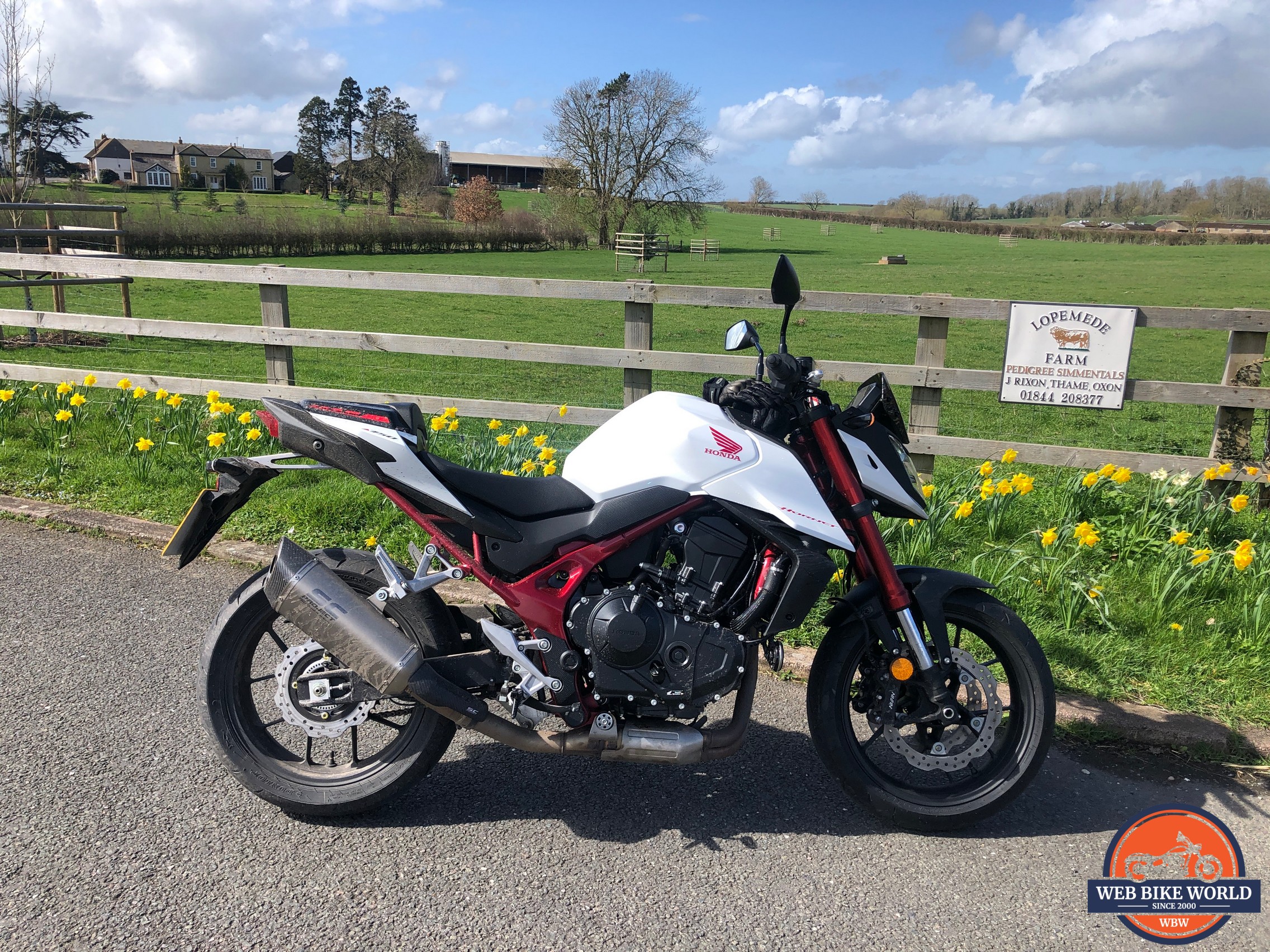 My first ride on dry roads, I came back grinning from ear to ear. Because the Hornet is light, (190 kg) and it feels light too, it is nimble in the corners and I knew I was going to enjoy my time with this bike.
Probably one of the best things, for me, about the Hornet is the sound of the twin engine. I mean, who doesn't love a twin!! The engine combined with the SC Project muffler give the bike an awesome sound.
I found the best mode for me was sport mode, this suited my riding style the best. I also thought the exhaust sounded fruitier in this mode too.
The rear suspension is not adjustable, just adjustable pre-load, but I found the Hornet absorbed all the lumps and bumps in our roads really well. I found the ride to be comfortable and not at all hard.
The sports pack was on this Hornet meaning the bike came with the rear seat cowl. I do not take pillions so a rear seat cowl would be one of my first purchases on a new bike as I think they look so much better than the rear seat.
Rear seat cowl.
I like the design and styling of this seat cowl and think it neatens up the rear end really nicely. I would also remove the rear footpegs just to finish it off.
The front visor on the bike really suits the styling and if it didn't come with the bike, I think you would need to get this. I found it helped to keep the buffeting down off my chest.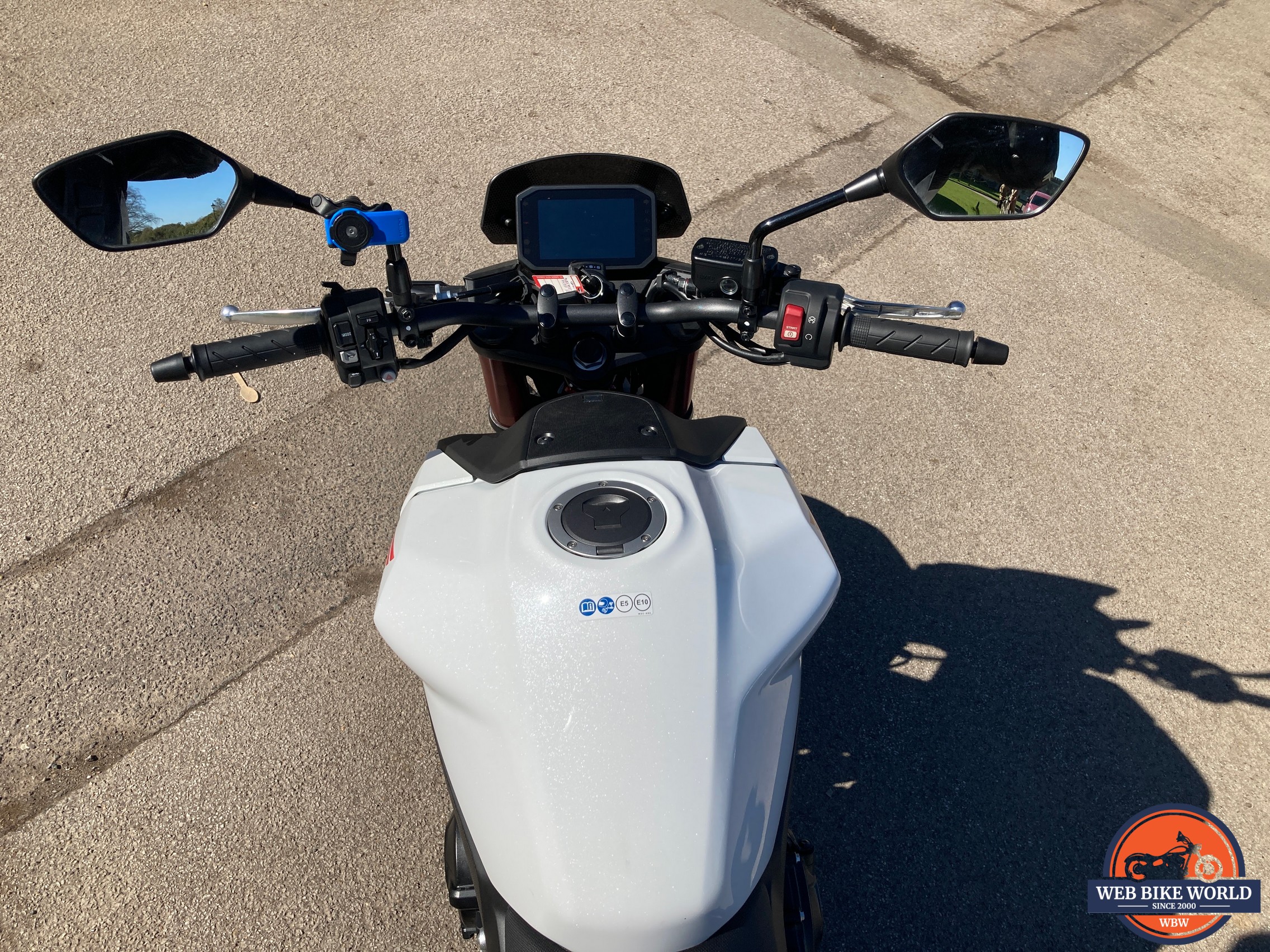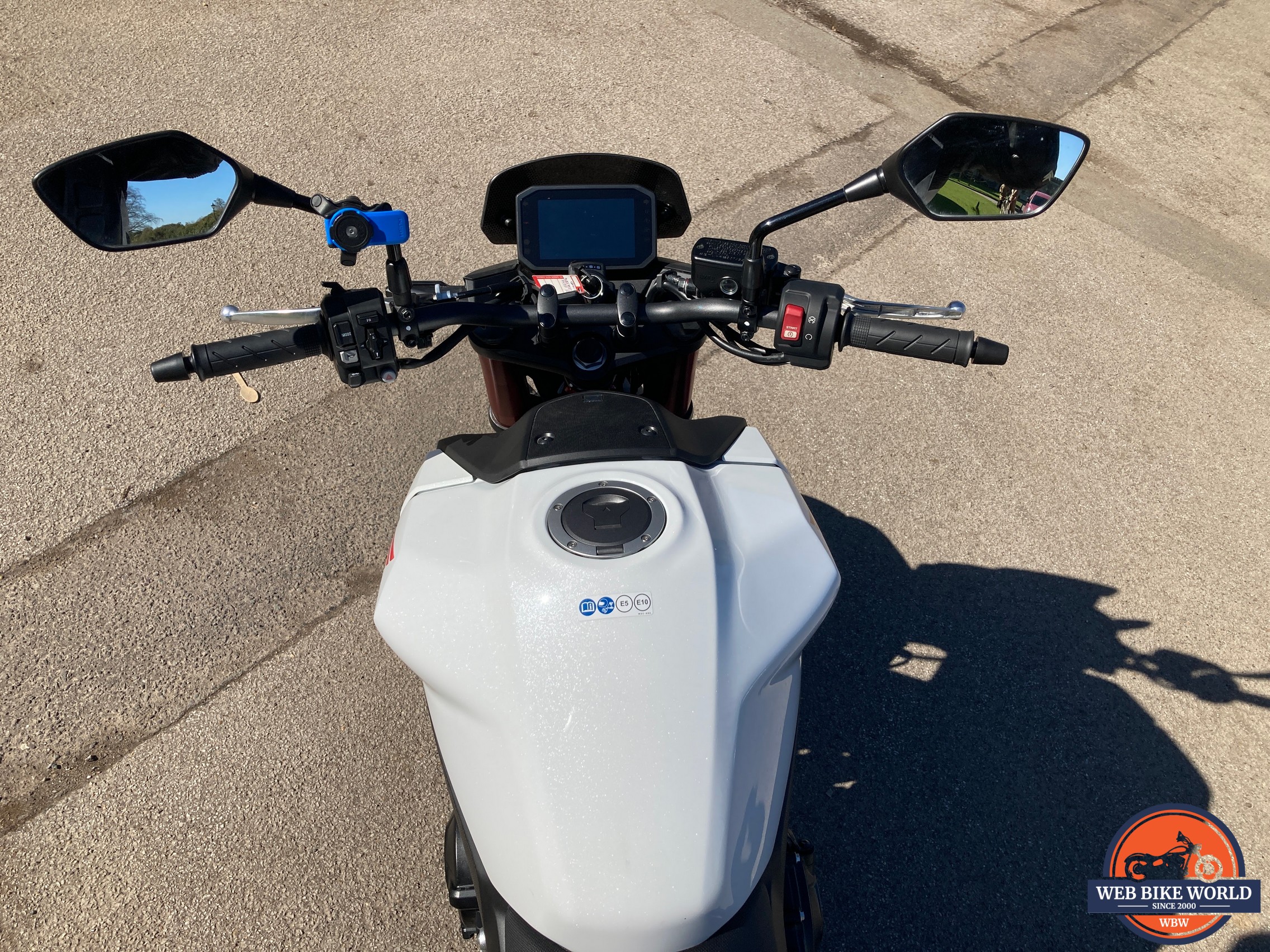 Weighing just 190 kg with a seat height of 795 mm, at 5'6" I found moving the bike around incredibly easy. My feet were firmly planted on the ground which gave me plenty of leverage.
I thought the Hornet was a torquey bike, it was happy at low speeds around town and equally, if not happier, out on an open road. I found the bike had a lot of engine braking when you eased off the throttle but equally the brakes themselves were very responsive.
I could quite easily have kept riding the bike no matter how long my journey. It is one of those bikes that just urges you to ride it more, the Hornet clearly loves to be ridden and it manages to give you a fun ride in the process.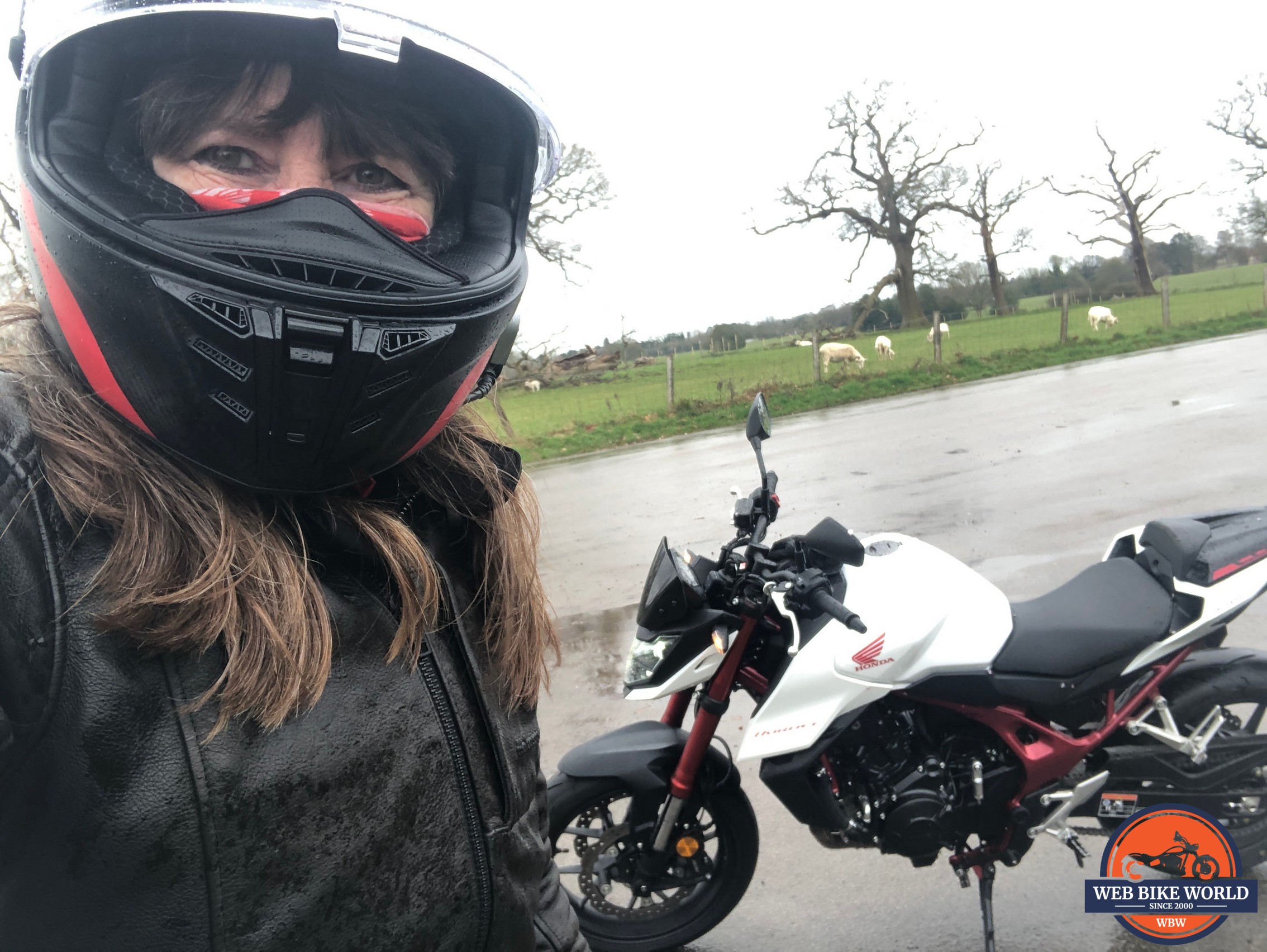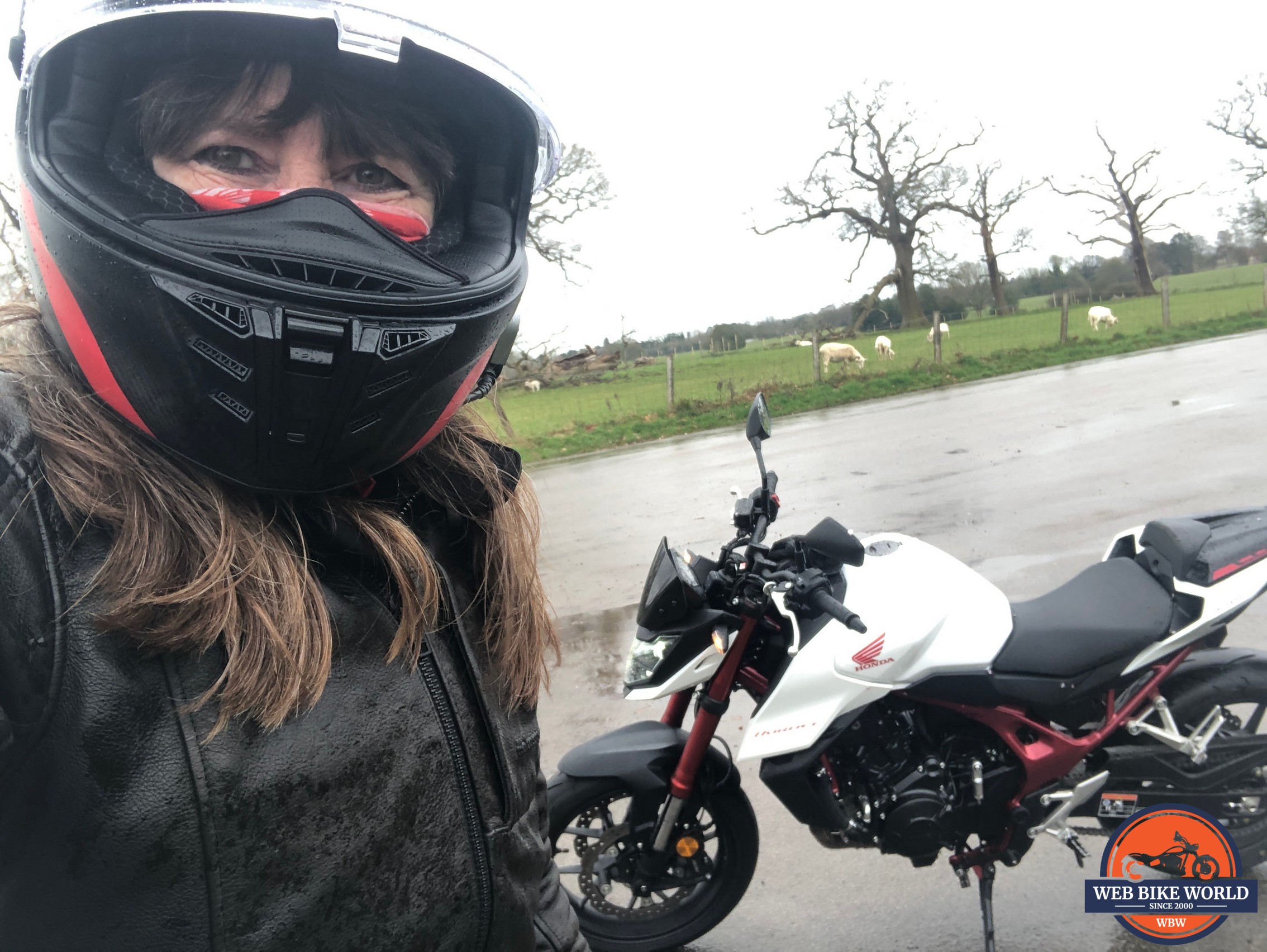 My couple of weeks flew by with the Hornet and I can honestly say it is a bike that I did not want to give back, I could quite easily have kept this bike.
I can definitely see what all the fuss is about and quite rightly too, you are getting so much bike for your money.
Thank you to
Honda UK
for the loan of the Hornet, I had an absolute ball

2023 Honda CB750 Hornet Video Review​
Pros:​
Very light and easy to ride
Three modes: rain, standard and sport
5" TFT color screen with Honda Smartphone
Range of accessory packs available to tailor the bike to you
A2 license compliant
Fabulous price – you are getting so much bike for your money
Cons:​
No radiator guard
Would like to see heated grips as standard
2023 Honda CB750 Hornet Image Gallery​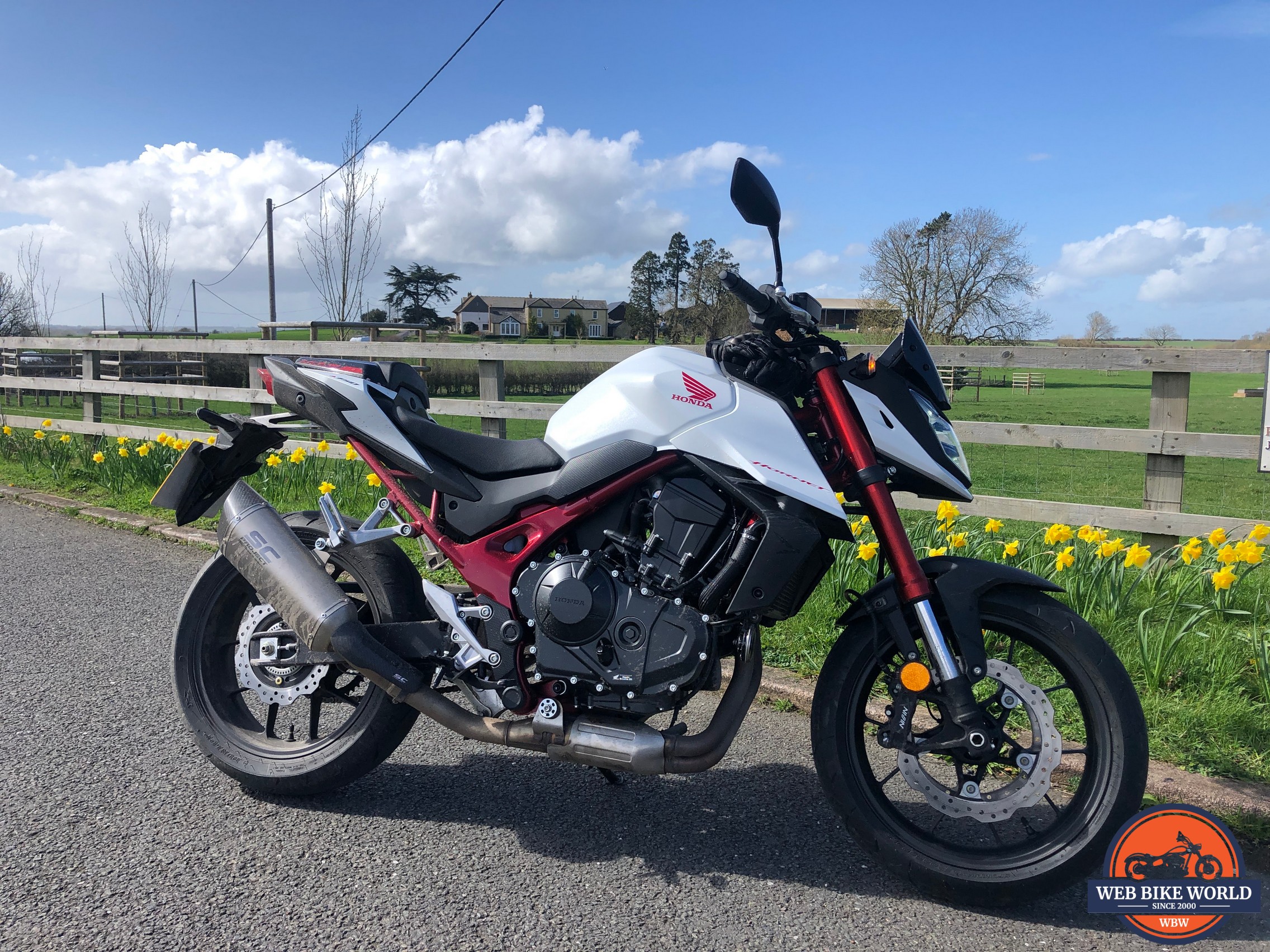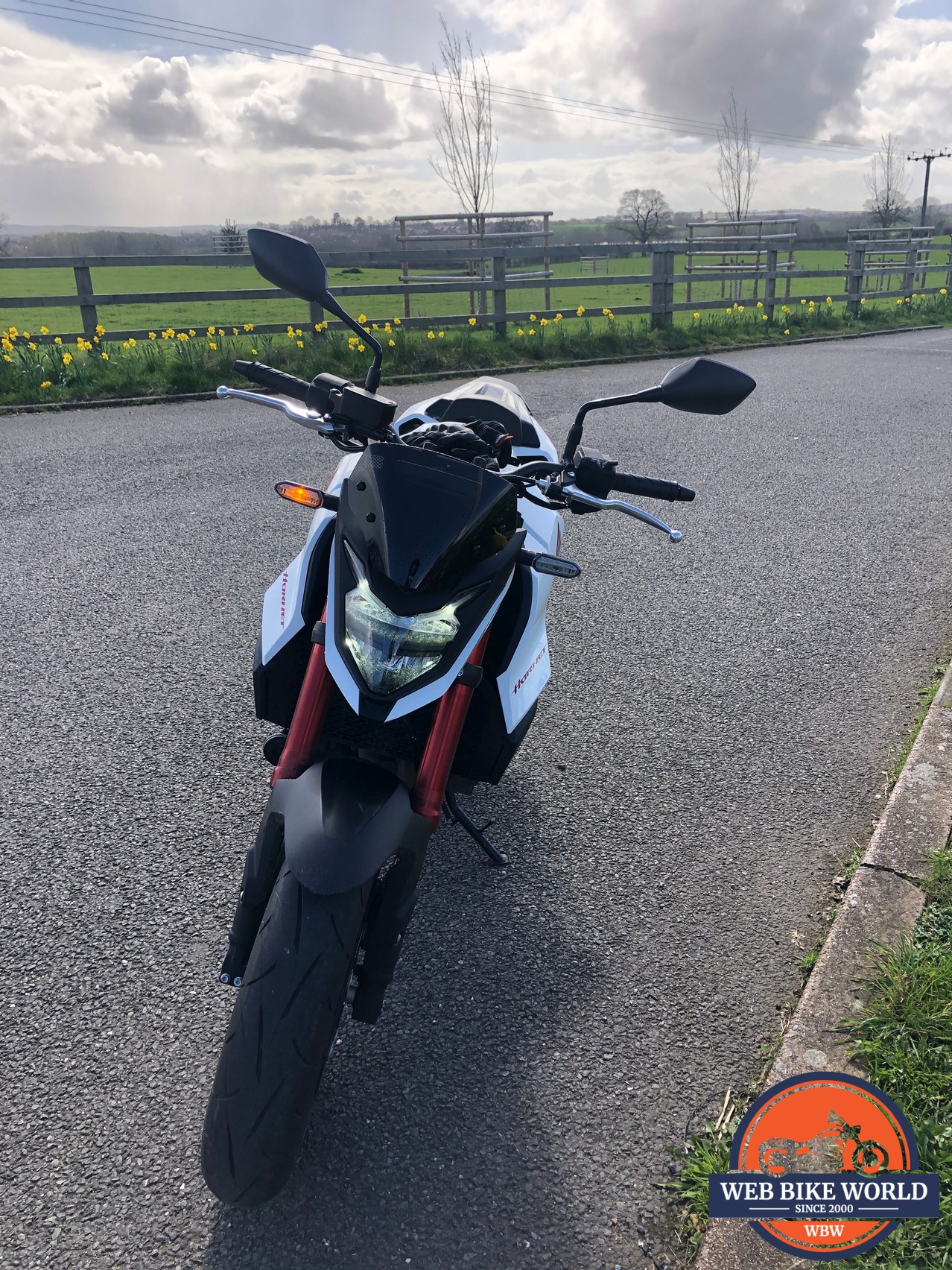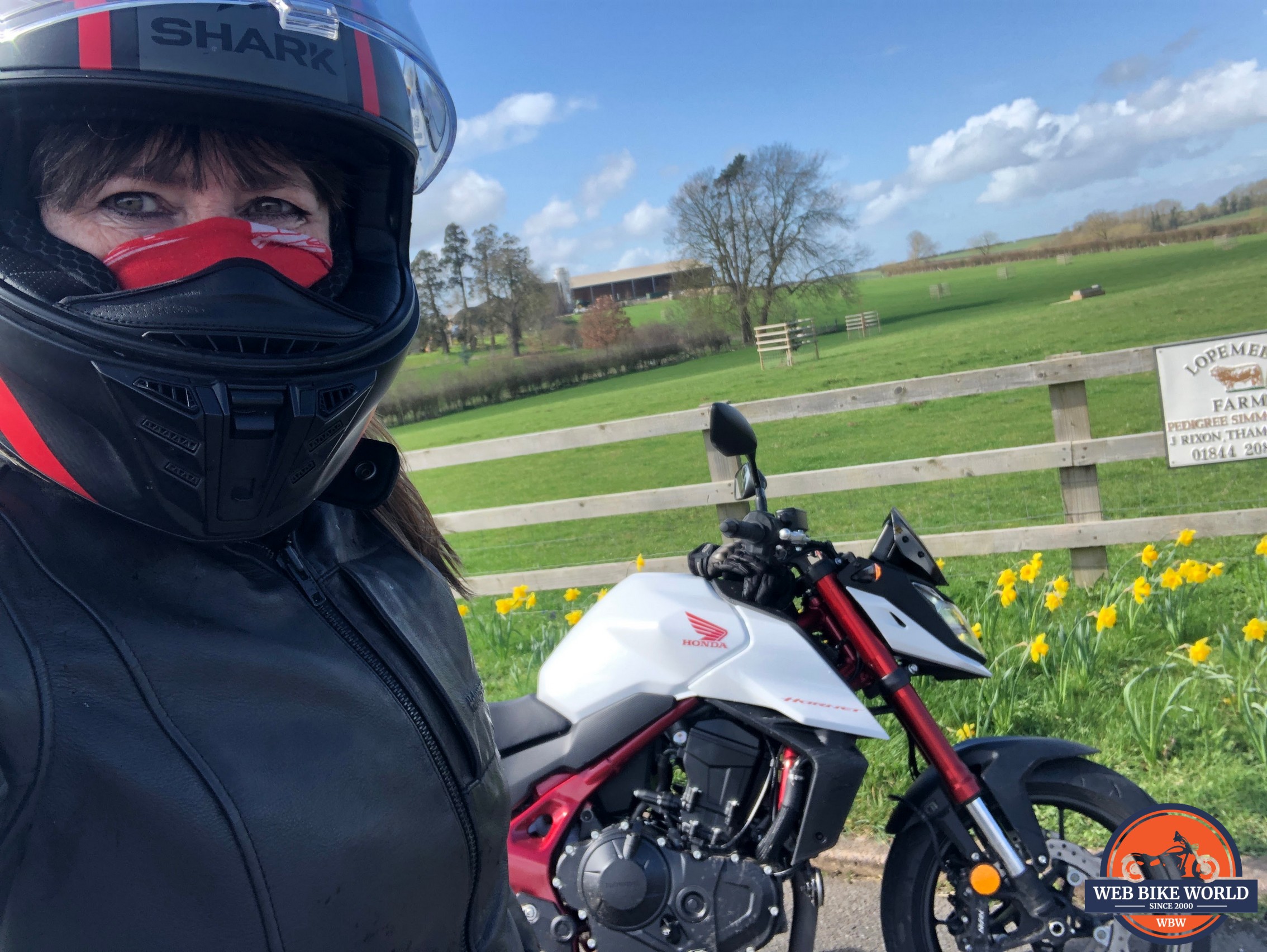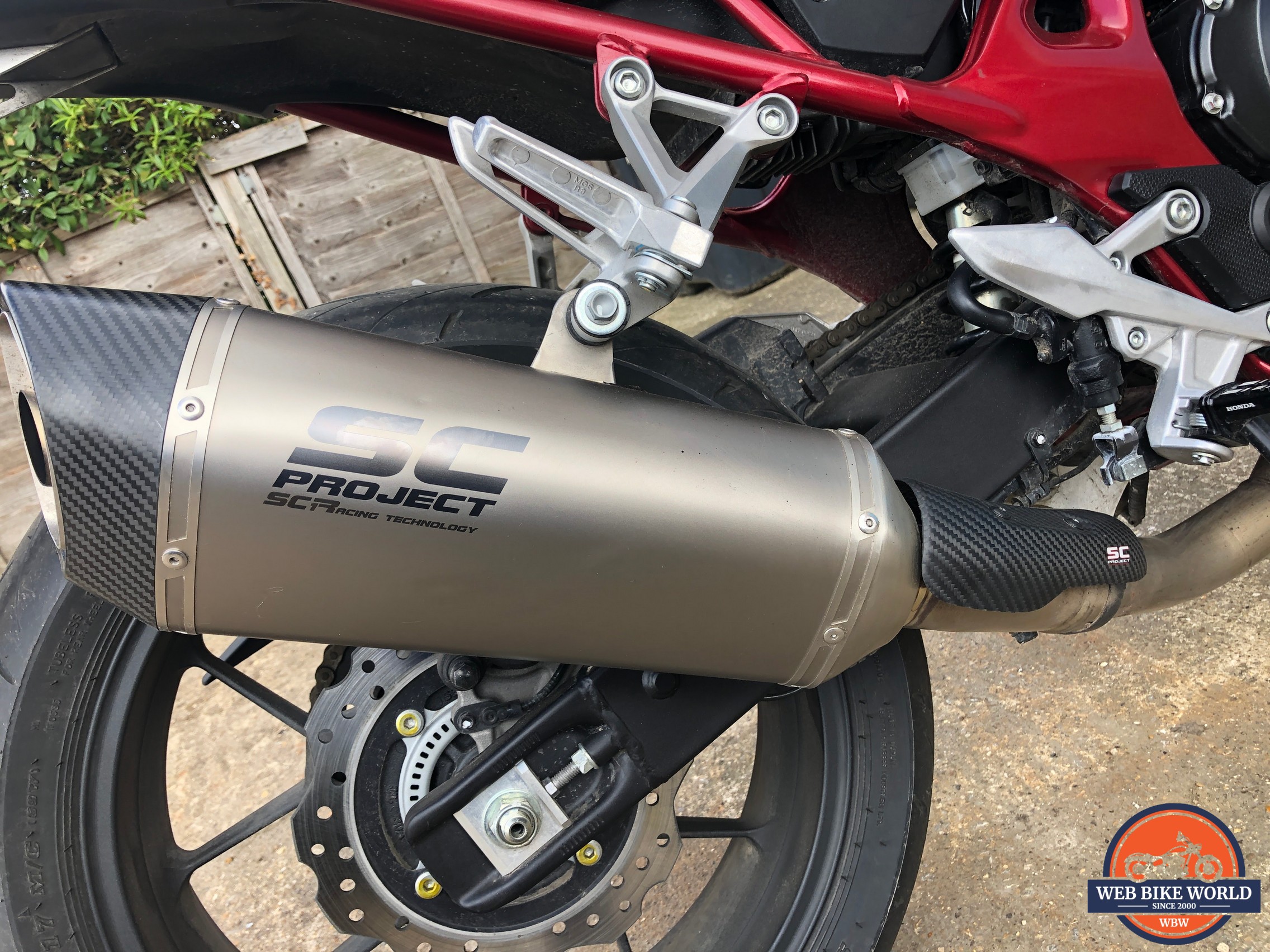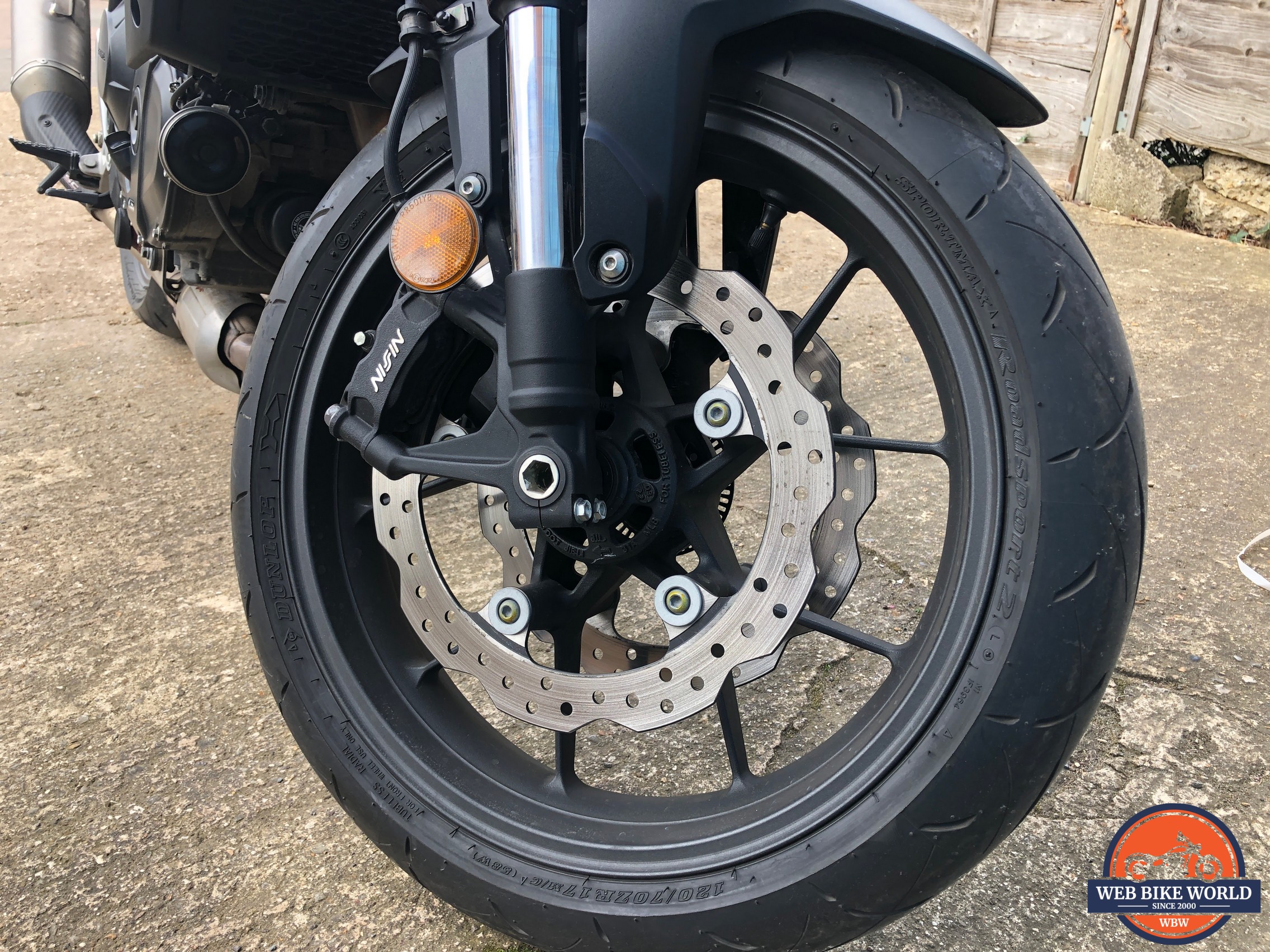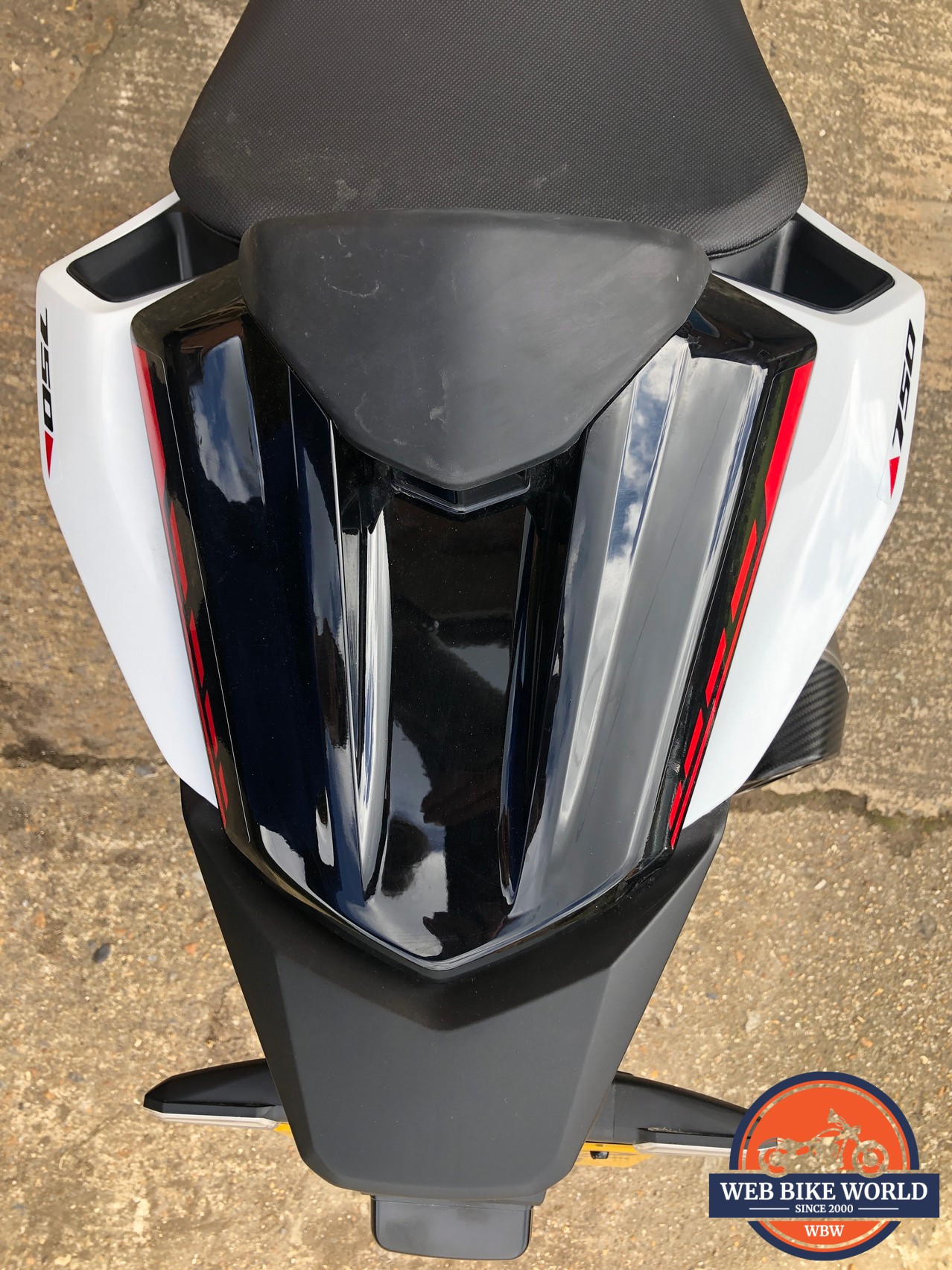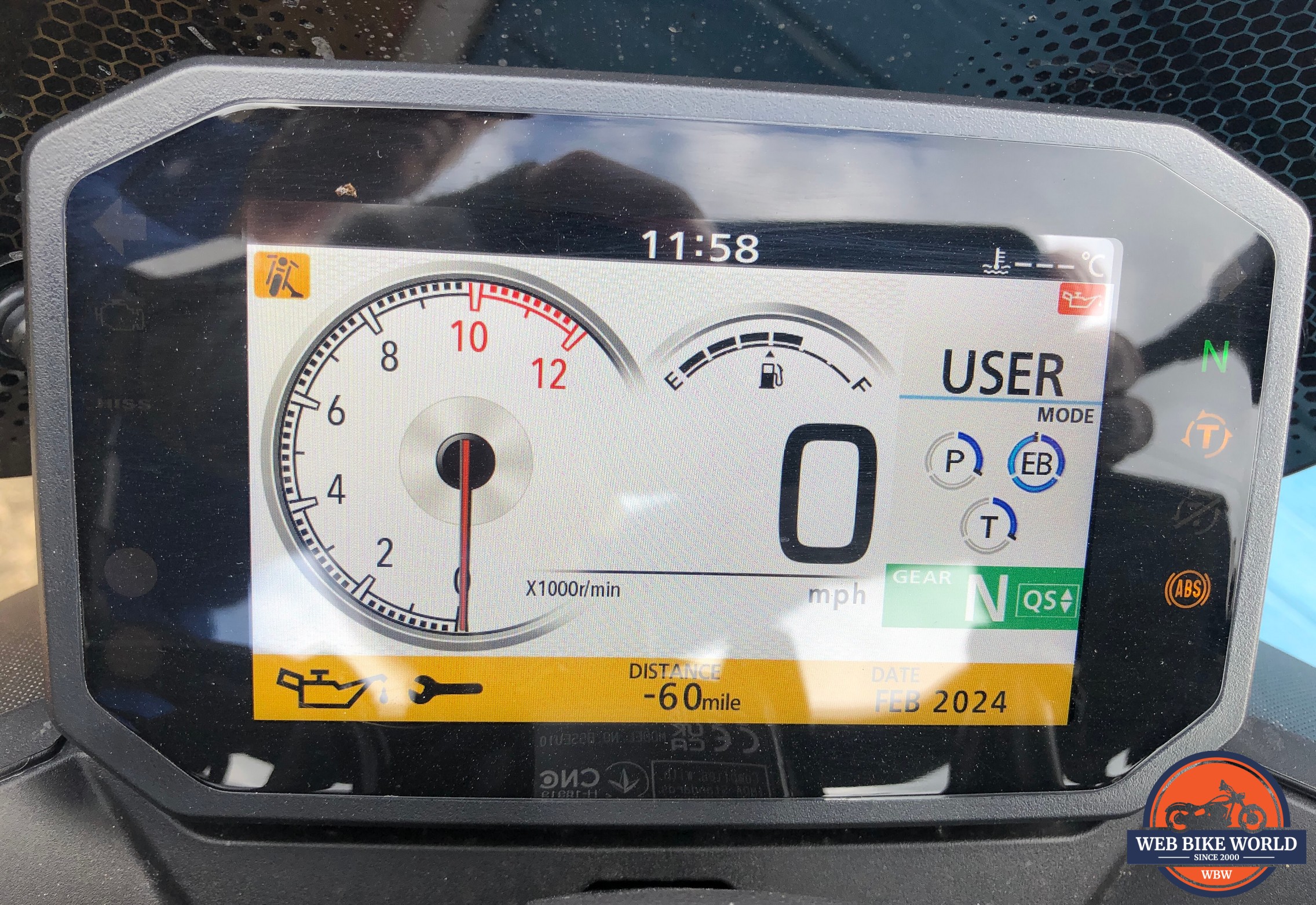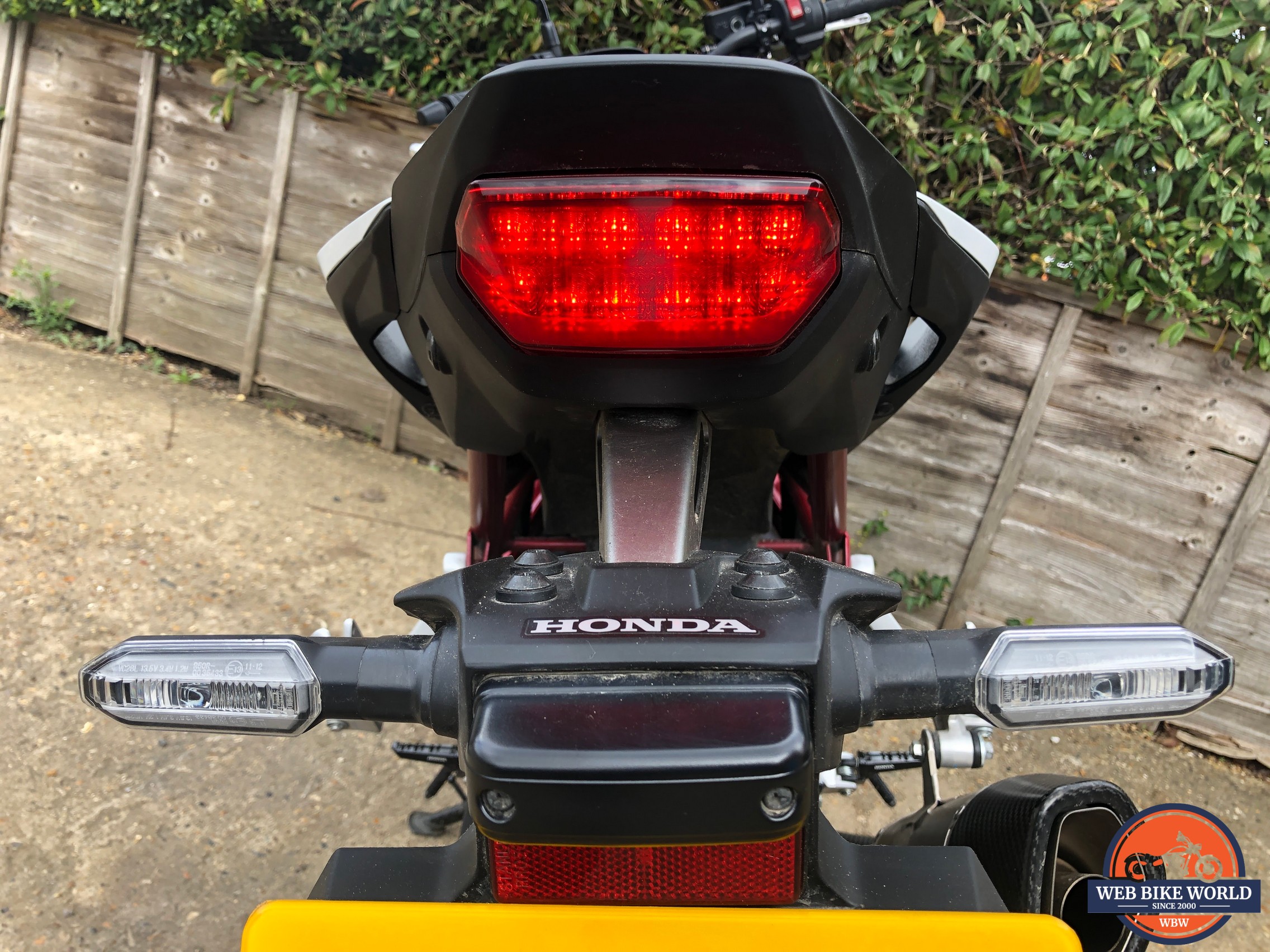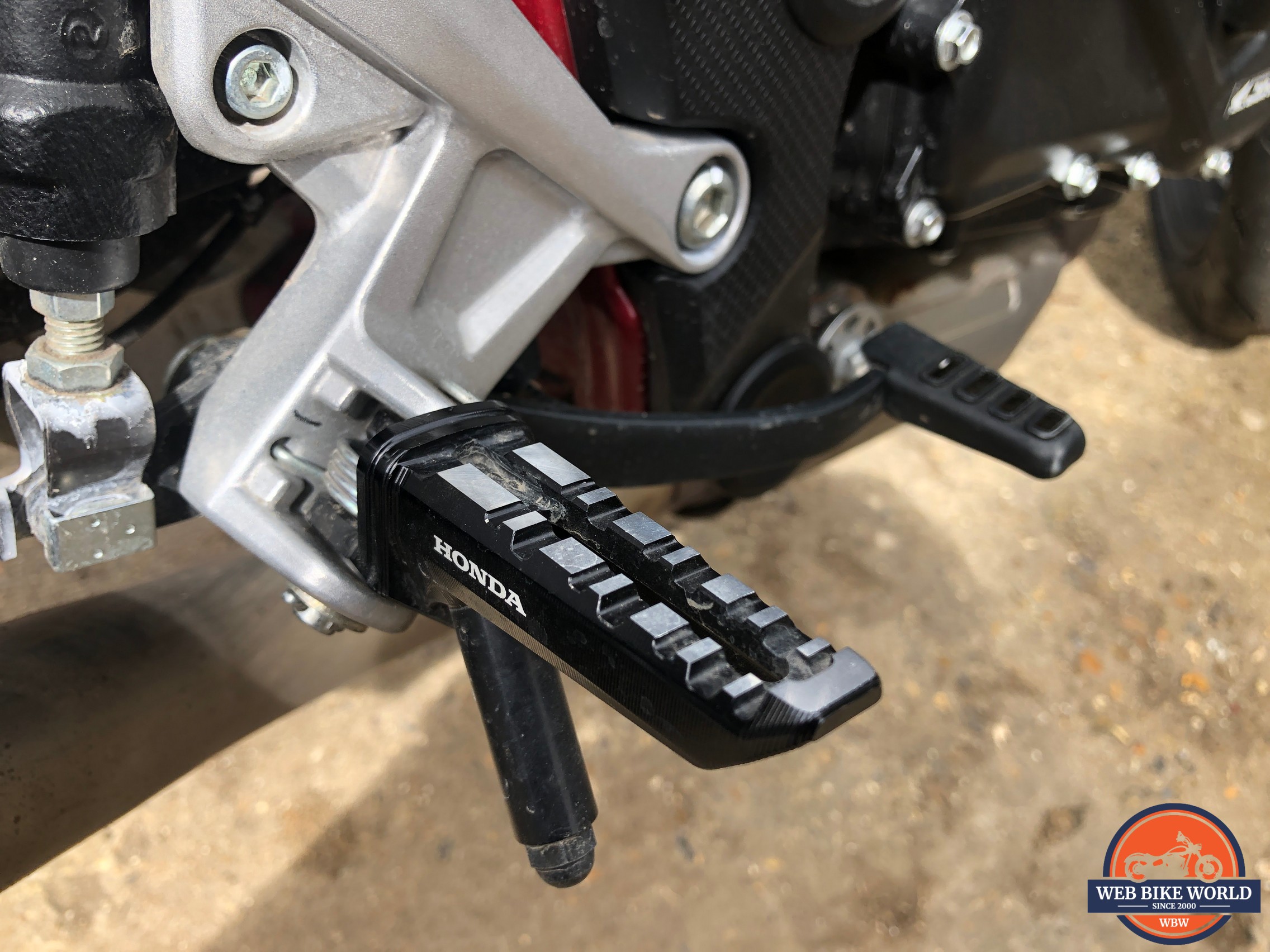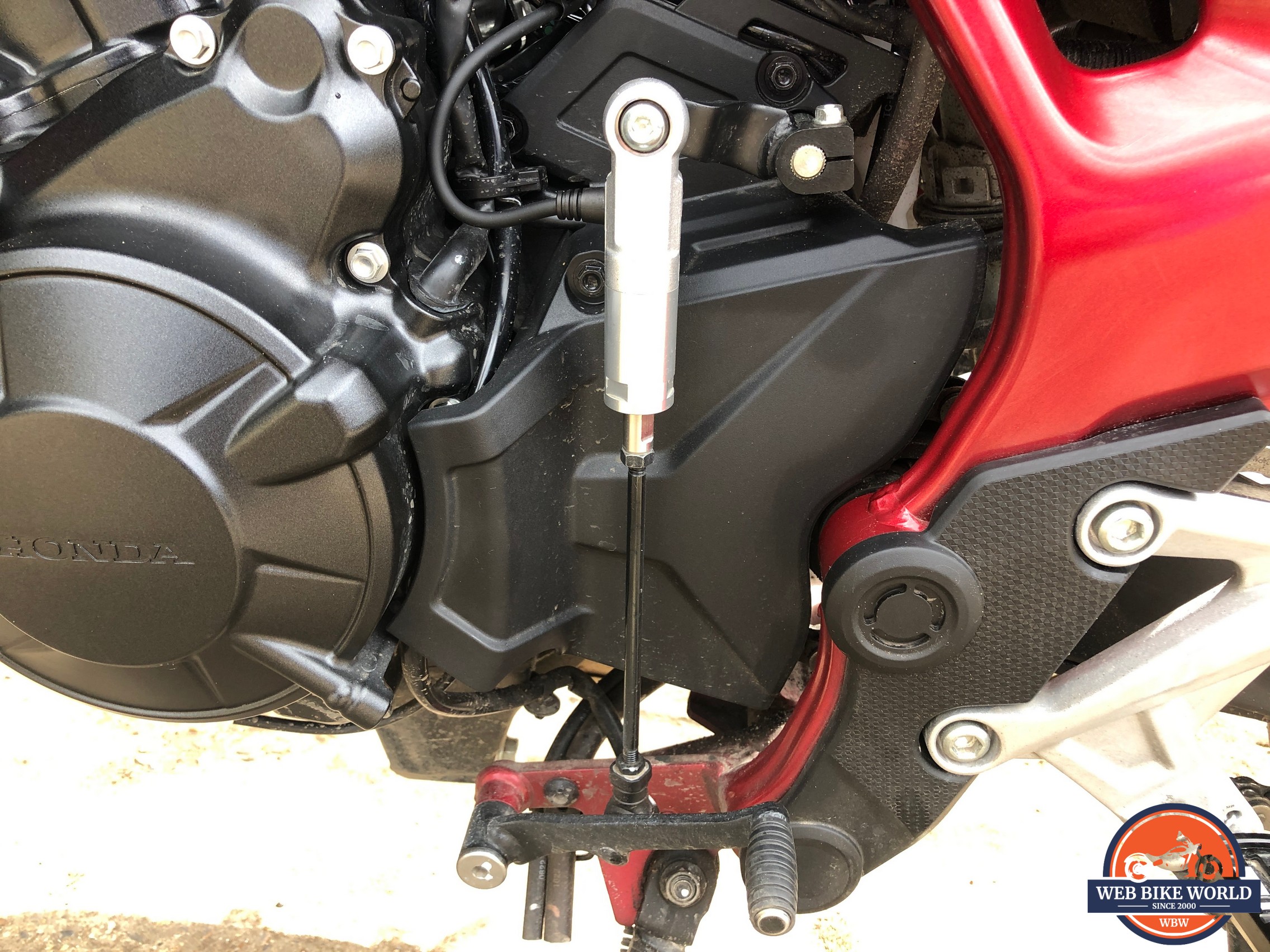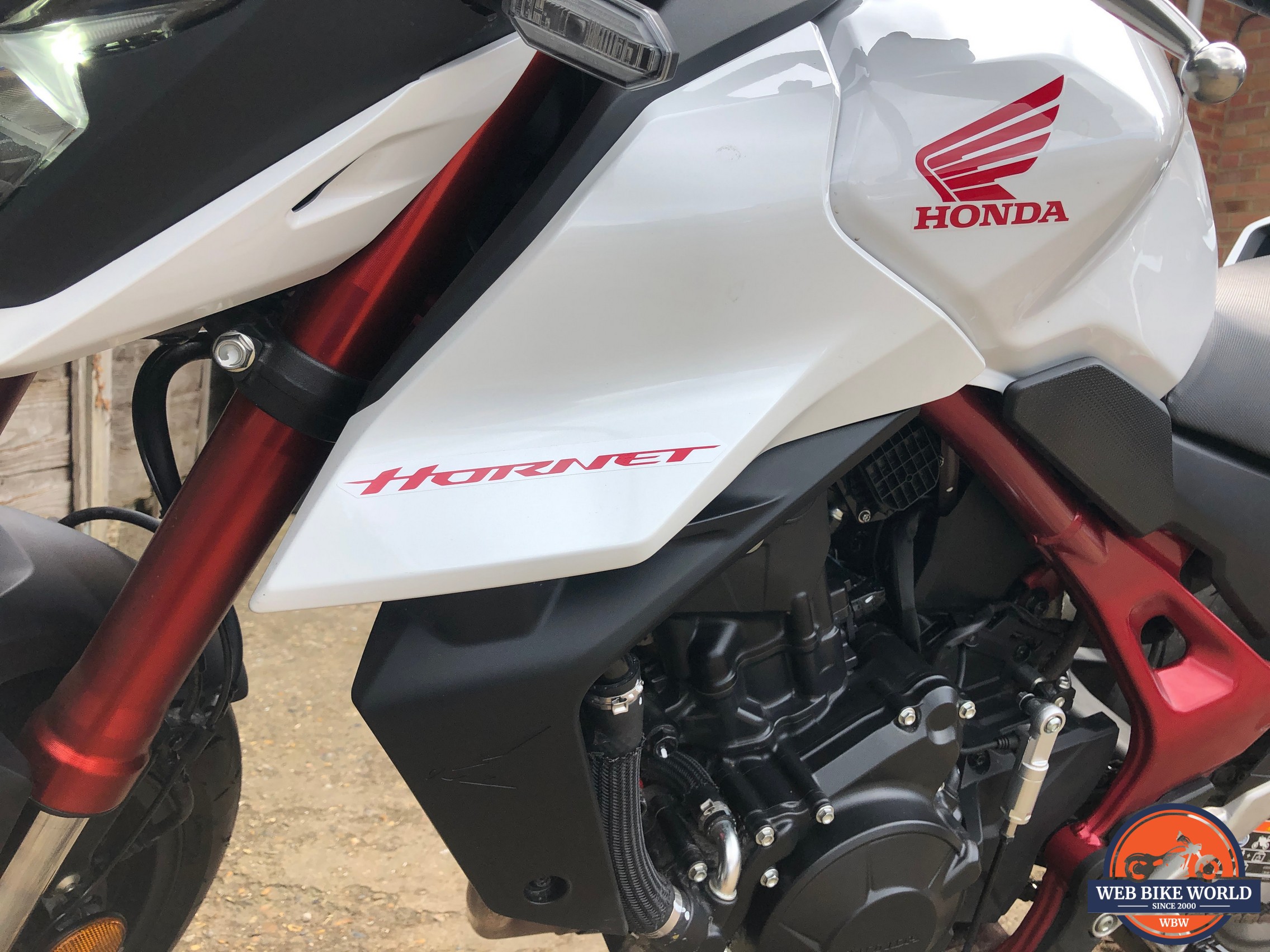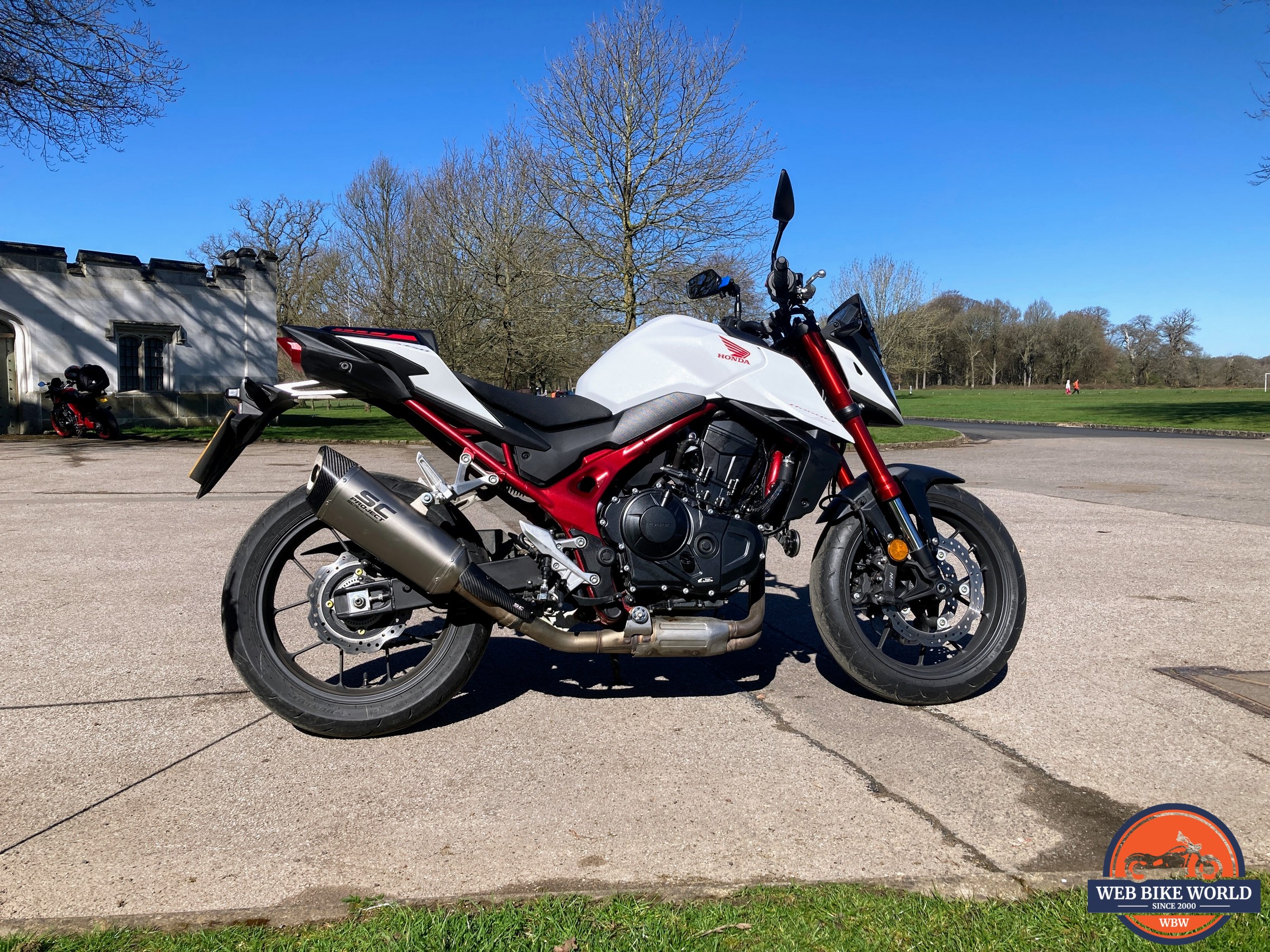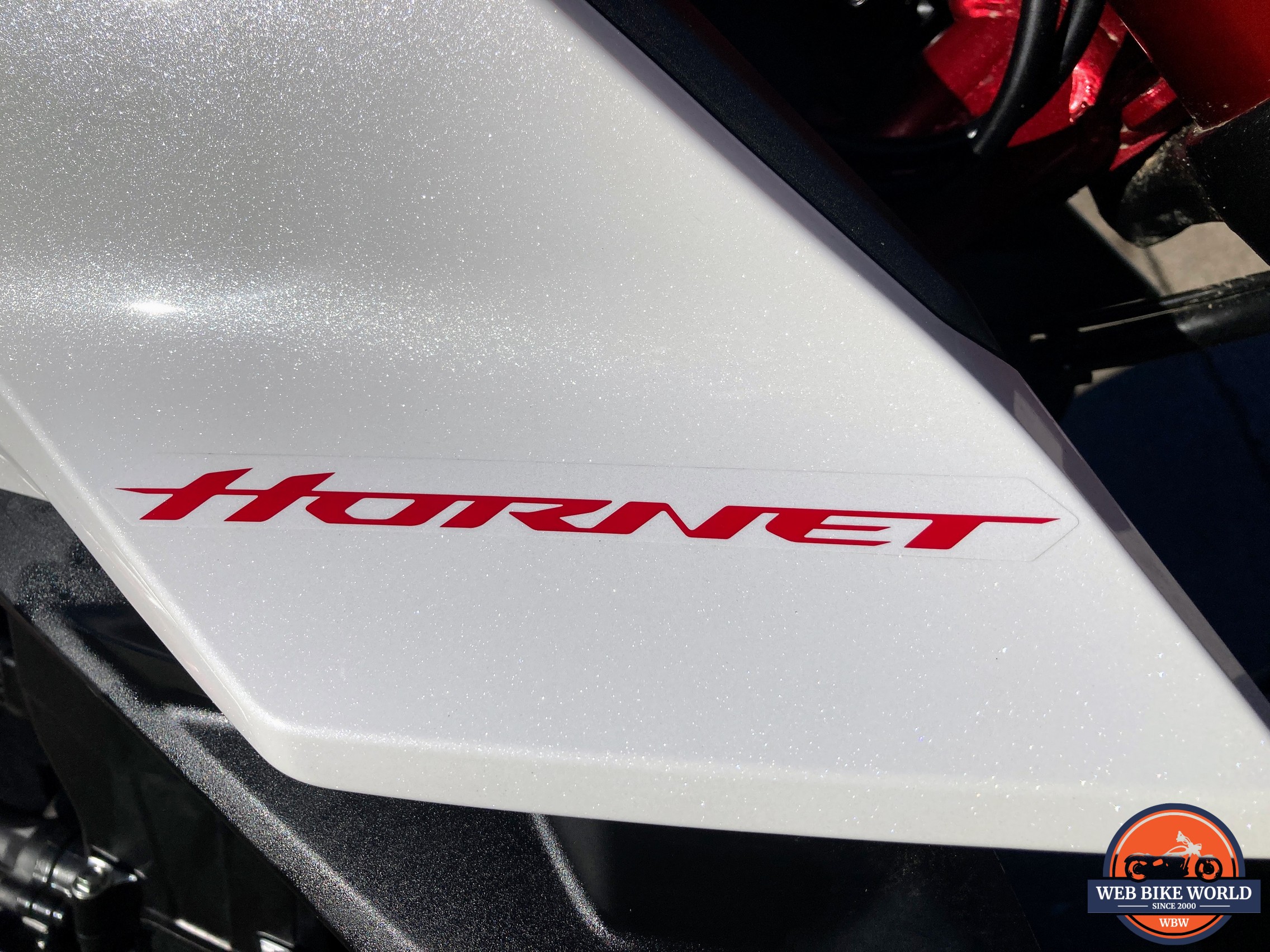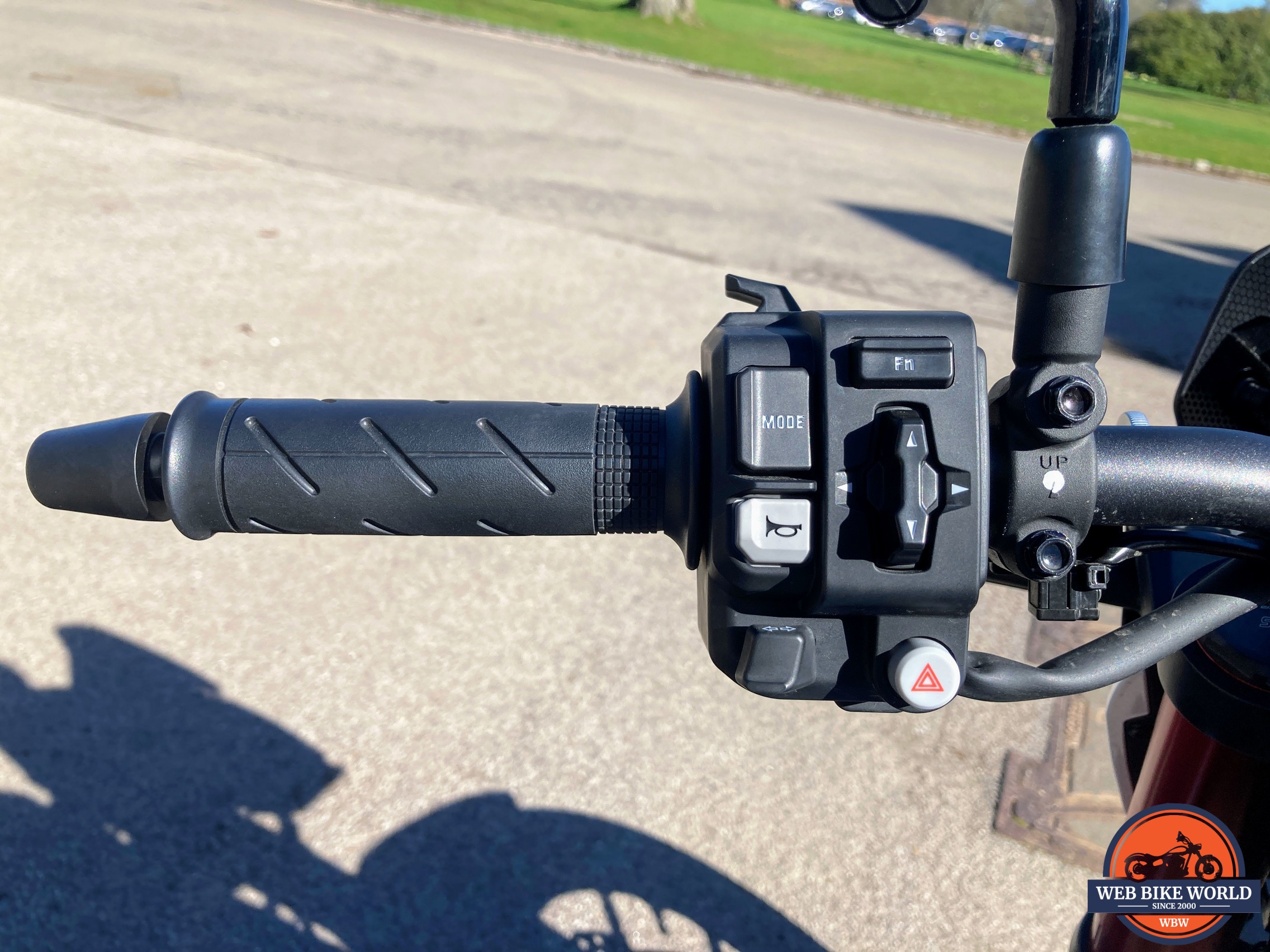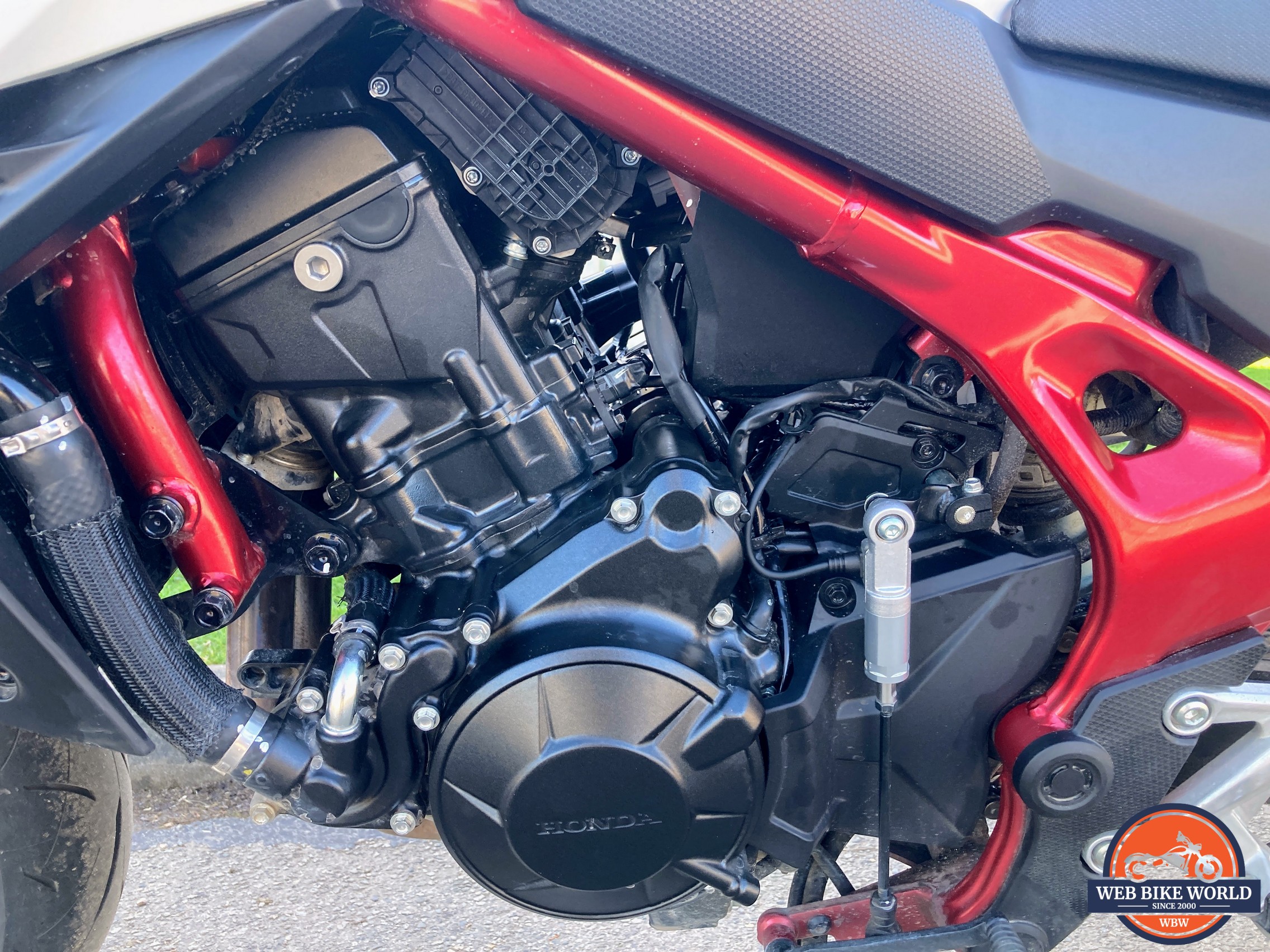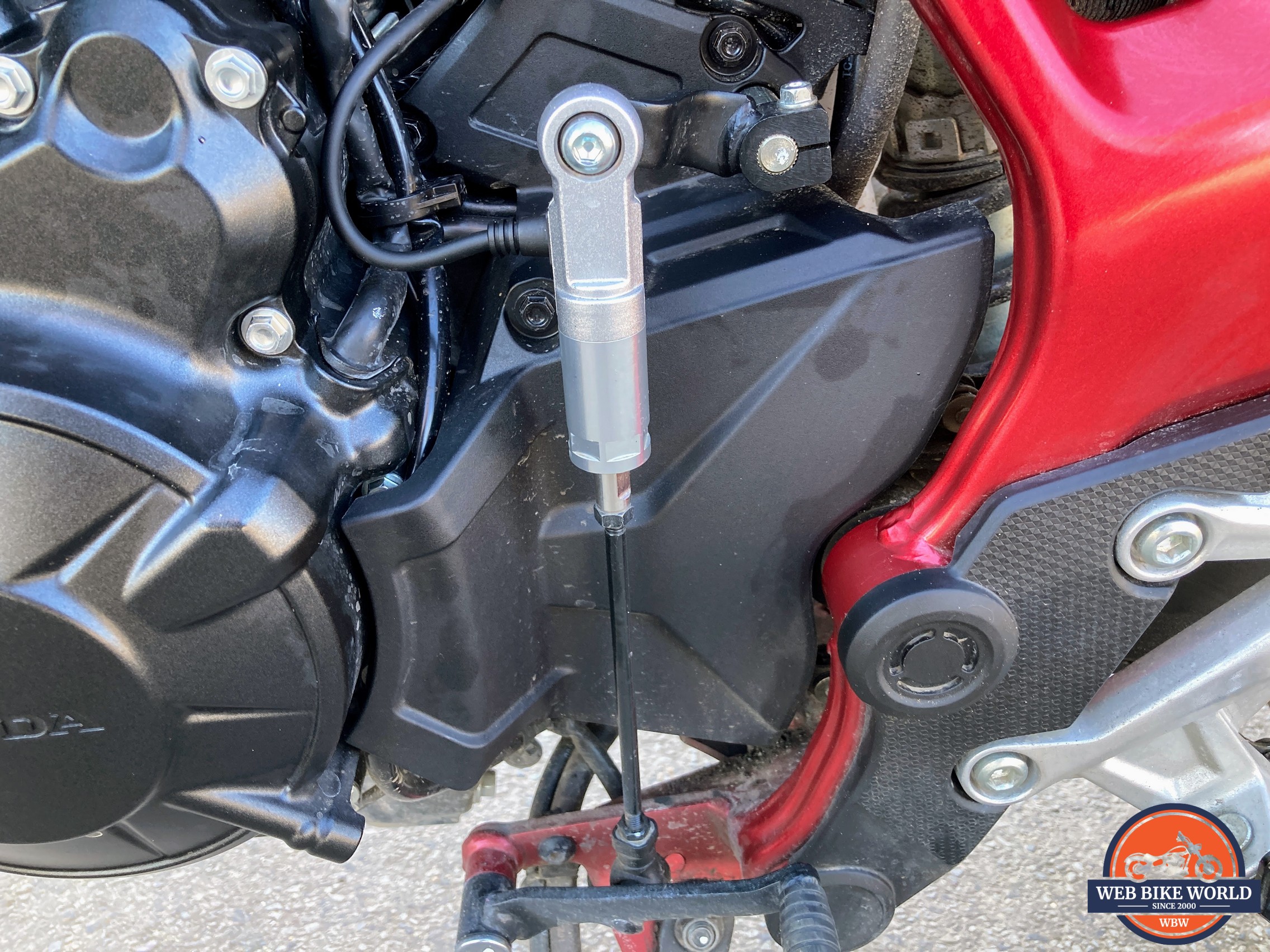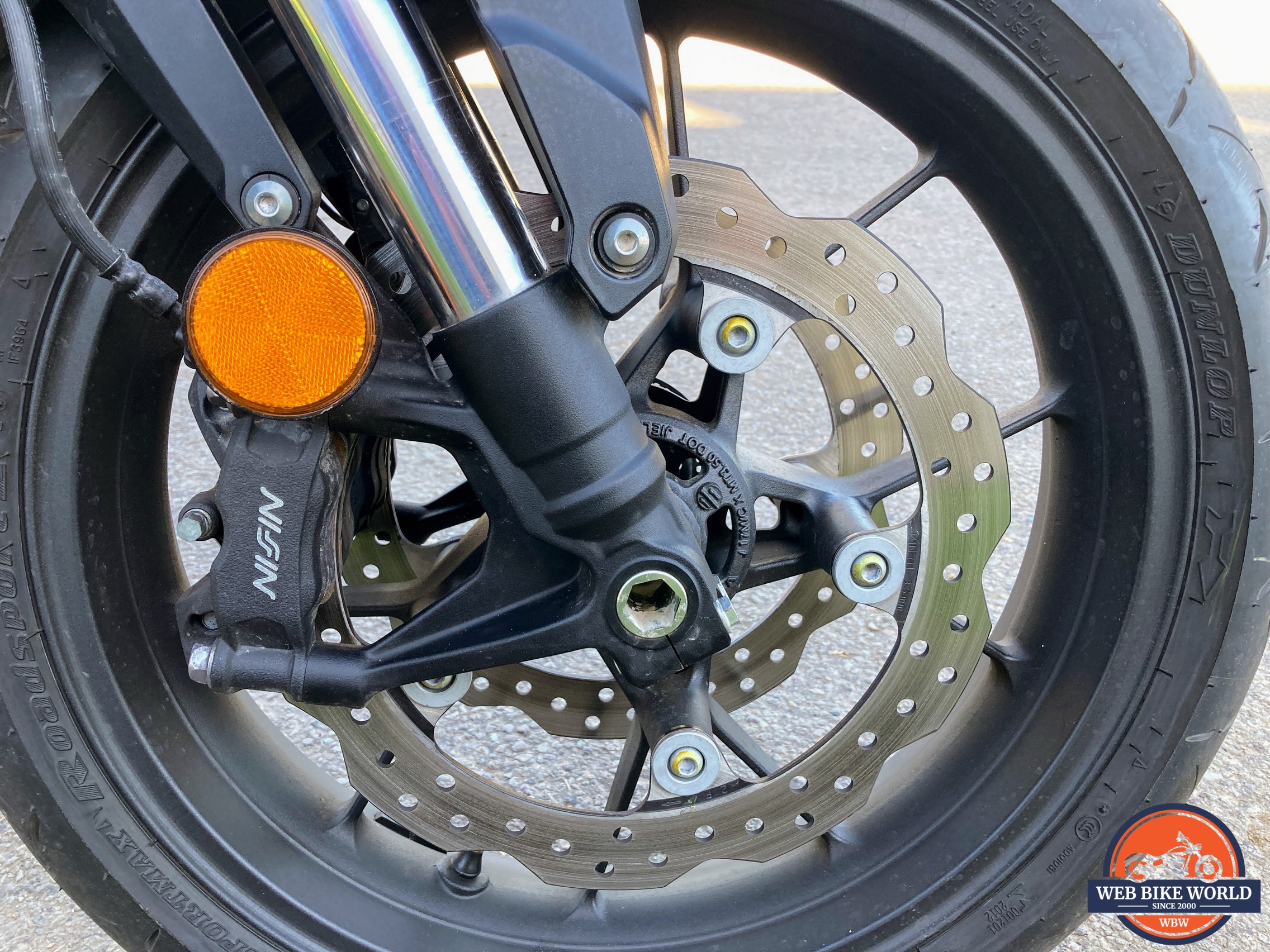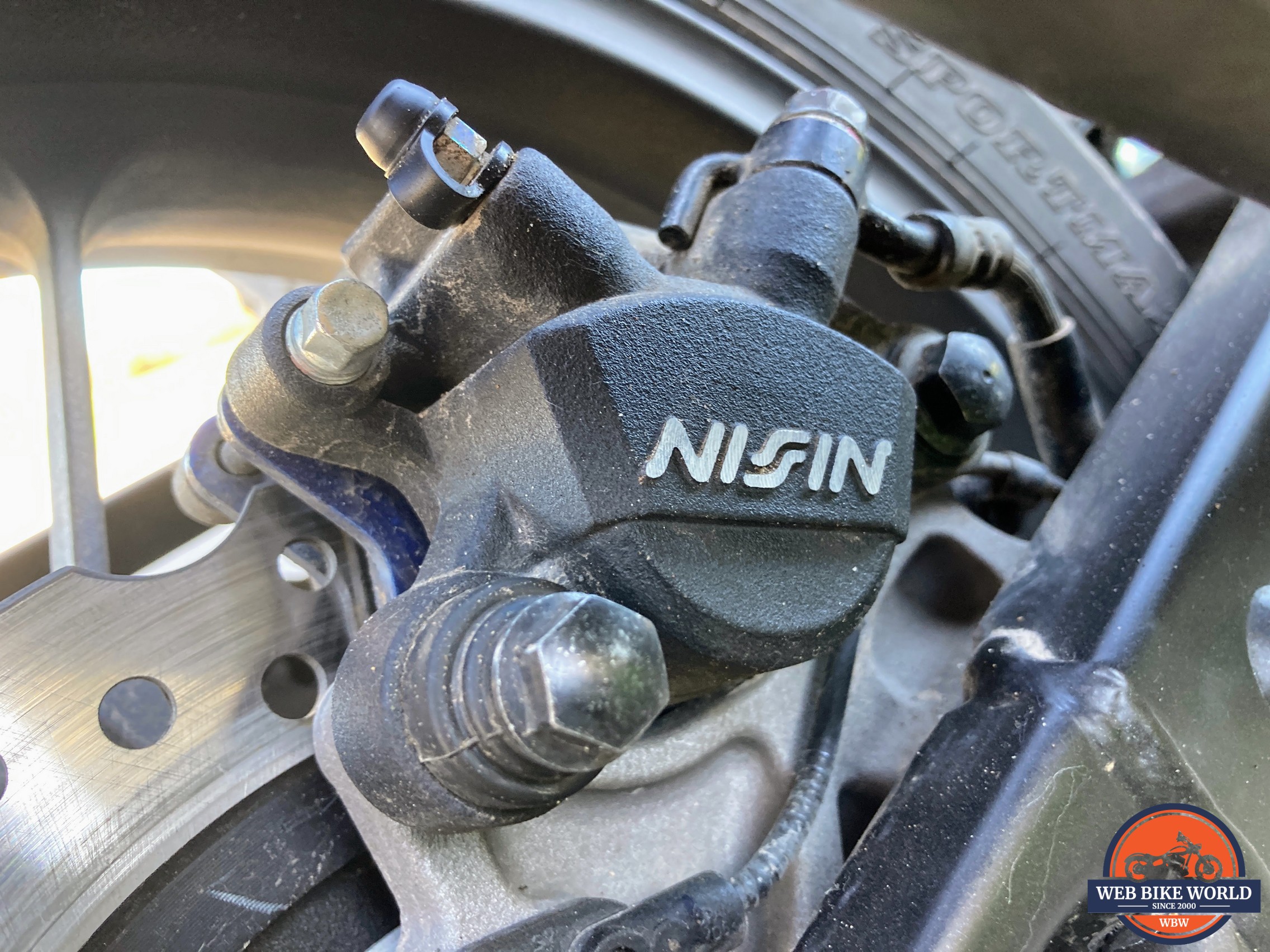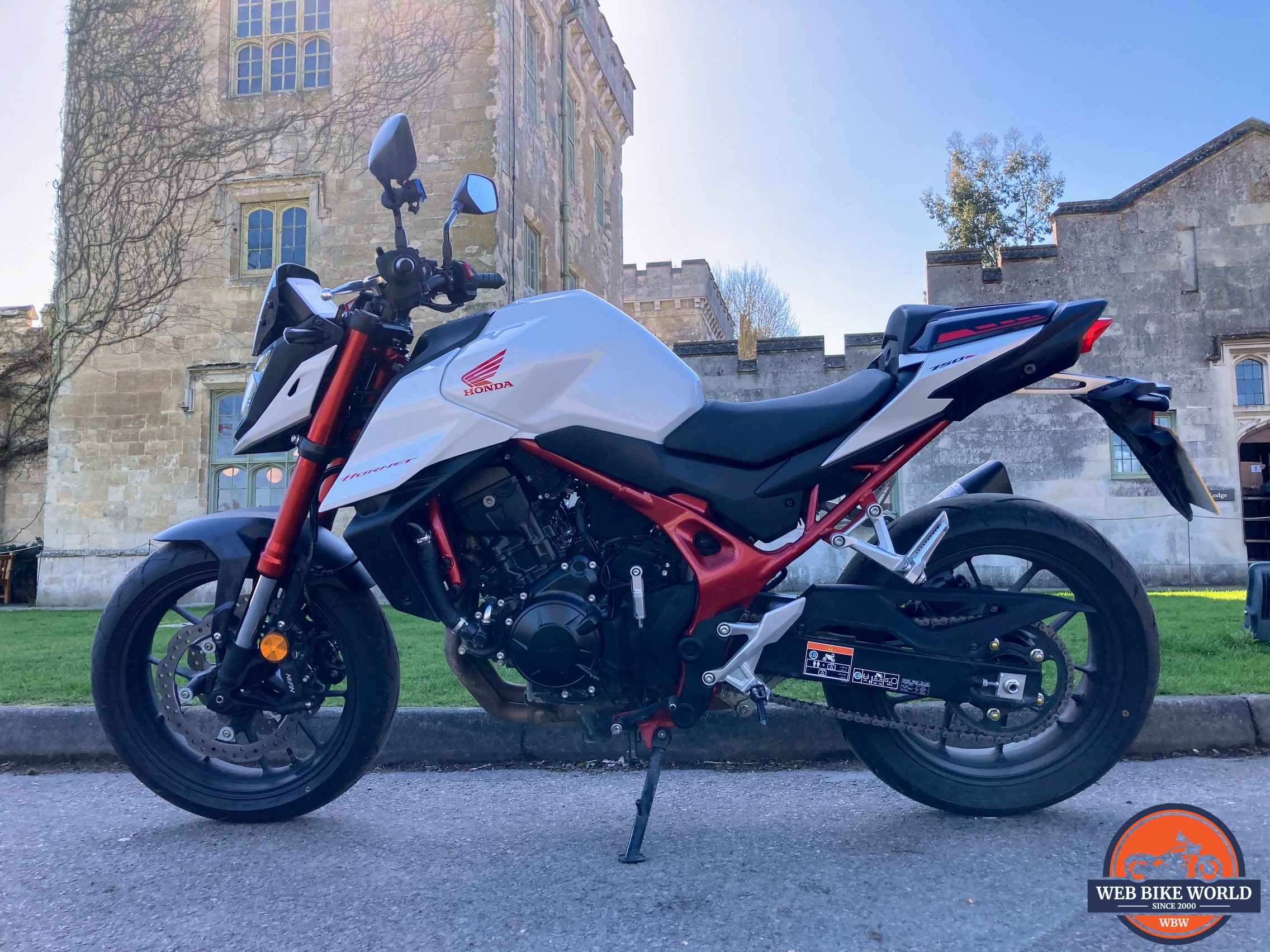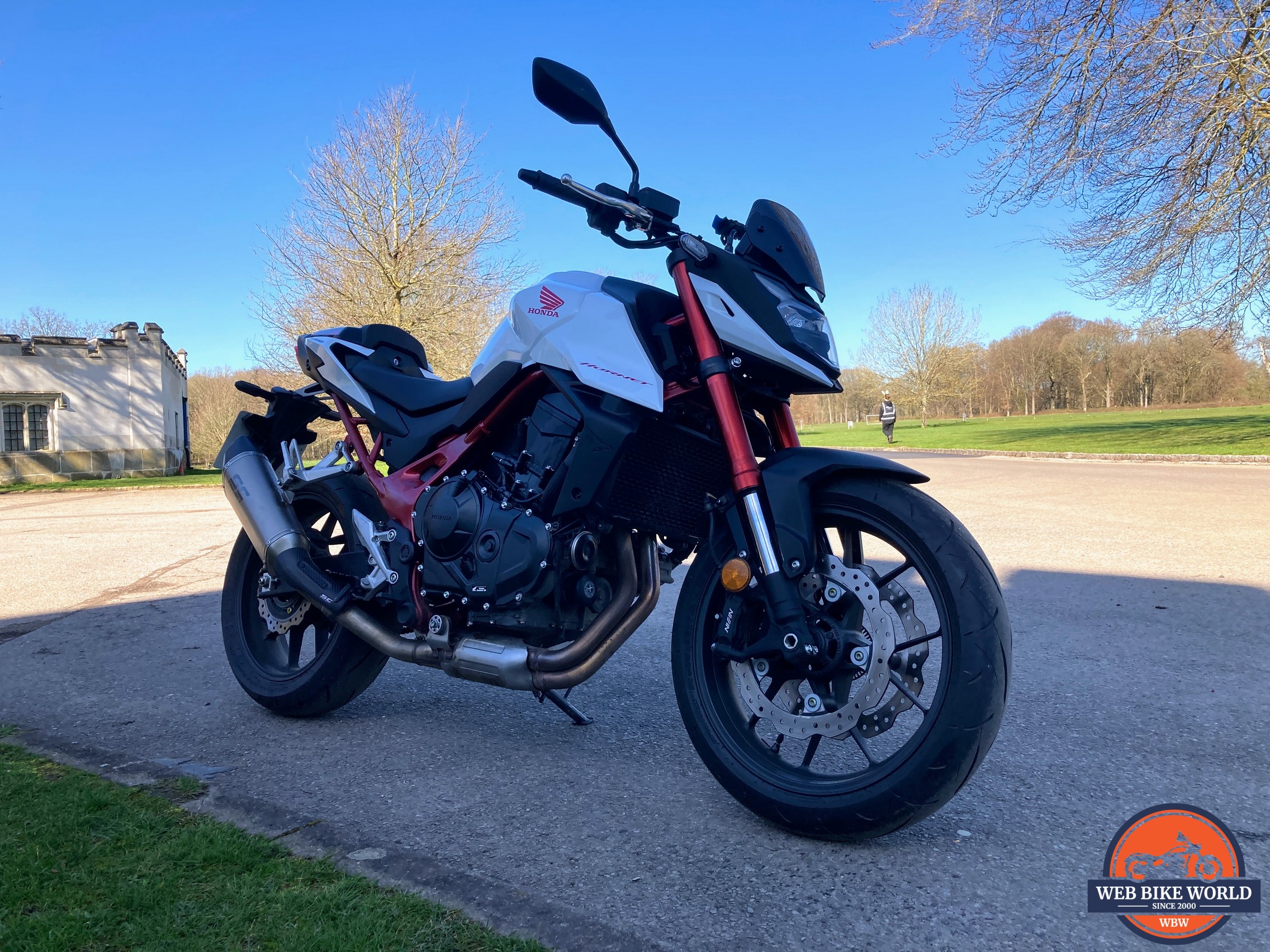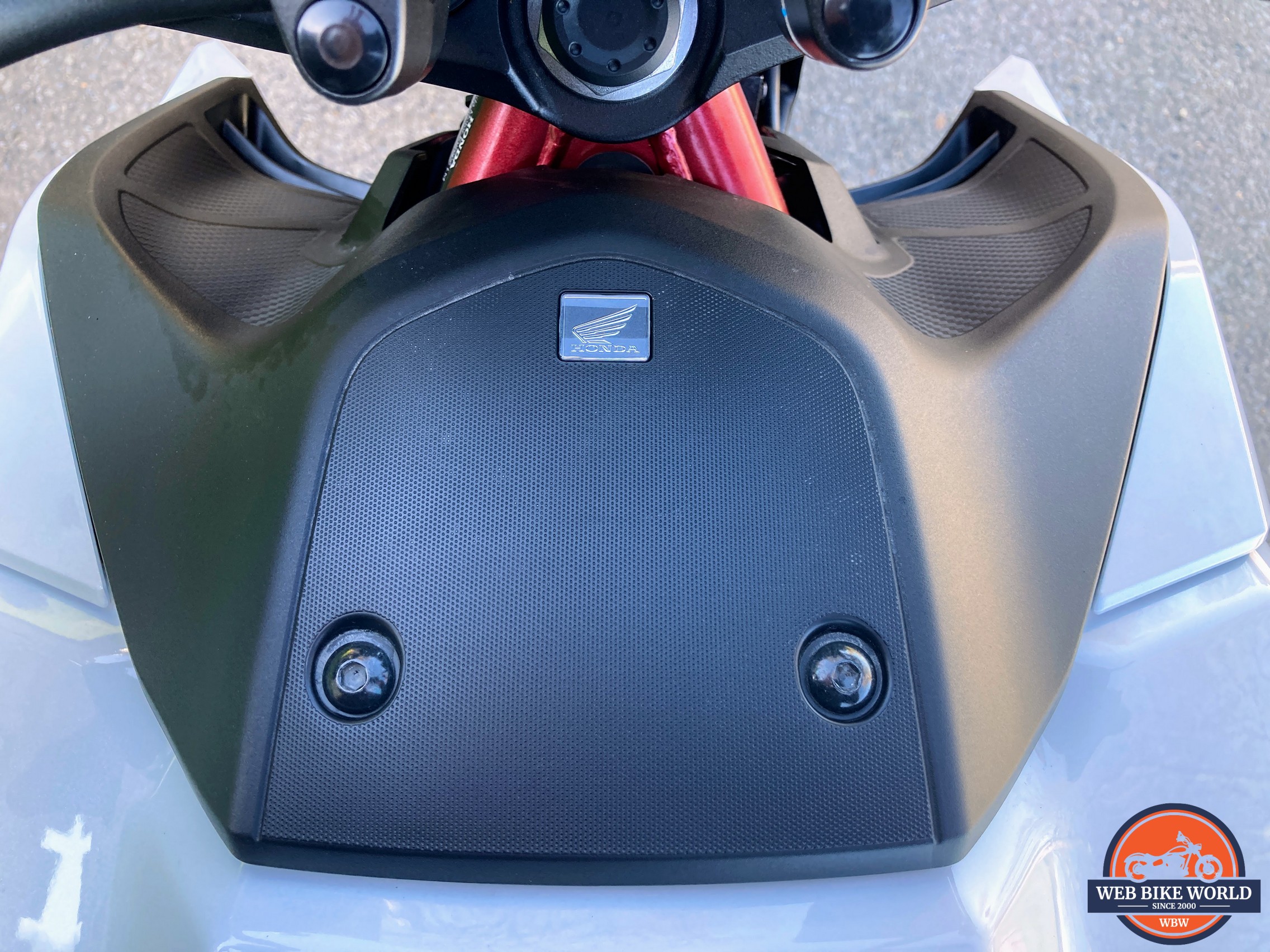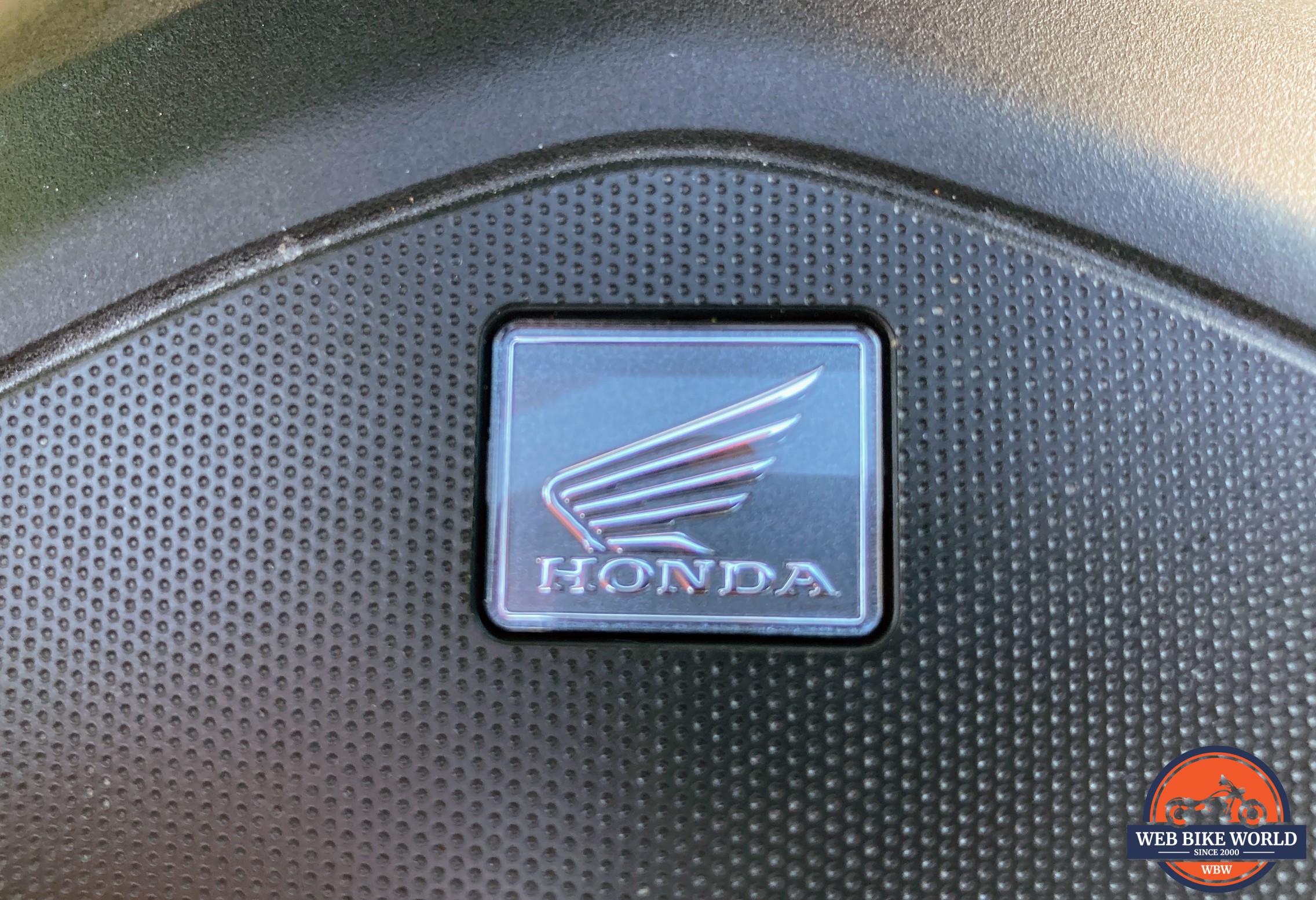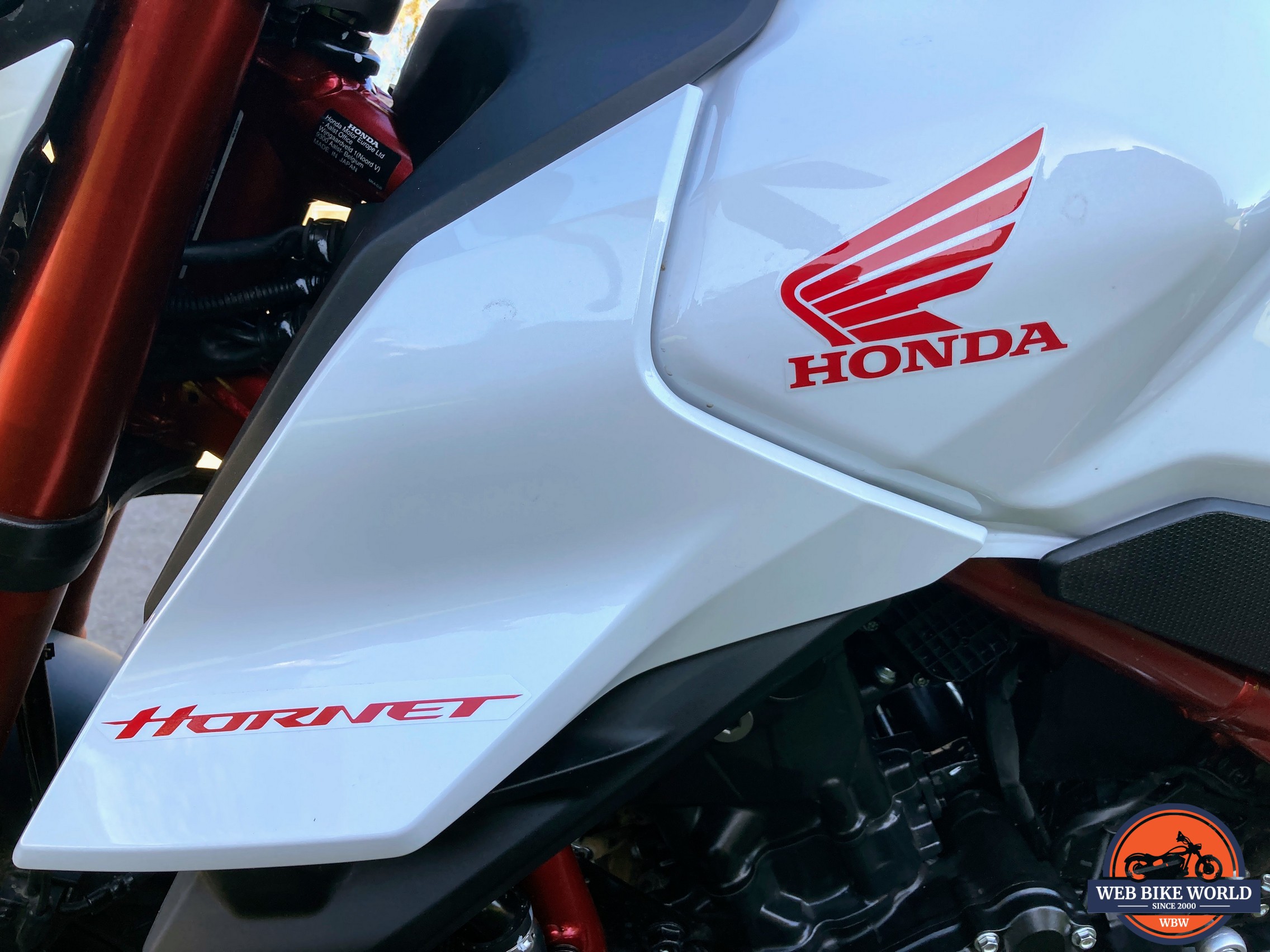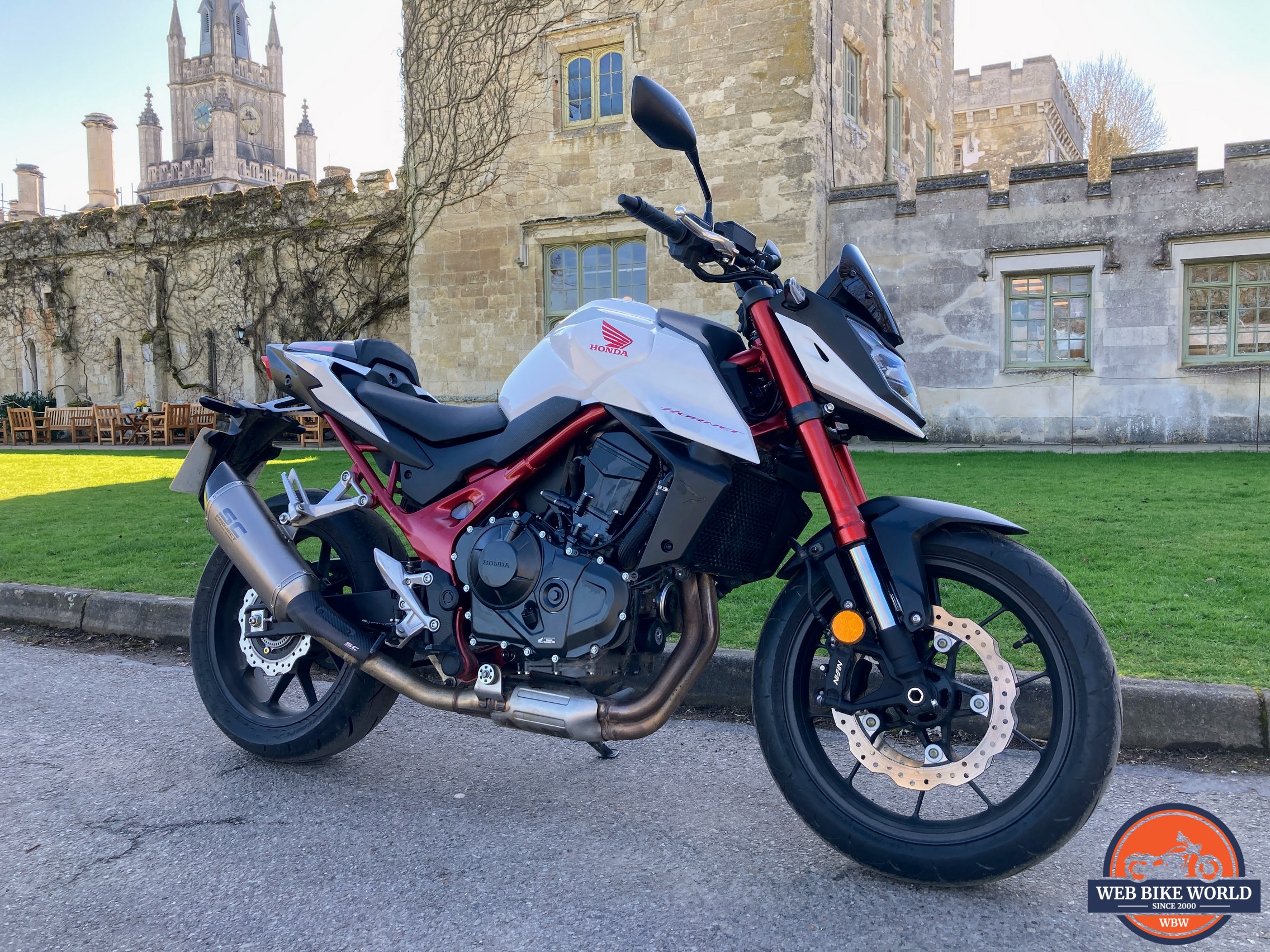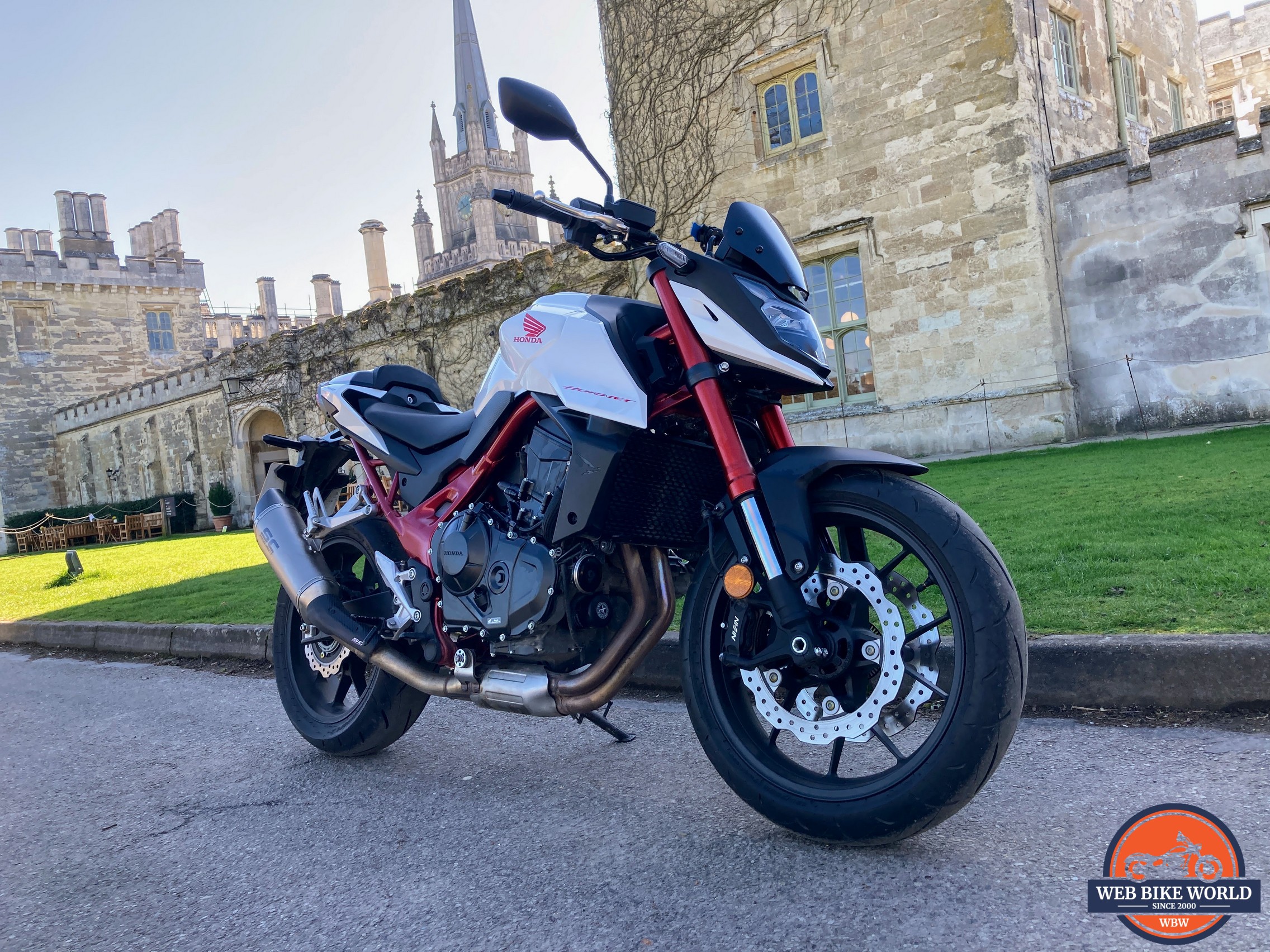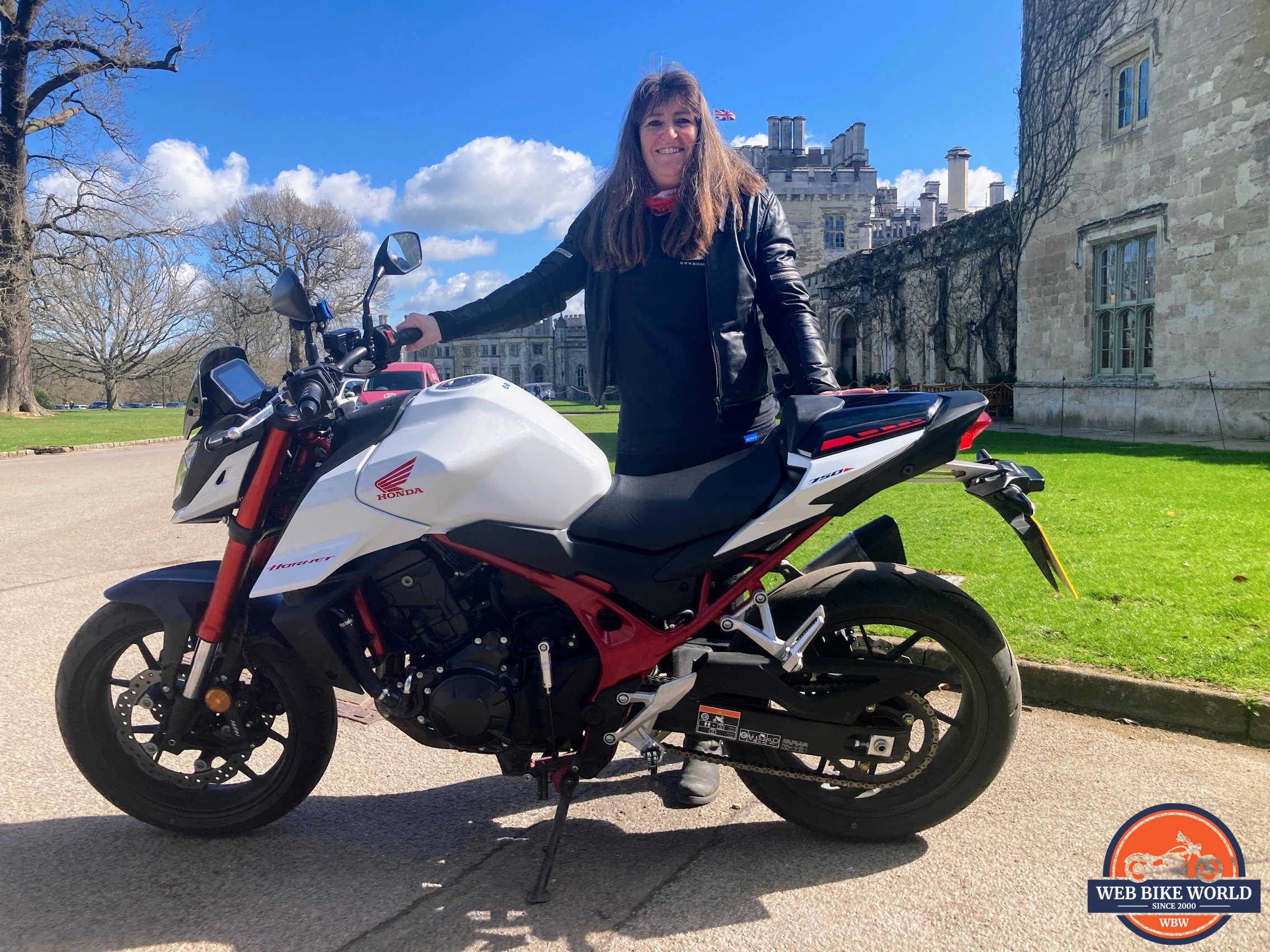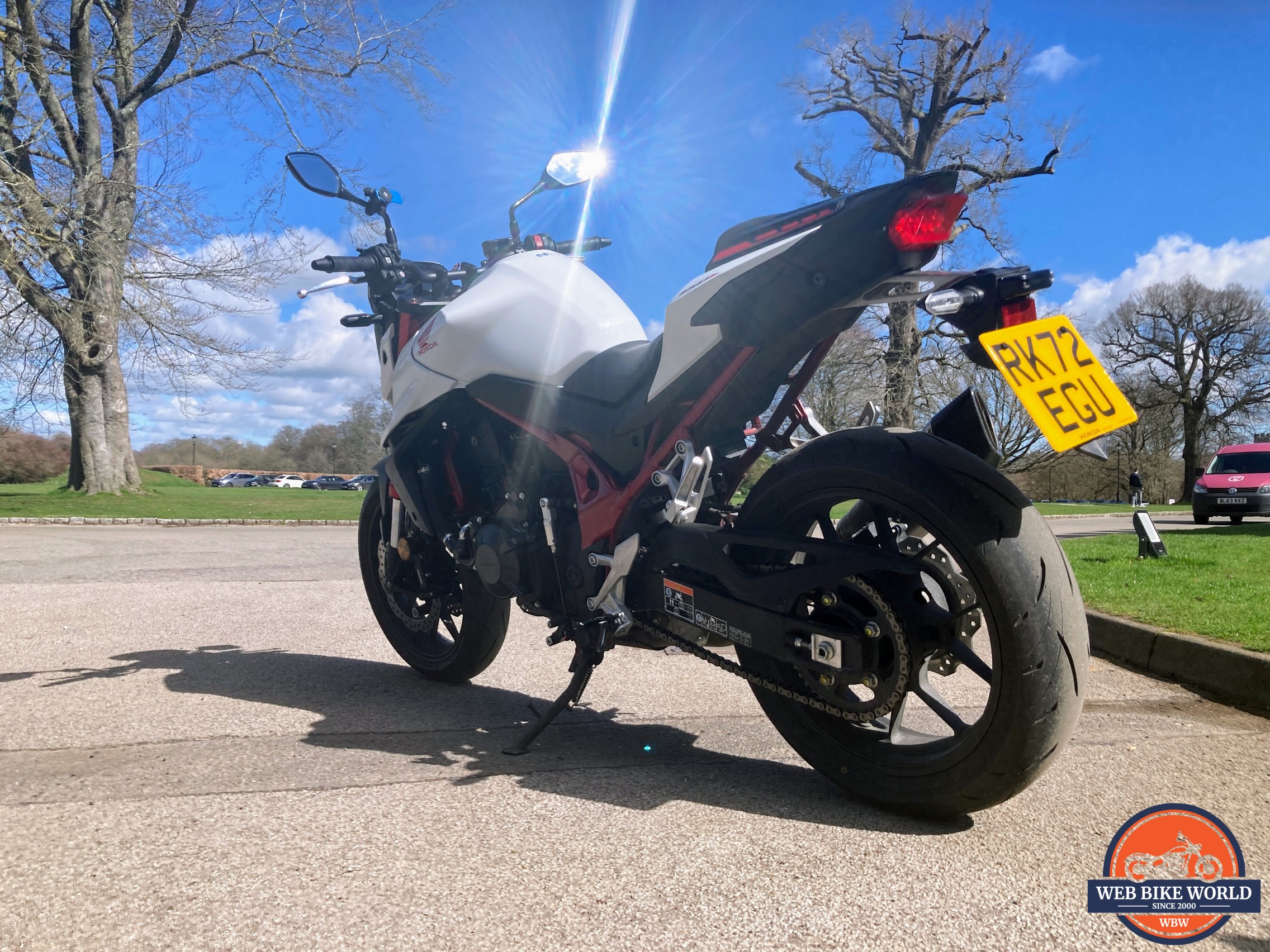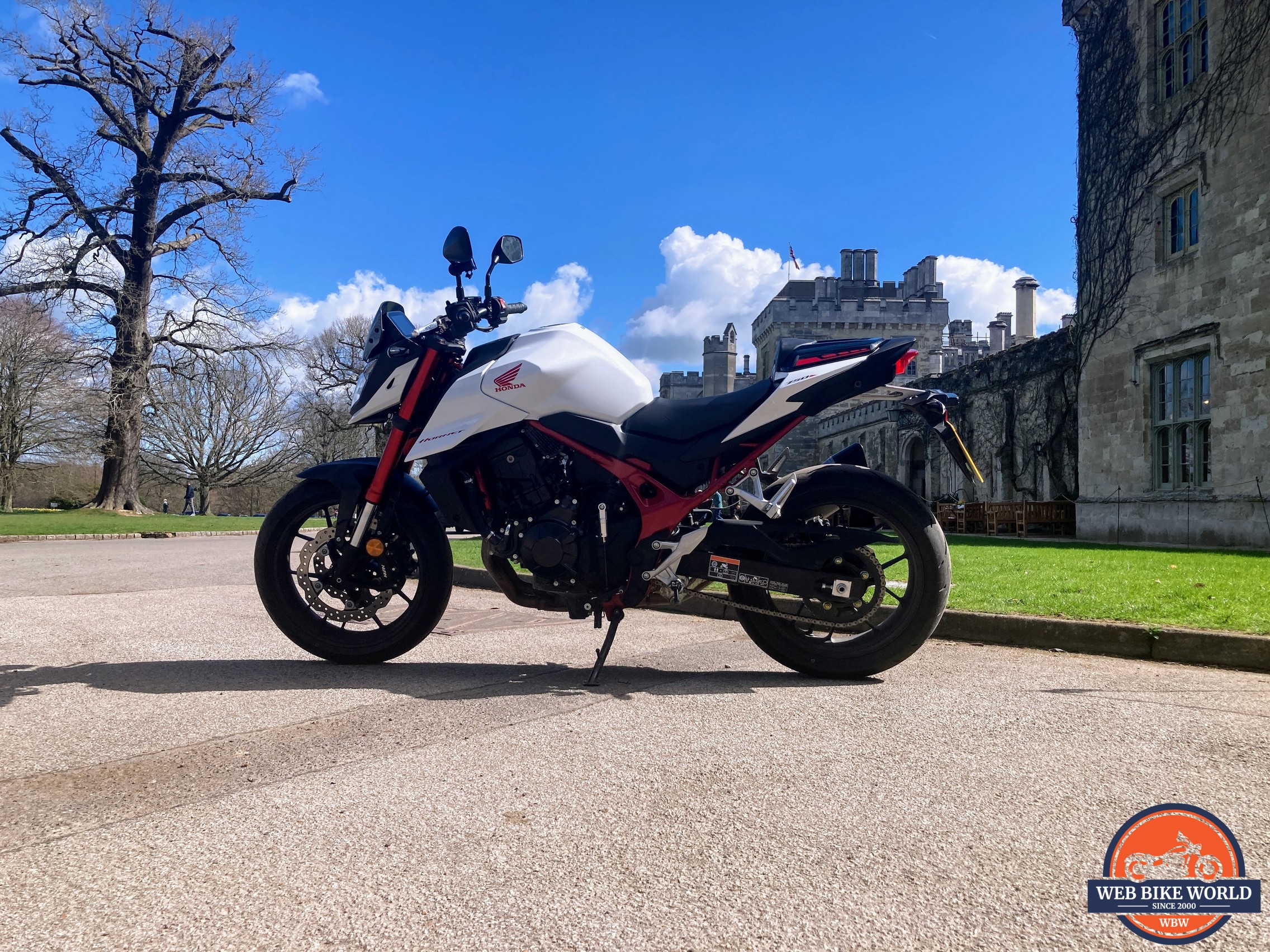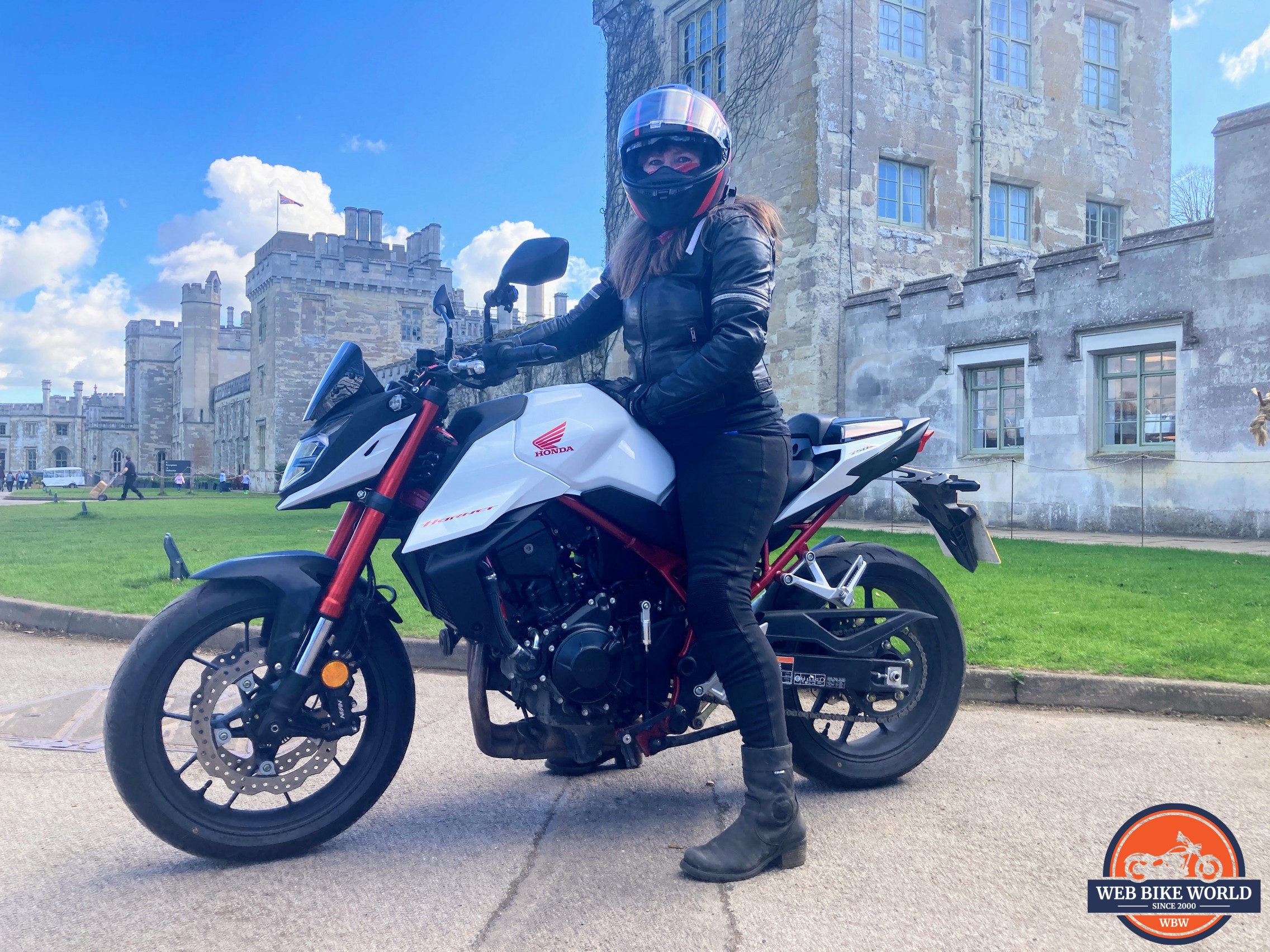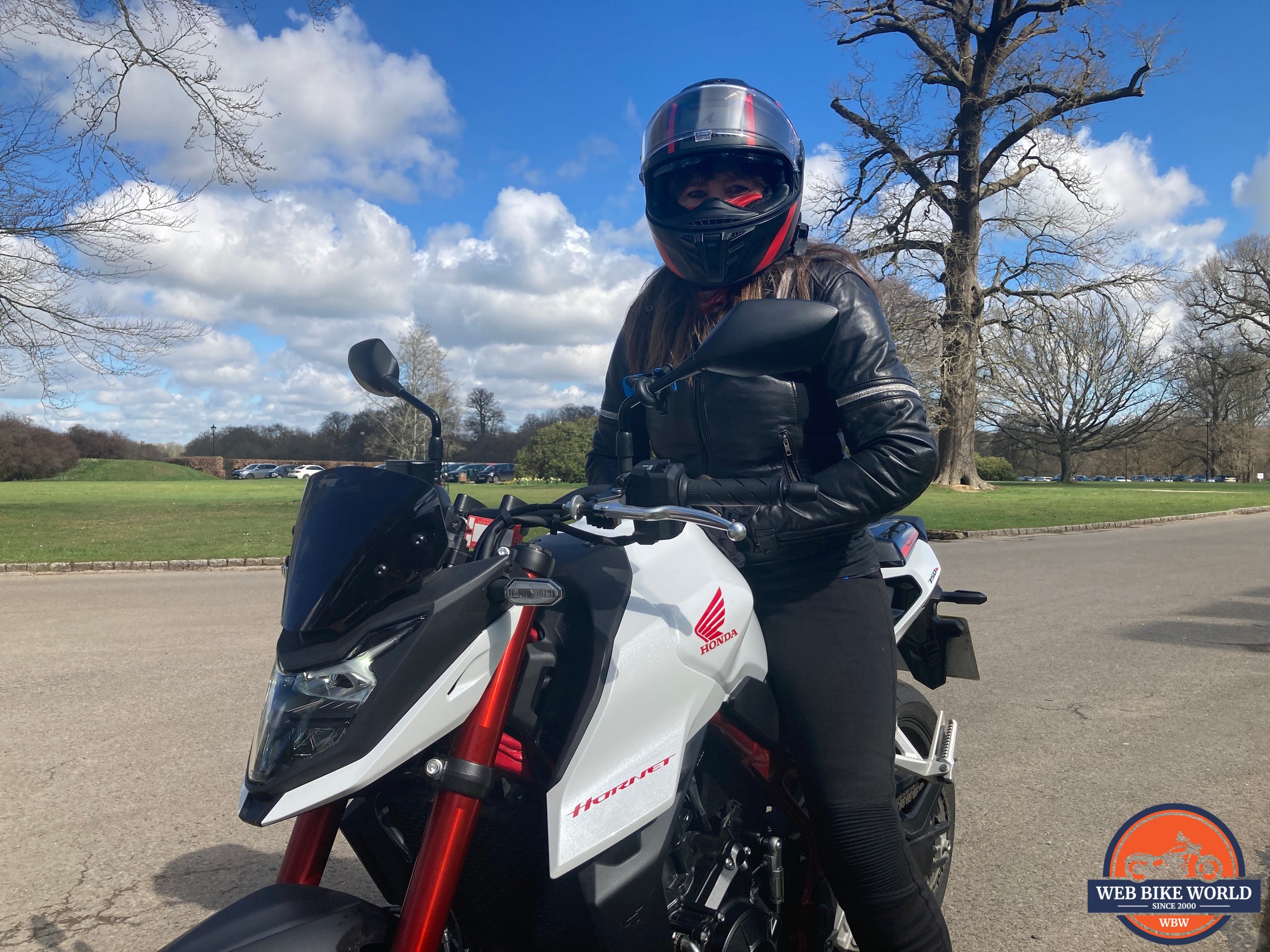 The post
2023 Honda CB750 Hornet Review
appeared first on
webBikeWorld
.
Continue reading...