Joined

Mar 18, 2017
Messages

478
Reaction score

1
Points

18
Location
*****SOLD***** Ultimate 2014 NC700X for touring... FARKLED TO THE HILT.
Well I'm a lier and I didn't think I would ever do this but... I changed jobs, sold my old business and was able to purchase my (for now) dream bike. And there is too much overlap in what each bike can do, to keep both. I't just doesn't make sense.
I put a lot of time and money into this bike to make it the perfect long distance mini touring bike and fire road stomper... and with around 62 MPG loaded down, it delivers. Cruise all day long at 80mph on the highway even with my 225lb butt.
The combo of 2" risers, 1" lowering pegs and the Seat Concepts seat are AWESOME. GAME CHANGER for this bike.
I am looking to possibly trade for a more dirt oriented bike, but since there are no trails right by my house, the bike would need to be able to travel some distance to get to trails. Hence something with a bit of Highway capability and a street title. (ideas: Husky 701, 510, A KTM 950, 990, a fat enduro, something off roadie... you get the idea.)
This bike..
2014 NC700X 6 Speed Manual with just under 5000 miles. With everything you could possibly want to do to it done. (except suspension work)
Bike Purchased with 432 miles for dealer in March of this year, now around 4900 miles. (Still riding occasionally)
Oil changed at 600 miles and again at 2000 miles just to make sure all was good. next service should be around 8000.
Stock Bike cost ME $4800 (I got a sick deal, knew a guy who knew a guy)
Farkles:
Givi Dolomite 36L Panners $700
Givi Pannier Rack $275
Givi Trekker 48L Top Box $400
Givi Mono Key Box mount $60
SW Motech Skid Plate $270
Danmoto Jitsu Muffler $180
Honda Crash Bar - $179
Black Moto additional crash bar $150
Knight 1" lowering pegs $125
Barkbuster Storm Handgiards - $125
National Cycle V-Stream with GPS mount $267
MRA X-Creen Adjustable Lip $120
Grip Puppies $20
Snakeskin Tank Grips $79
Seat Concepts Front Seat (awesome seat) $229
Handlebar cross bar $10
Perfect Squeeze GPS holder $100
PIAA 3" Yellow LED Fog Lights $275 (added recently in the new pic, wired to switch but on with low beam as more of a "traffic SEE ME" function)
Radiator guard $60
12v Adaptor mounted on handlebars for GPS or phone $24
Genius Batt tender and port $75
Fender Extender - $30
Fork Socks - $20
Total SPENT: $8573.00
SELL FOR $6000 obo
(I still have stock pipe, skid and hardware.. stock seat BECAME the seat Concepts seat. But the stock seat is awful so no loss there...
The bike has never been down dropped, scuffed or anything. A few fire roads but no major offload (obviously it has basically road tires)
First Pic was taken a few weeks back as I washed both my bikes...
Other pics show older PIAA's, the bike currently has the 3" PIAA LED's and the new V-stream windscreen and MRA Screen mounted.
I can take pics of anything you want just ask...
I do not want to part anything out, thanks.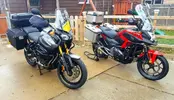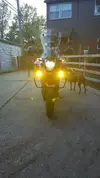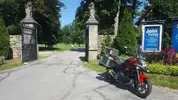 Last edited: