Joined

Sep 16, 2018
Messages

1,076
Reaction score

437
Points

83
Location
Recently purchased a new mesh jacket. Finally got to take the FirstGear RUSH Air jacket for a ride today.
80-degrees. 40% humidity. Full sun.
I have 2 other armored motorcycle jackets, this was specifically purchased for use on HOT SUNNY HUMID days. If the weather is not HOT SUNNY and HUMID then I will wear a different jacket. This jacket is probably only 2/3rds the weight of my KLIM Apex Air jacket, which is a spring, summer, early fall jacket. This is a SUMMER ONLY jacket offering minimal weather protection. Your riding uses may be different than mine; I'm offering this review from the perspective of someone who wants a modestly protective HOT weather riding jacket.
OVERALL this is a nice lightweight jacket that offers a modest amount of protection (
if a suitable back protector can be found
) flows a lot of air and has pretty good construction and some nice features. Not as nice as the premium brands, but for the price it offers a lot. Purchased for $169 with free shipping from MotorcycleGear.com. List price is $229. I checked about a half dozen on-line sellers and no other source hand this for below MSRP. My local shop didn't have any in stock either. Generally speaking FirstGear makes nice products, with nice features, at nice prices, using better than average materials. The RUSH Air mesh motorcycle jacket fits all those descriptions. I got the Hi-Viz Yellow version of the jacket. Its also available in all black as well as a two tone grey/black. There are obviously higher priced brands that use premium fabrics, premium features and details and retail at premium prices. This is "nice" quality, it is good. I think its a good value too.
The black fabric is abrasion resistant and runs from wrist to wrist over the shoulders. There are also abrasion resistant panels on both sides of the jacket, largely for structural purposes to hold the lighter weight mesh together in a crash/slide. There are 2 nice sized zippered slash style 'hand warmer' pockets on the front. The abrasion resistant fabric is beefed up at the elbows and shoulder areas, somewhat lighter in other areas.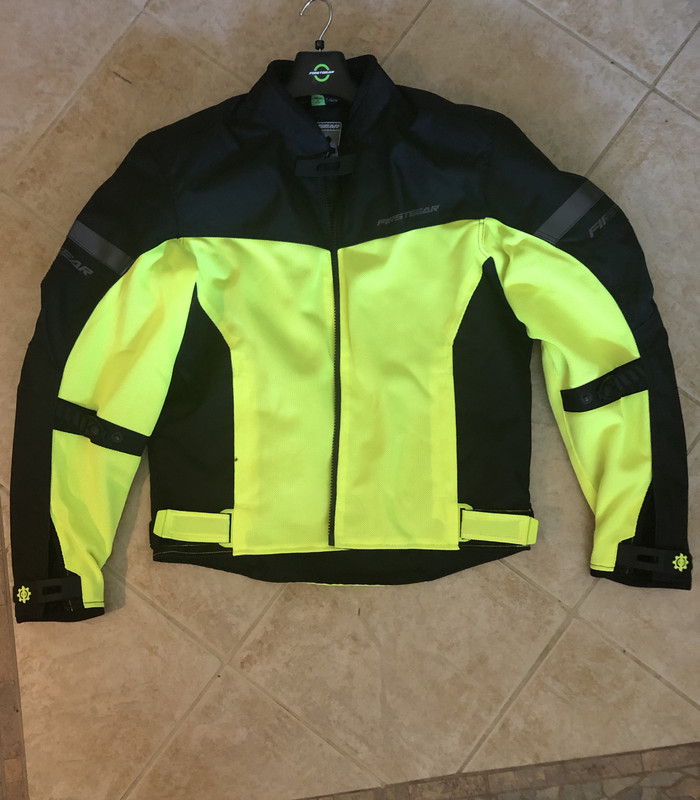 THE GOOD:
Well made with good off-brand materials and at a very attractive price. Nice details throughout.​
THE BAD:
Tiny back protector pocket reduces back armor options. One way front zipper. While it has a rear stow pocket to hold either the rain liner or some other items, it is not very large and anything placed in the pocket would reduce rear airflow. No back protector included, so that is an extra cost.​
THE UGLY:
Outright false statements in the product description. Manufacturer claims it has a 2 way front zipper; I knew it did not before I bought it. The tiny back protector pocket will make it hard to find a suitable piece of protective back armor.​
RAIN LINER: Meh, I have a Gore-Tex over jacket for rain, I have no use for this. Took it out, tossed it on the top shelf of the closet. It does have color coded snaps to make it easier to put into place. It might be nice to extend the temperature range of the jacket as a wind block. Downside of these rain liners is that the mesh soaks up water and the rain liners don't breathe very well, if at all.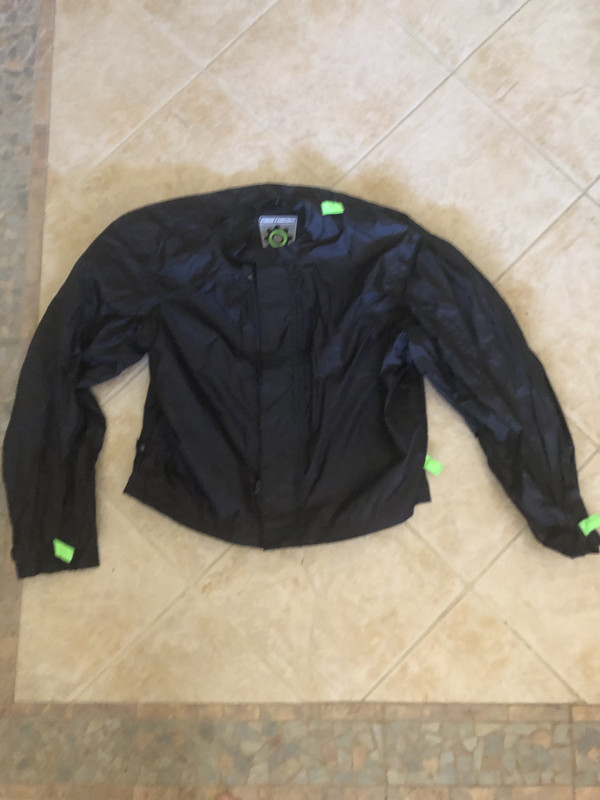 ARMS: The mesh covers approximately 50% of the arm from the wrist to the armpit on the inner arm side. The outer arm is a Cordura-like fabric that is abrasion resistant. There is a snap adjustment mid-arm to allow you to fit the sleeve to your arm so it doesn't flap around. At the wrist there is velcro adjustment. The wrist also has a zipper to allow you to expand the cuff. There are no wrist pockets. On the inside there are pockets elbow & shoulder armor. The jacket comes with CE certified Level 1 armor at the elbows/shoulders that is very light and comfortable.
WRIST detail: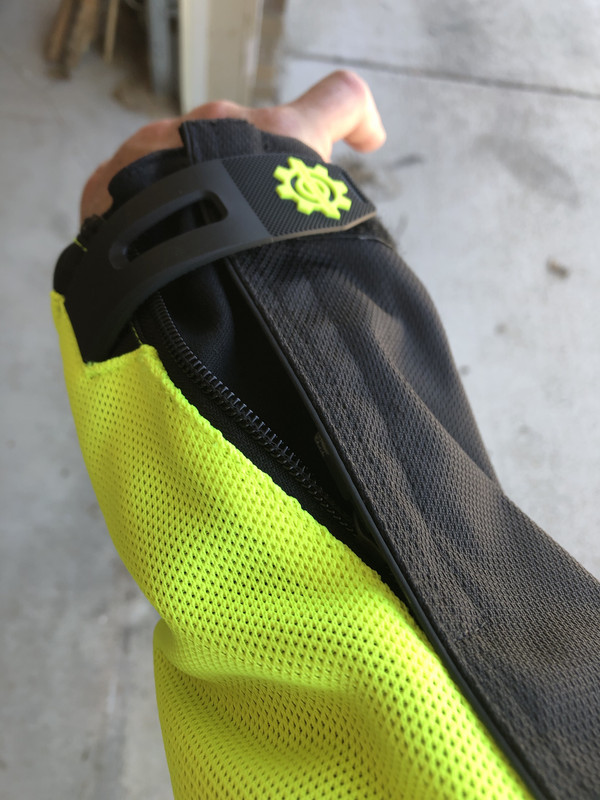 MID ARM adjustment detail: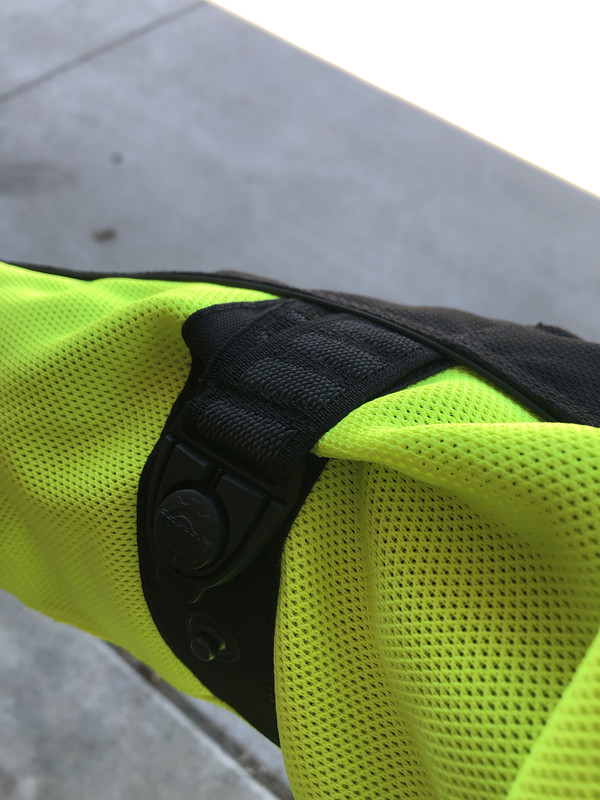 ABRASION RESISTANT Fabric on the exterior side of the arm has a couple black reflective strips and a subdued logo. This is not Cordura brand fabric, that would cost more, but it is claimed to be abrasion resistant in a slide (I hope to never find out if it works):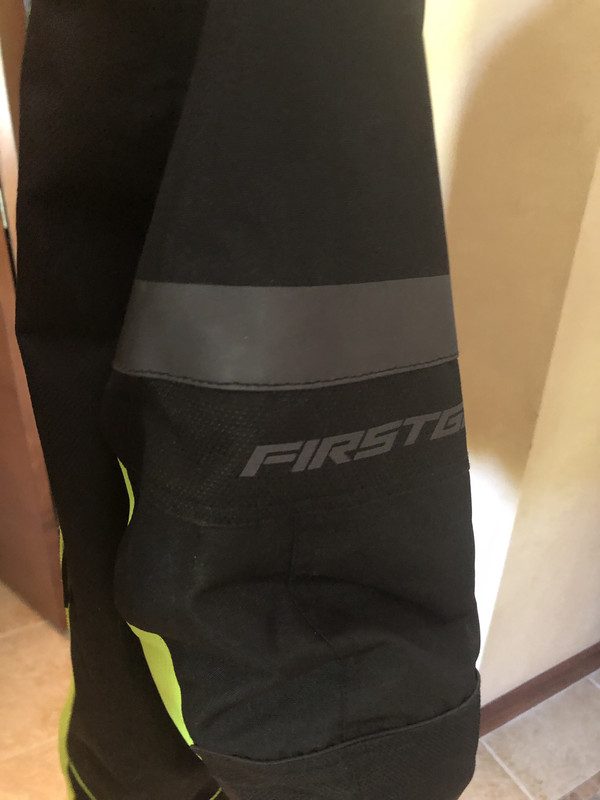 BODY details:
Velcro at sides of waist for a proper fit. Slash hand warmer pockets along the fabric seam for a clean look.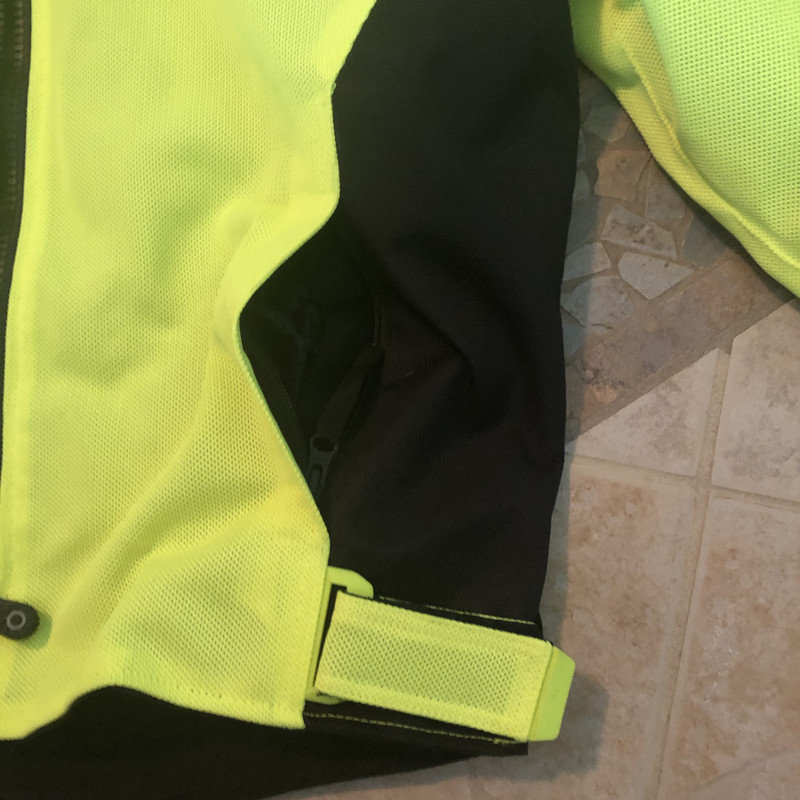 Despite product description claims it has a 2 way zipper, this is only a 1 way zipper.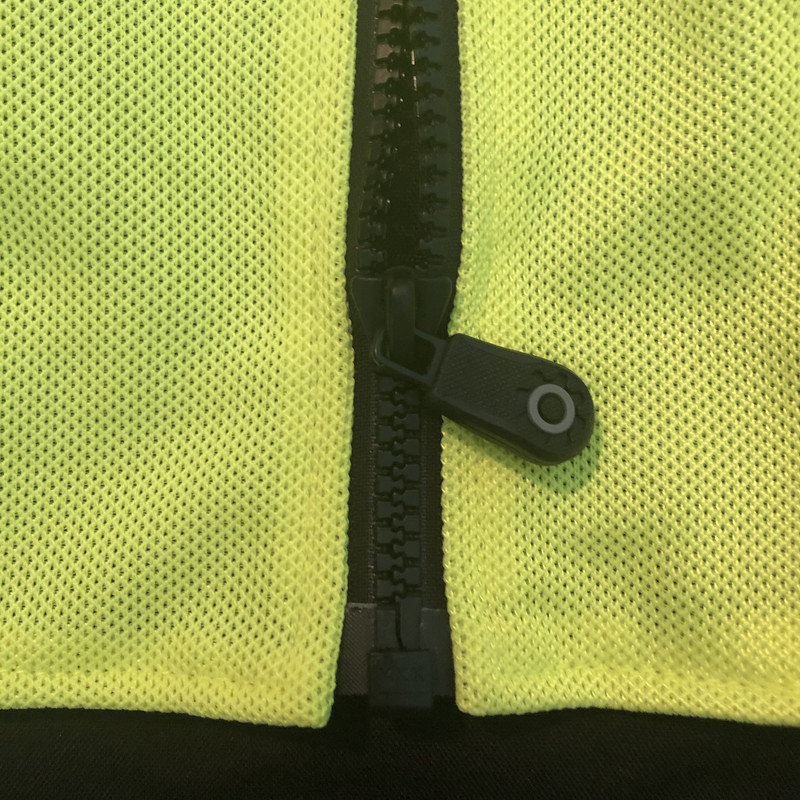 Zipper is secured at the top by a velcro flap to keep the zipper fob from blowing around in the wind. Not really clear in the photo, there is a microfiber inner collar for comfort and the front of the collar has a nice rounded shape so it doesn't dig into your neck. All good details.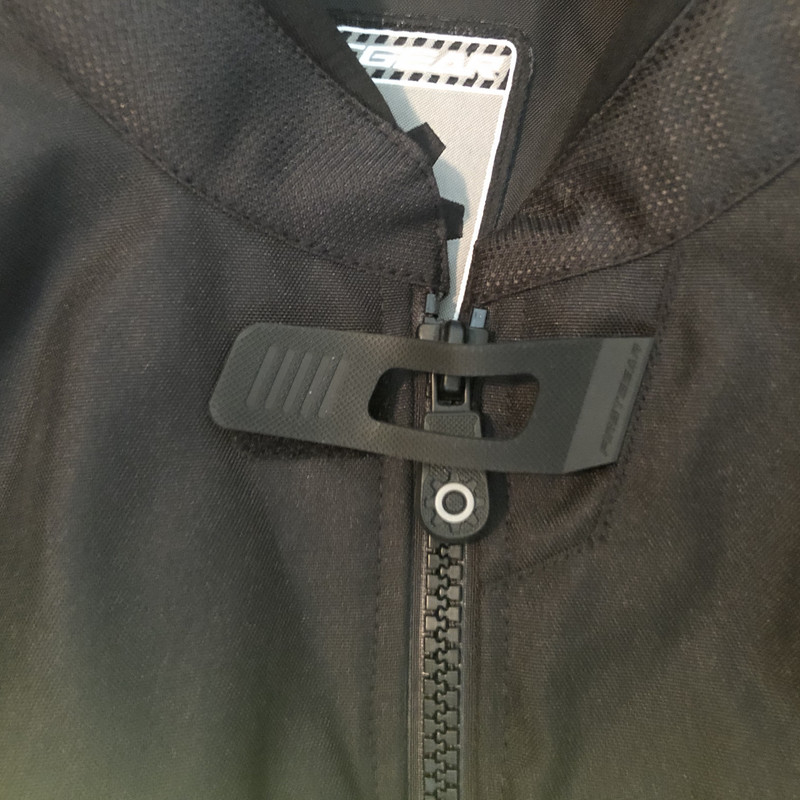 Rear collar/shoulder detail has a reasonably understated logo.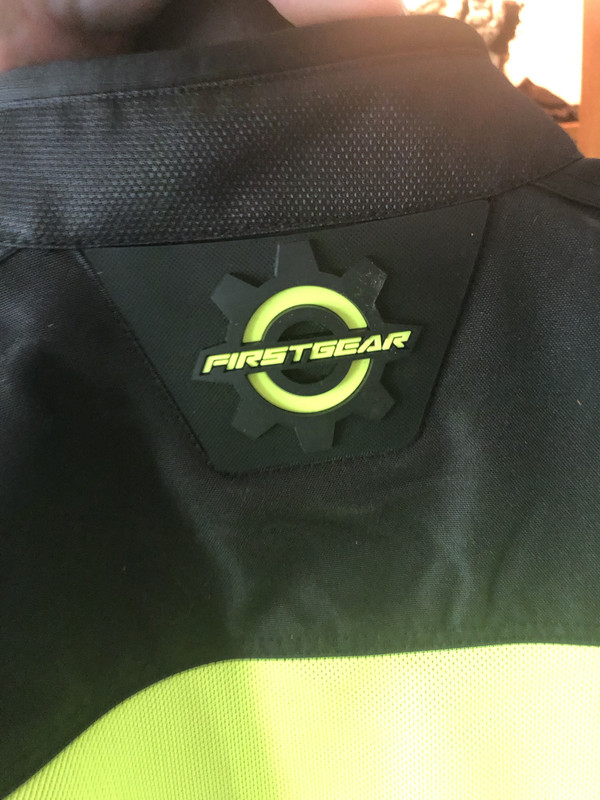 Rear lower back stash pocket. Handy to have. Supposed to be large enough to hold the rain liner. If filled will block some of the airflow in the lower back area.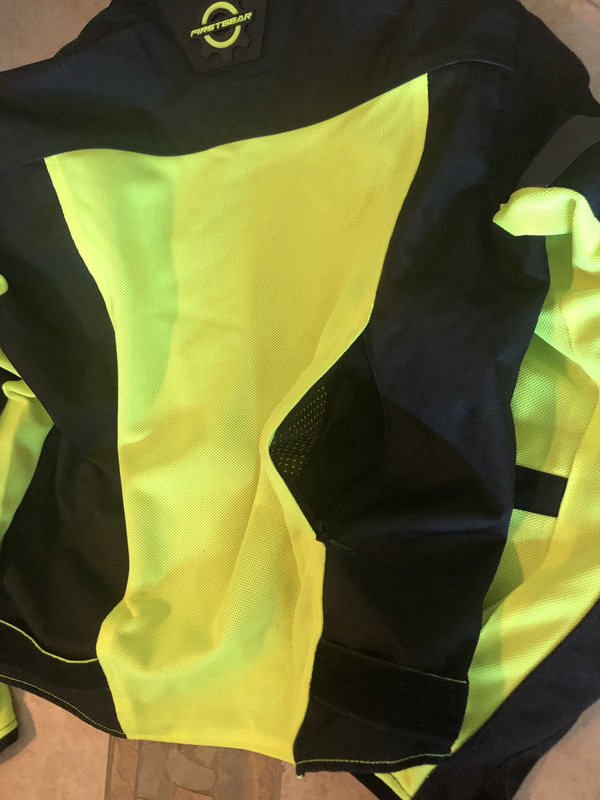 INSIDE Details:
One feature it does NOT have is a Napolean pocket that is accessible without unzipping the jacket. That would have been a really nice detail to add.
On the bright side, the cell phone pocket, velcro flap, sized large enough to actually hold a cell phone.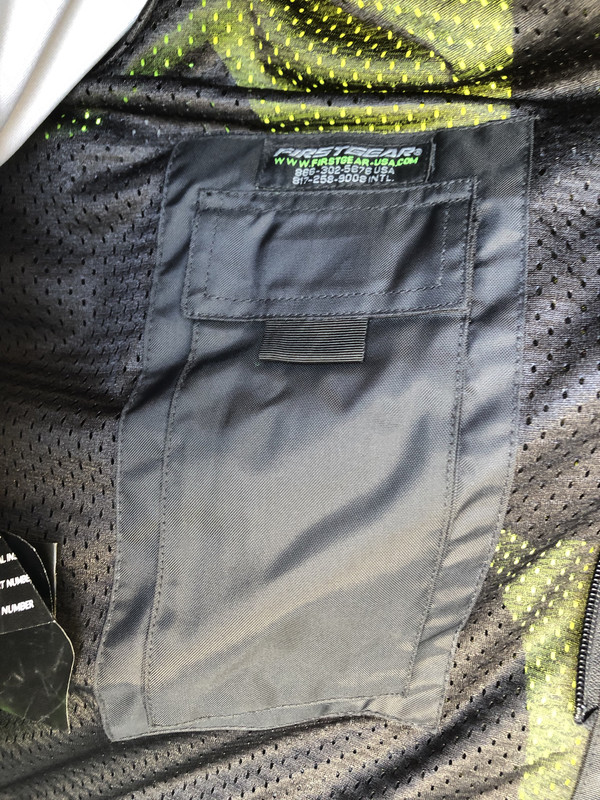 Opposite side there is a large interior baseball cap pocket. Also with velcro closure.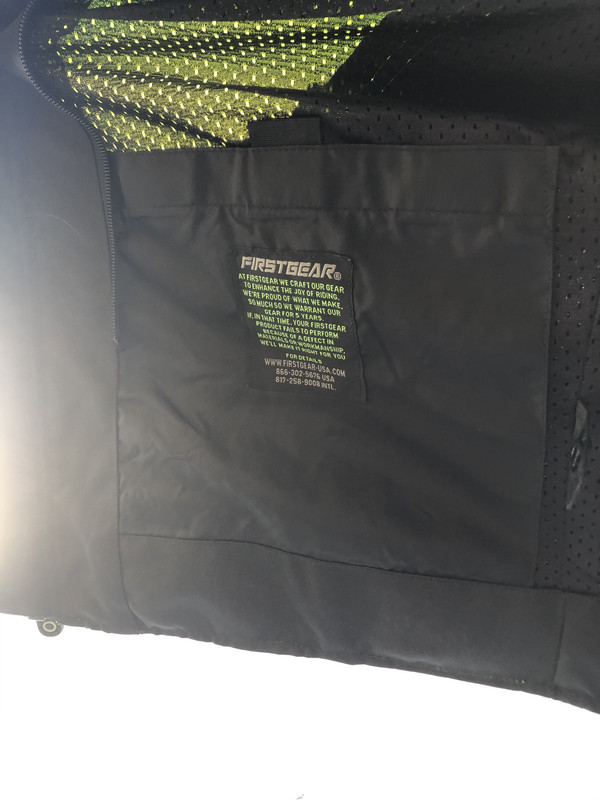 Lower back zipper to connect the jacket to a pair of FirstGear riding pants. Inner liner is a comfortable silky smooth/tricot like mesh. I really wish the manufacturers would standardize the zipper size and length on these. As it is I have 3 jackets and 2 pants and none of them with in any combination.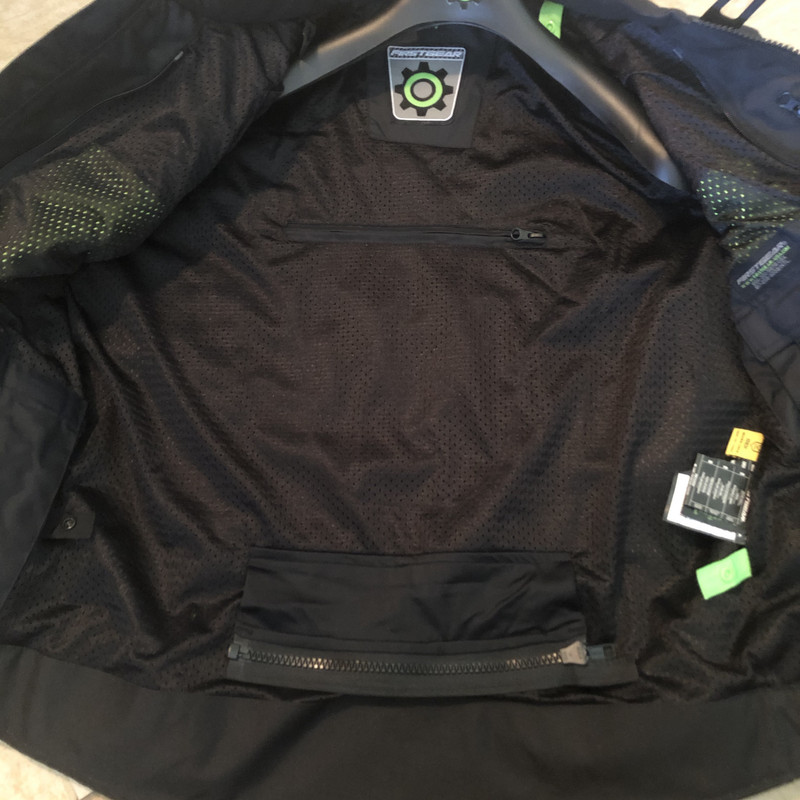 Last edited: