SOLD..........!!!!!!!!!!! (at the Barber Festival)
Nelson-Rigg Silver Streak Saddlebags that are in excellent, seldom used condition.......comes with all straps, carry handles, and rain covers. Not sun-faded at all, no mud nor dirt smudges......one cannot tell them from "New". (I have not tried them on the NC700X.......was going to use them on my Vstrom, but am going with hard panniers instead)
From their website:
•Top Quality UV-treated Tri-Max(r) ballistic nylon. Velcro strapping across the top, connecting each bag together. Strapping can be mounted under seat on certain model bikes. Tapered upward for exhaust clearance.
•Highly reflective webbing.
•Micro Hug Fiber base holds the bag firm without marking bike.
•100% waterproof rainstorm cover.
•Measures 17"L X 10"W X 11"H.
Price is $50 plus actual shipping from B'ham 35124.........box is large (approx. 30"x20"x9") and shipping weight is 8-9 lbs total. As an example: shipping from here to Little Rock is about $17. Payment via Paypal Gift (or add 3% to shipped total) or personal check.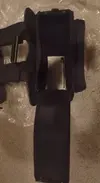 Last edited by a moderator: