Joined

Jul 31, 2018
Messages

219
Reaction score

252
Points

63
Location
I recently gained access to a Monoprice Voxel 3D printer, through the student engineering club where I am an advisor, and I have been looking for small, simple projects to get started learning about 3D design and additive manufacturing.
The cheap plastic handguards I bought off of eBay were missing rubber spacers in the kit, and when I had them installed the ends would rattle. I went to the hardware store to get a black nylon spacer or washer, but they didn't really have what I was looking for in the correct size and inner diameter, so I decided to make my own!
The part is extremely basic: 12 mm ID, 25 mm OD, 7.5 mm long. I sketched it up in OnShape, which is a free browser-based CAD software package. The free version lets you make as many parts or assemblies as you want, but they will be publicly listed and accessible.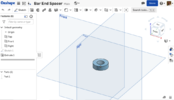 The print was done in PLA plastic. ABS will be more ideal, but I haven't gotten around to buying new filament yet. I used wide 3M blue tape and a coating of hairspray to get the part to adhere. It took me 4-5 attempts to get the head hight and temperature settings right to get good adhesion to the bed. The parts took 12 mins each to print:
The result is a perfect fit! I left 1 mm of tolerance for the ID, and the spacers are snug but slide smoothly, and shouldn't rattle. With some neoprene washers on either end to protect the bar-end and throttle lock, and dampen out vibrations, the fit is snug with exactly the right length to hold the plastic guard from vibrating.
I may spray paint them black (or more likely redo them in black ABS), but for now I kind of like the red-orange look.