Joined

Apr 14, 2019
Messages

149
Reaction score

102
Points

43
Location
OLD TAG: LARGER THAN LIFE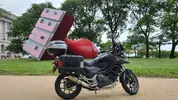 NEW TAG: MUSEUM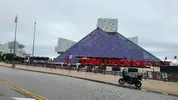 The Free Stamp comes with a somewhat interesting tale. It had originally been commissioned by the old Standard Oil (Sohio) Company. The stamp wasn't finished until Sohio had been purchased by BP oil however.
Initially, the stamp was intended to face down with the word seemingly in an ink pad, and was to be placed across the street from our soldiers and sailors monument. The word free was supposed to reference the emancipation of slaves due to the Civil War which was partly depicted on the monument.
When BP took over however, the new owners of the building thought that the stamp was inappropriate, and perhaps it was taking a swipe at the takeover of Sohio and the loss of freedom of people in a corporate setting. The stamp than sat in storage for a few years before a new site was decided upon. BP donated the sculpture to the city of Cleveland and it was placed on its side in its current location.
Somewhat less interesting, but perhaps a BIT comical… Across the street was the building where they used to do processing for military Personnel. On the day that I was leaving for the army, I recall they lined up a number of soldiers Shoulder to shoulder facing out the windows at Lake Erie. It was a cursory exam, and I guess the intended reason was to seek out any contraband that was being smuggled, but we all had to bend over while someone looked upon our behinds. I remember looking at that free stamp and realizing that I had just agreed to become anything but free.
Though it is far from our best museum, the Rock and Roll Hall of Fame definitely has some cool exhibits and a nice location on the South shore of Lake Erie in Cleveland.