Joined

Nov 11, 2011
Messages

6,834
Reaction score

199
Points

63
Location
Anyone that's been around to do with motorcycles has heard the name Forma. Purveyors of fine touring and ADV boots, the sole focus of the company lies below the knee. As such, when I was looking for a suitable boot for this season of riding, the name Forma was on the tip of my tongue and the top of my list.
Based in Italy, Forma does have a wide range of roads and trails to test their boots on, from the Swiss alps to the tight and twisting trails through the Italian forests. As touring is their primary focus, you will find most Forma boots will be water resistant or waterproof, and they are made to the highest standards for comfort and all-day rideability.
Features​
The Forma Trace is a relatively lightweight boot, designed specifically for
sport touring
. It features a synthetic leather and cordura upper, with accordion stretch cordura on the front of the ankle. The sole is double layered rubber, with a tough, grippy external layer over a flexible, shank supported inner layer.
The interior is based around a tubular lining of Forma Drytex, which makes the boot 100% waterproof. The ankle malleolus is protected on both sides by TPU moulded armor, while the ankle and toe box are shaped TPU. All of the TPU armor and the synthetic leather are CE certified
As a very nice feature, the boot comes with an antibacterial insole that devours any possibility of odors after a long riding day. It is replaceable with any insole you like from any manufacturer you like, as long as it comes in European sizing. I take a EU 46 size boot.
Aesthetics​
Some boots like to shout out their brand on every possible surface. Other boots like to lay low, play it cool, just do the job and not call attention to themselves.
It's all part of what you potentially want the boot to do.
The Forma Trace is definitely a boot of the latter type. It is no nonsense, unassuming, even looking from a distance as if it was just a normal boot you'd wear every day. There is nothing that really draws attention to them. And that, in my opinion, is exactly what Forma intended.
Unlike the big, shouty sport boots, or the rough and tumble ADV boots, the Trace is just there to do a job. It keeps foot, ankle, and tibia and fibula protected, prevents your foot from twisting in a crash, is armored enough to keep all your toes attached, and that's all it wants to do.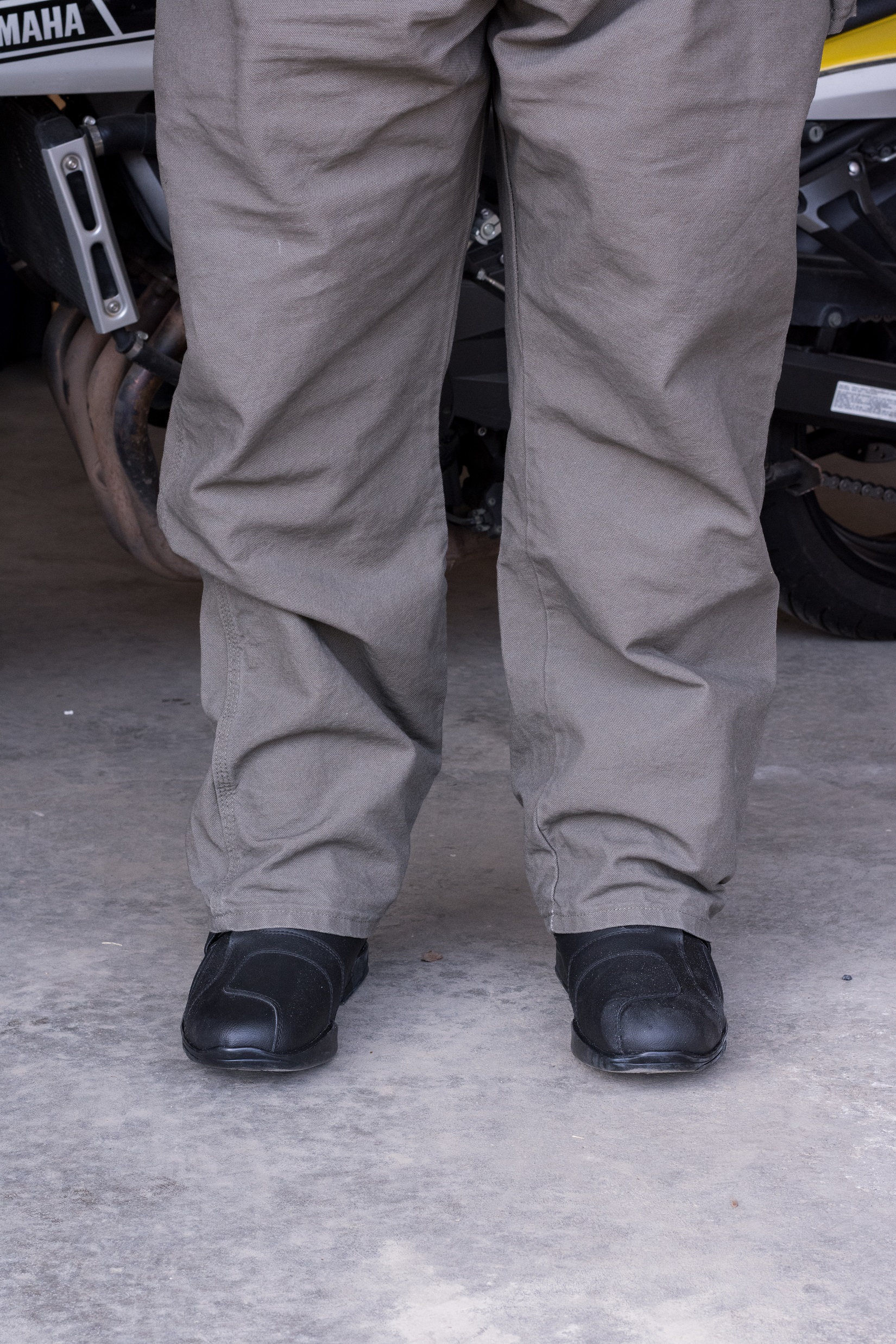 Personally, I love the understated aesthetic. With my riding pair of jeans draped over them, they just blend in with the casual tourer look, and they are flying so far below any radar that they could even be classified as stealth boots.
Fit & Comfort​
In terms of American shoe sizes, I take a 10.5 wide. That equates to roughly a 39 on the EU sizing scale, and as Forma is a Italian company, their boots only come in EU sizes. I couldn't even get my foot down the neck of the size 39 Trace's, so when I was trying out sizes, the sales guy found me an EU size 46.
Oddly, despite being wide of foot, they fit perfectly. They were a bit tight at first, but as you do with new shoes, wearing them around the house for a day had them break in beautifully and they actually fit better than my normal everyday shoes!
Closing with a velcro pull across the upper foot, the fit is quite adjustable so you can get them just right before your ride. The shaft of the boot is closed by a large flap that also stays closed with velcro, and brings the boot tight to the calf.
Once closed and you've walked back and forth a few steps, the Trace seems to just relax a little bit and conform to your feet. I've had no issues with heel rub, toes hitting the end of the boot, the shaft rubbing my calf, none of it. They close and stay closed, and they are very comfortable when they are done up.
I could honestly wear the Forma Trace boots all day and be happy doing so. With padding for the shift area, as well as shank-reinforced soles, these boots were made for riding, and that's what they'll do!
Rating: 5 out of 5 stars
Waterproofing​
To test just how good the Drytex lining was, I performed three waterproofing tests.
The first test was to take a shallow bowl, fill it halfway with water, and dunk the boot up to just under the malleolus area of the ankle. I put paper towels in the foot area, and weighed the boots down with a piece of plywood over the shafts. After 10 minutes, I inspected the paper towels. They showed no water absorption at all.
The second test, done in concert with my testing of my
Alpinestars Andes V3 Touring jacket
, was to wear the boots in a shower for 10 minutes. Since all the water would repel off the jacket and fall down onto my feet, the boots took quite a lot of water across them. The picture below is the boot, right after I turned off the water.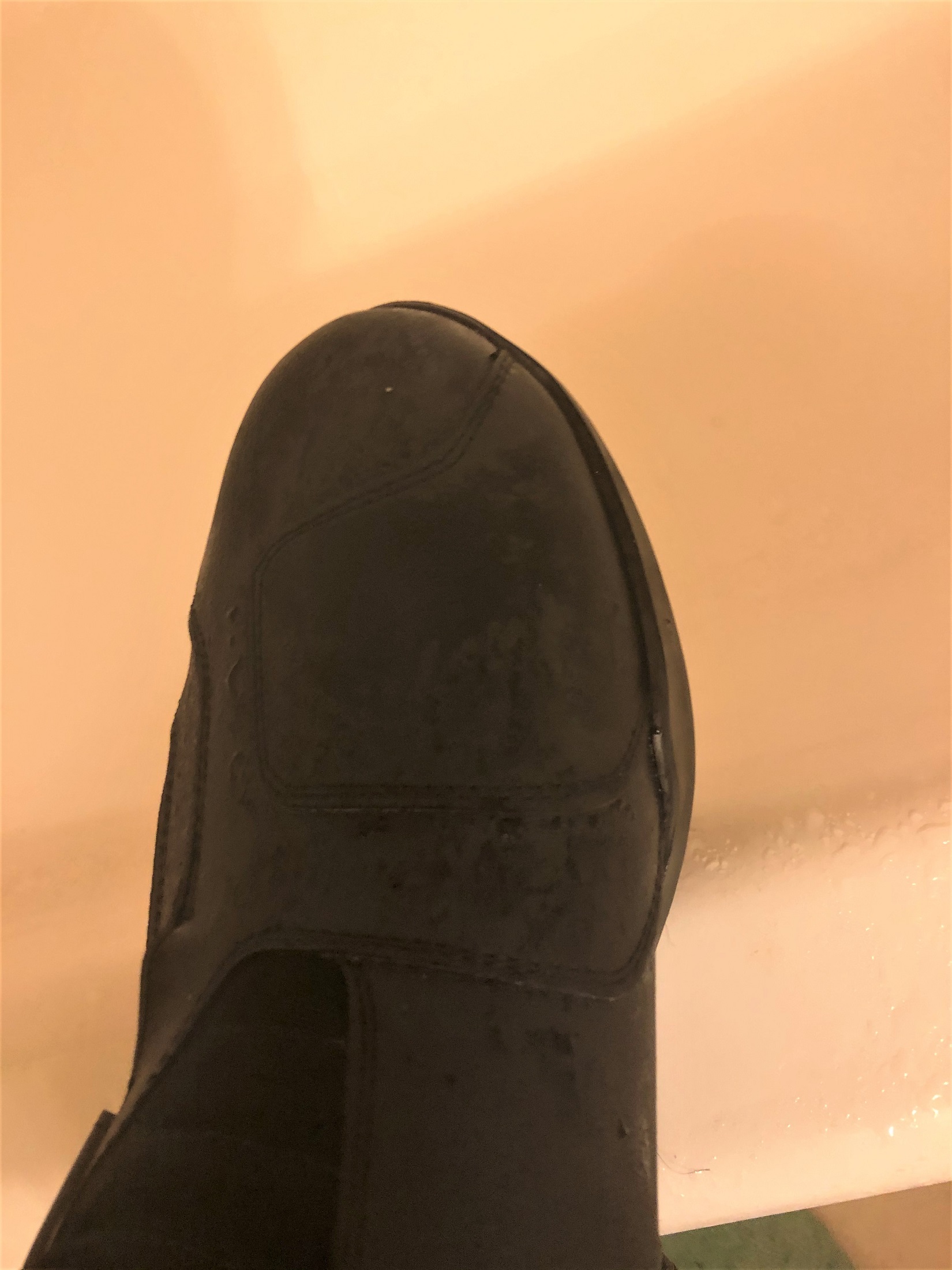 As you can see, the water is already starting to bead up and roll off the synthetic leather, while the cordura accordion zone shows some water. However, after removing the boots, my feet were dry, my socks were dry, and giving each boot a vigorous shake got most of the remaining water off of them.
The third test was probably the most truthful of them all, as I wore the boots outside in the rain that fell during one of my rides. It wasn't a heavy rain, nor was it moved very much by wind, and my feet stayed warm and dry throughout.
As such, Forma's claims of being 100% waterproof with their Drytex lining is 100% true.
Rating: 5 out of 5 stars
Airflow​
This is a bit of a mixed bag for the Trace. As per Forma's information regarding the boot, the cordura zones are supposed to allow some air and also to let your feet "breathe." Apart from that, the synthetic leather is fairly robust and doesn't allow much, if any, air through.
In the cordura zones, I only ever really felt some cooling air reach the top of my foot and the front of my ankles when going over 50 MPH. The boots don't get excessively hot, anyways, and I honestly feel that the cordura working with the Drytex lining actually allows a lot more heat to escape through simple convection than allowing any air in. It also doesn't help that, as shown in the picture below, they are designed to be worn under most pants.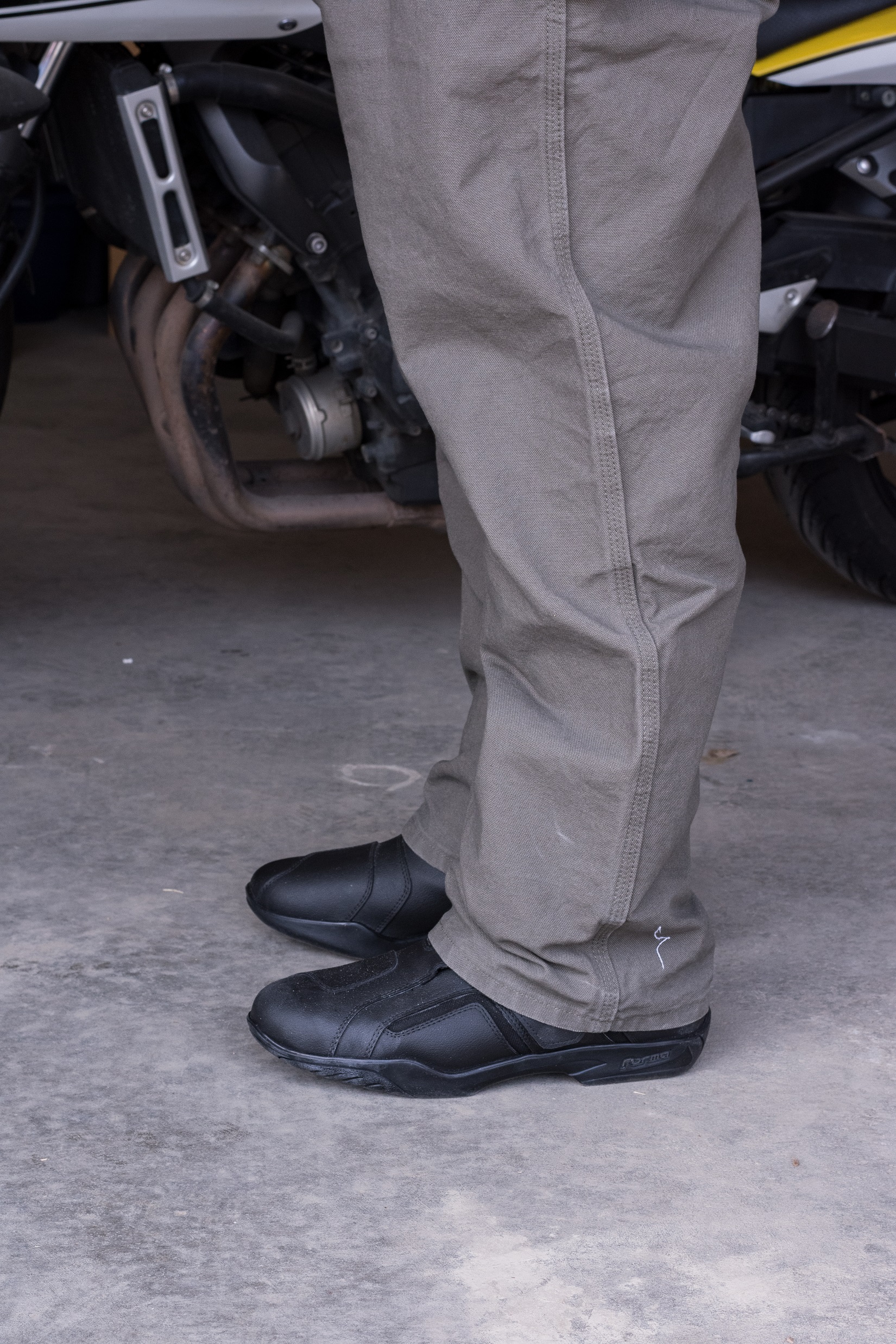 However, these are boots designed for touring, with the thought that they need to remain comfortable yet effectively waterproof through everything from a light drizzle to a monsoon. That doesn't really leave much room for airflow, and as such, these boots won't be scored on airflow.
Rating: N/A
Build Quality​
Forma is an Italian company. Italians are notoriously picky about build quality, and the Trace boots are just another example of that. Despite my initial concerns that the sole and sides might separate as they are bonded instead of stitched, throughout many hours of walking, riding, and even the occasional jog to get from my bike to the indoors to get out of the rain, the soles have stayed bonded without issue.
All seams between synthetic leather panels and cordura-to-leather connections are double stitched for durability. The shift pad reinforcement is also double stitched, and the velcro fastening strap passes through a steel loop that is triple stitched all the way across the top of the foot.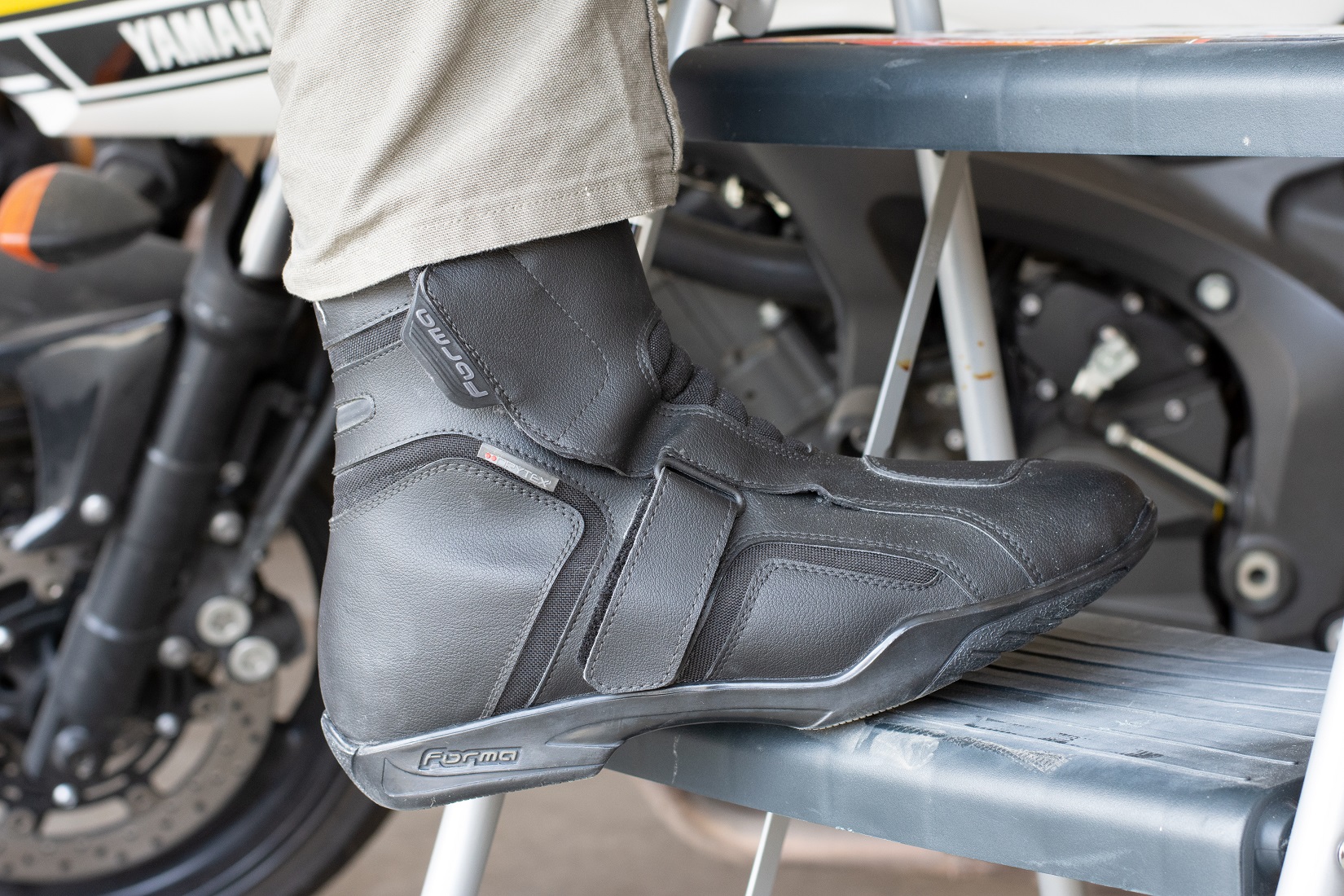 I've accidentally kicked a footrest, stood on the pegs of an adventure dual-sport, bashed my heel against the frame of a bike while feeling where the footpegs were without looking, and a few other embarrassing but everyday occurrences around motorcycles. I can say for sure that despite the unintentionally rough handling, no seams or threads have come loose.
The only part of the build that I'm not overly impressed with is how the insole and the Drytex lining meet. The insole, of course, sits inside the lining so that even if the sole breaks, the foot will remain dry. However, it's not fastened in there in any way, and more than once while putting the boots on, I'll have to do a little wiggle dance to get the insoles back into the position where they are the most comfortable. This is something even the smallest of velcro patches could fix.
Rating: 4.5 out of 5
Safety Certification​
The Forma Trace are
CE EN 13634:2010
certified and CE 1-1-2 certified. This certifies that the boot has met all requirements to be affixed with the CE stamp in both the EU and North America. It has passed crush tests, abrasion tests, twist tests, and impact tests to a certifiable level.
Successor: The Forma Nero Boots​
Unfortunately, the Forma Trace seems to no longer be sold in North America. These boots were manufactured from 2011 to 2017. There are still a couple of online EU vendors who carry them but stock is limited.
However, the next generation of the Trace, the Forma Nero, has replaced the Trace in the boot lineup. They are available through
Amazon
and
RevZilla
.
Shopping Now? We Recommend:​
webBikeWorld has worked closely with RevZilla over the years to provide our testers with products to review. In addition to being a great site to shop from, they're also a great partner.
RevZilla​

Free shipping on orders over $40
30-day no-nonsense return policy
Excellent selection of all major brands
Awesome pricing
Buy it on RevZilla
Amazon​

Free shipping (with Amazon Prime)
30-day return policy
Excellent selection
Competitive pricing
Buy it on Amazon
Verdict​
The Forma Trace boot may be an older boot, but it is still being made and distributed to many countries. It's well along the lines of "if it ain't broke, don't fix it," and in the case of an Italian designed boot, that's saying something!
The frank and honest truth about it is that these boots are designed to blend in, to be comfortable, waterproof, durable, and not yell and scream about what they are like some other boots do. If you want a set of touring boots with no frills or gimmicks, that can withstand being literally dunked in water for 10 minutes, and are immensely comfortable after being broken in, the Forma Trace, if still sold in your area, is a surefire winner
OVERALL: 4.8 out of 5 stars
Pros​
Italian levels of riding comfort
Waterproof beyond a shadow of a doubt
Simple, effective fastening velcro backed up by a large shaft velcro closure ensures a great fit
Durable material
Covers all the major impact and abrasion points of the foot with TPU armor
Subtle, low key aesthetic that allows you to go cruising without worry
Comfortable even after long rides with the feet on the pegs
Cons​
Minimal airflow, if any at all depending one what riding pants you're wearing
Specs​
Manufacturer: Forma Boots
Price (When Tested): $279.95
Available Colours: Black
Sizes: 36 to 48
Review Date: April 2021
The post
Forma Trace Touring Waterproof Boots: Hands On Review
appeared first on
webBikeWorld
.
Continue reading...