I just got around to finally installing my 2014 Tuono V4 Sachs shock. It does not have the length adjusters but I can confirm that it fits on a 2017 LED NC750X, although the reservoir does press on the plastics.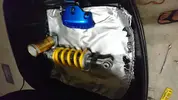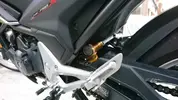 I went with the stock springs and max'd out preload settings but still couldn't get a proper sag setting. Bike was squatting a lot and slower to turn. However, together with the Showa Dual Bending Valves up front, the ride is now so much better than with the stock shocks! No more jarring shocks from rough roads. It also corners and holds a line like it's on rails and this is with the soft springs.
I set the compression and rebound according to recommendations from the forum below as a starting ball park, and it worked pretty well for my 80kg (175 lbs) weight.
Compression 1 ¾ turns from max out
Rebound 20 turns in from max out
Performance Bikes May 2005 issue - Tuono set up guide
I'd be ordering new springs based on the recommendations in the previous posts. Thanks for the info guys.