Super Moderator
Staff member
Super Mods
Site Supporter
Joined

Aug 7, 2012
Messages

9,981
Reaction score

3,391
Points

113
Location
First, the history: Back in May, 2013, on a still fairly new NC700X, I happenened on the Blue Ridge Parkway after gassing up at Cherokee, North Carolina, USA. I was heading northeast as far as I could go in the daylight available. As I rode at a leisurely legal pace, I realized based on the odometer and fuel gauge, that the fuel economy seemed surprisingly good (2012 models do not display instant or average MPG). I continued in a hypermile style mode until I was just too nervous about running out of fuel, so I pulled off the Parkway and gassed up at 293 miles and achieving 94.5 miles per US gallon. Going forward I added farkles to the NC like a big windshield, hand guards, and other nonsense that would increase frontal area and degrade the aerodynamics, thus I never expected to see 90+ mpg again. Upper 80s has been easily attainable, but not the 90s.
Fast forward to today, well, yesterday actually. I again find myself in the same scenario as in 2013, riding the same NC on the BRP. Again, due to some occasional slow cars ahead of me and my general slow legal pace, I make the mental associations between odometer and fuel gauge and realize the fuel economy is looking good. So I went into a hypermile mode: light throttle, average 45 mph speed (which is the speed limit), highest gear possible for the load, very minimal braking and only two break stops (there are no stop signs or traffic lights along the entire BRP). Seeing the final flashing fuel gauge appear alone at around 250 miles, give or take 5, I mentally calculate that the bike will run out of fuel at around 310-320 miles on the tank. I figure I'll consider it empty at 300 just to have a safety margin. There is no gasoline for sale on the Parkway, so the fuel-up involves exiting the Parkway to a town known to have a station. It worked out that I pulled into a station with 289.3 miles showing on the NC trip meter. I filled up fully, as usual, until no more fuel could be added or it would spill over the tank neck, and was able to fit 3.211 US gallons. This calculates to 90.0965 miles per US gallon. So there, I did it again!
One might suspect that this one 289 mile tank with 90.09 MPG is a big anomaly, but it is not. I attached my NC's latest Fuelly summary showing multiple tanks of mileage in the 80s on either side of this one. I fully expect the current tank, yet to be logged in fuel up #304, is running well into the 80s.
In the interest of full disclosure, I can say that the rear tire is near end of life. It's reduced circumference will cause the odometer to read potentially a higher number of miles than what was actually covered. However, the speed readout relationship between the bike's speedometer and the Garmin GPS is still very close, a difference on the order of 1-1.5% at most, so I suspect the tire is not affecting readings much. I also noted that the odometer miles covered were very close to the GPS's trip prediction. I'm going to say that at worst, the odometer error could be as much as 2%, but no more. I would need to measure the tire circumference and compare to new, or find some measured mile sections to check odometer accuracy somehow, but I have no way to do that right now.
See attached photos. Without having witnesses, the photos is the best I can do.
Lastly, the primary reason for the great mileage on all my last 10 or so tanks is I have been riding in situations that call for lower speed. In my experience, speed is the primary factor in determining fuel economy on the NC motorcycle.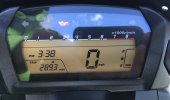 Last edited: