Joined

Jul 22, 2020
Messages

8
Reaction score

6
Points

3
Location
Hello all!
Bought my 2018 NC750X as a leftover in June 2020 for a good deal. Been using it as a commuter, and so far it has been working flawlessly until I hit close to the 8,000 mile mark. During the week, I noticed that my MPG kept getting worse and worse. I thought it was because of the weather since the average temperature dropped about 25 degrees from the 70s to the 50s, but then the drivetrain started to make an odd whining noise that got worse with higher speeds. I went to check my chain slack, and it was practically 0! Which is so strange considering that a week prior, I adjusted my chain slack to about 1.5 inches (about 38mm) and it was moving so freely! After rotating the wheel a couple of times and checking the chain slack, I noticed that there were kinked links in multiple areas. This must have caused the chain to lose its slack. Trying to undo the kinks was difficult and it would squeak when trying to move it. I have only put roughly 600 miles since the adjustment. From what I understand, having a faulty factory chain is a common problem for these bikes. I decided to cut one of the kinked links open to inspect the pin inside. Here's what I found: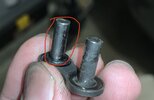 As you can see here, this pin circled in red (still has o-ring intact) has a small wear line where the metal is shiny. I don't know if this is normal, but it's a good reference for the next pic:

This pin circled in red is the leading pin in the direction of normal rotation. Notice the excessive scoring on the pin.
Could there be a lack of lubrication causing this chain link to wear out prematurely?
As far as chain maintenance goes, I have a ScottOiler installed, and the external rollers still move just fine. Could the ScottOiler oil penetrate the o-rings and compromised the internal chain lube? I've yet to hear of this issue...
To clean my chains, I actually use a DuPont Teflon Motorcycle Chain specific lube to clean my chain. I highly doubt the DuPont Teflon lube is the cause for this since I have used it in multiple bikes for a decade with no problems, one being a gen 4 VFR that had a DID x-ring chain that lasted nearly 24K miles with no issues.
I was thinking about taking it to the dealer and having the chain replaced under warranty, but decided I'd rather buy a new x-ring chain of my choosing rather than rely on another factory replacement and risk having this happen again.
Thoughts?