Joined

Jul 13, 2017
Messages

298
Reaction score

24
Points

28
Location
Sold for $3500.
I just bought a new 2018 750 so am selling my
2016 NC700X DCT.
It was a demo unit that I bought in July of 2017, when it had 1600 miles on it.
I have the title along with all service records. It's always been dealer serviced. Last oil change was about 3,000 miles ago. The battery was new on Dec of 2018. The chain was adjusted at 12,900. The stock Dunlop tires were replaced at 5,586 with Conti Motions in the same sizes. Then the rear was replaced when I picked up a nail at 10,500
I usually ride it 3 or 4 days a week, for local errands, to events, the beach and the occasional overnight trip.
It will be sold with the one key (all the dealer had when bought), the tiny factory tool kit and owner's manual, radiator cover and Honda centerstand, which I added right after purchase. I have re-installed the original windscreen and seat, both of which had sat in my closet for the past 3 years, so show much better than one would expect. The rear rack shown will be swapped out with the stock rack from my new bike, so it, and the cover, will not be included. I didn't want to remove either for the photos, as I plan to keep riding this bike until I get my new one.
As far as flaws, there are about what you'd expect in a bike with this many miles. A few chips in the fairing, and scrapes on the right side mirror (I park right next to a wall) but the main thing is the damage to the frunk, which happened when it was broken into. The locking mechanism and lid were replaced, so it functions fine and is secure, but doesn't look great.
The front wheel cover was hit by my disk lock when I forgot to remove it. A piece broke off, but it isn't something you notice right away.
Some spotting has appeared on the rear wheel and pitting to the forks and the brake handle. Some rust spots on the front ABS ring and a slice in the rim when we had to cut off a broken disk lock and the cutter slipped. The tire holds air as normal.
As far as ride, it could use some servicing. The struts could probably use an oil change and there is a little wiggle at speed, as if the front tire needs to be balanced.
The engine starts every time and runs as when new. All switches and lights function.
The bike is in West Los Angeles and I'm close to the 405.
Let me know if there's anything I have left out.
Andy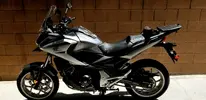 Last edited: