Joined

Feb 14, 2020
Messages

16
Reaction score

34
Points

13
Location
I decided to run a test and see how far I could go when I get the low fuel flashing indication and see if there would be any issues starting the bike after running out of fuel.
This is something I always like to do with my motorcycles, get a rough idea how many miles I can truly drive before "It's dead Jim".
I took the bike out for a 150 mile drive and get lost ride.
The previous night I had installed a mount for a 5L external fuel can (see pics), and I wanted to verify that the mount was secure and see what happens when I run out of gas.
When I finally got the flashing indicator that I was low on fuel, I reset the "B" Trip odometer so I could see how far I would go. The indicator started flashing 0.0 As I rode the indicator started to increase to 0.1, 0.2, 0.3....
Around 0.5 I was very careful to make sure that if I had to cross a road, I could push the bike if it happen to pick that spot to die.
I hit 0.7, then about 8 miles later (1 mile from home), it happened, I ran out of fuel on a lonely gravel road. The bike just died and and the oil light came on.
I removed my external gas can, put in 1.1 gallons of fuel, remounted the gas can, hit the start button and the bike started right away, I was impressed, well done Honda.
The fuel container I purchased off of ebay: 5L Motorcycle Car Fuel Petrol Gas Gasolin Oil Tank Can Container About $36.00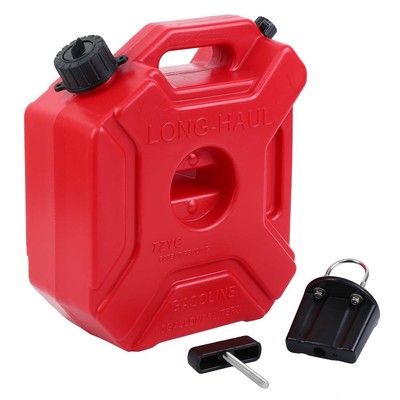 (2) This is a portable fuel tank, which can carry extra fuel. When you travel for a long distance, you can dump it into your main fuel tank if necessary;. 1x 5L oil tank. (1) Made of high toughness plastic, it has the functions of anti oil, anti-corrosion, anti-static and anti ultraviolet;.
-andy